In 1893, Joseph Lesquendieu graduated as a pharmacist from the Ecole Préparatoire de Médecine et de Pharmacie d'Amiens. In 1900, he went into business with E. Jaumes and together they opened a pharmacy in Paris. Two years later Lesquendieu bought the business of Monsieur Bossard-Lemaire of 3 Rue Cochin, Paris, the maker of the well-known skin cream La Reine des Crèmes (The Queen of Creams).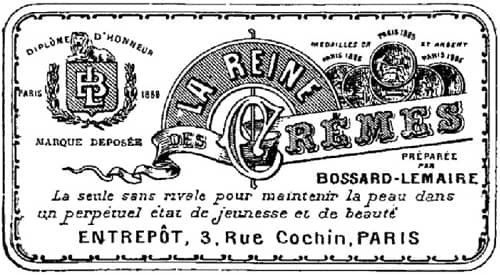 La Reine des Crèmes
Cerebaud (1920) suggests that La Reine des Crèmes was a typical vanishing cream made with stearic acid, glycerin and sodium hydroxide, perfumed with rose and jasmine (Cerebaud, 1920, p. 145). It functioned as a day cream to protect the skin and as a base for face powder.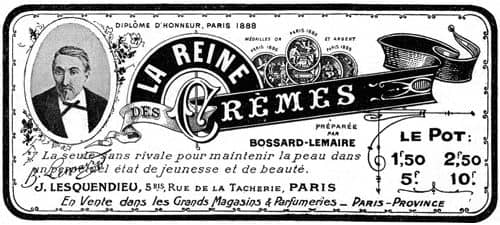 See also: Vanishing Creams
La Reine des Crèmes was one of Lesquendieu's more popular products and, by 1920, it was being exported to destinations as far away as Australia and Argentina.
Socieété Anonymes
Lesquendieu operated from 5 Rue de la Tachiere, Paris and by the 1920s had a modest but comprehensive line of cosmetics that included perfumes, hair lighteners, skin creams, face powders, nail polishes, eye make-up and lipsticks.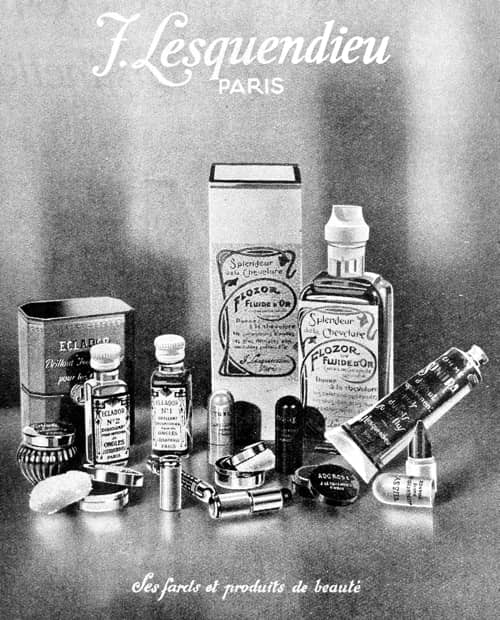 Included in the range were: Crème de Fleurs cleansing cream; Lotion Astringent and Lotion Famosa astringents; Velouté de Pêches, Velouté de Reine, and La Reine des Crèmes finishing creams and powder bases; Crème Egyptienne; Rouge Famosa compact rouge; Farjoli and Adorose cream rouges; Tussy lipsticks; La Sourcilla cosmetique for eyes and eyebrows; Pâte d'Amandes hand cream; Eclador liquid nail polish and remover; Eclador Rosée de Perles mother of pearl nail polish; Likaria cuticle cream; Crème Sonora depilatory, and Flozor (Fluid d'Or) hair lightener.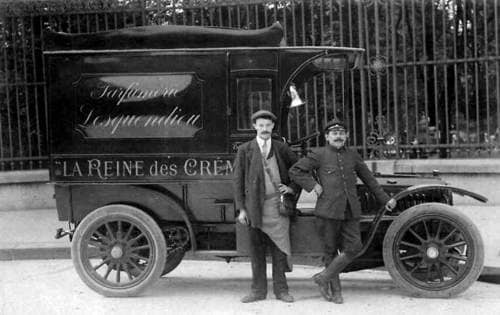 In 1925, Lesquendieu signed over part of his business to two new companies established in March of that year: Société Anonyme Parfumerie J. Lesquendieu, based at 5 Tacherie, Paris (capital ₣2,000,000); and Société Anonyme La Reine des Crèmes at 10 Nocard, Ivry-sur-Seine (capital ₣1,000,000). I do not know how Lesquendieu divided his assets between the two companies. However, in 1935 Parfumerie J. Lesquendieu SA was listed as manufacturing perfumes by Lesquendieu of 5 Rue de la Tacherie, Paris at their factory at 8 and 10 Rue Nocard, Ivry-sur-Seine, so it seems clear the two enterprises were intimately interconnected.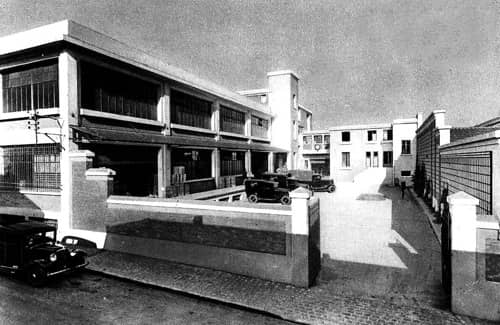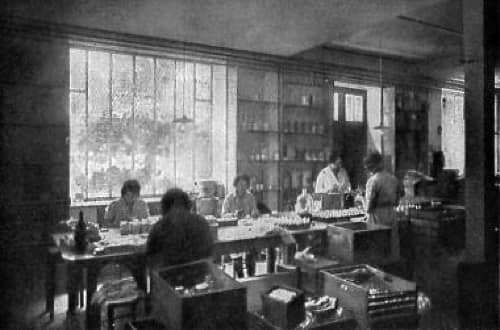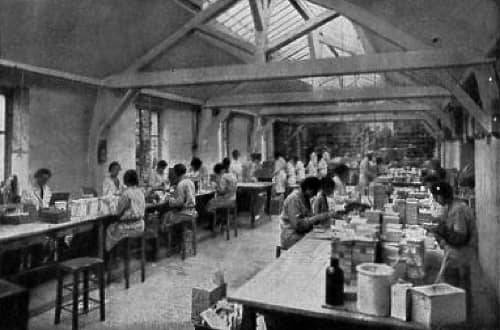 United Kingdom
The United Kingdom was an obvious market for Lesquendieu cosmetics, toiletries and perfumes and Lesquendieu appointed Calmon & Neate as the sole agents there in 1912. The firm, owned by Ernest Calmon and William Neate, operated from 8 Gerrard Street, London but also maintained a presence in France at 12 Rue Vivienne, Paris.
When Joseph Lesquendieu signed over his rights to Parfumerie J. Lesquendieu SA and La Reine des Crèmes SA in 1925 he kept the rights to exploit the Lesquendieu trademarks in British territories. Subsequently, in 1926, he combined with Calmon and Neate to establish J. Lesquendieu Ltd. in London. The new business then entered into agreements with him, Parfumerie J. Lesquendieu SA and La Reine de Crèmes SA to import Lesquendieu products from France for sale in England, Wales, Scotland and Ireland (including the Irish Free State).
All went well until 1931 when Britain abandoned the gold standard and heavy customs duties were imposed on imported cosmetics and perfumes. That year, in response to the tax changes, Joseph Lesquendieu registered a number of Lesquendieu trademarks in Britain and bought a factory in Mount Pleasant, Alperton, Middlesex so that he could manufacture cosmetics in England and avoid the import duties.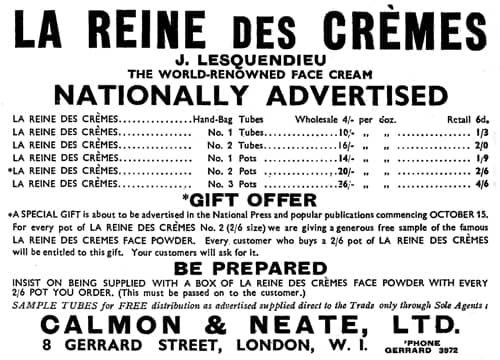 In 1933, J. Lesquendieu Ltd. (London) stopped buying Lesquendieu cosmetics made in Britain when they were issued with a writ from Parfumerie J. Lesquendieu (Paris) suggesting their had broken their 1926 agreement.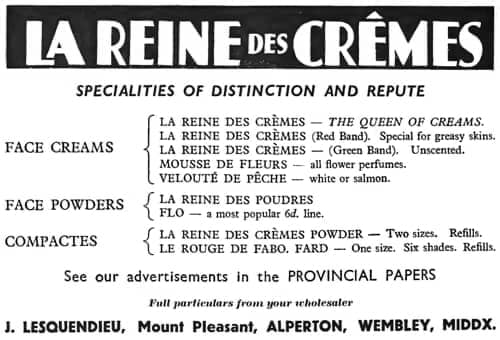 Many years of litigation followed before the dispute was settled. Details of the new arrangements are unknown to me but Calmon & Neate appear to have lost their distribution rights as Lesquendieu appointed H. Jaccaz of 27 Thicket Road, London as its new British agent in 1938. His activities appear to have been have been short-lived as I can find no reference to Lesquendieu cosmetics being sold in the United Kingdom in the years after the Second World War.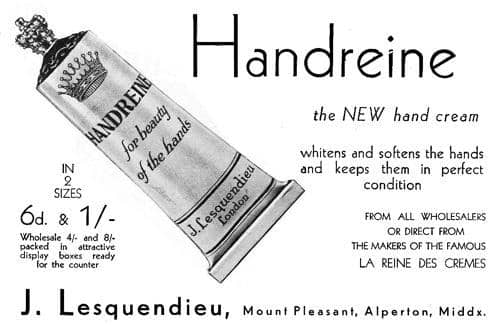 United States
In 1902, Bossard-Lemaire trademarked La Reine de Crèmes in the United States and by 1904 the Joseph Horne Company, a department store in Pittsburgh, Pennsylvania, was importing it into the United States. Advertising by the company suggests they were the sole agents for Lesquendieu in America at the time.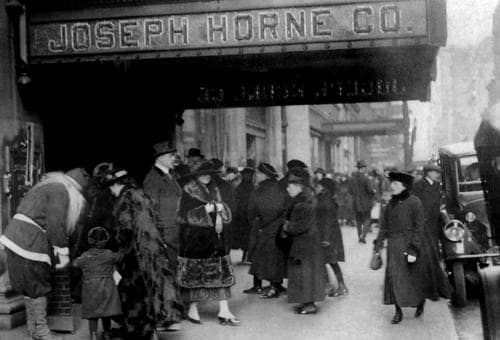 Lesquendieu perfumes were sold the United States before the First World War but appear to have arrived later than La Reine des Crèmes. In 1908, the Manufacturing Perfumers Association noted that La Reine des Crèmes was being sold in America but makes no mention of Lesquendieu perfumes. The Maurice Levy Company – founded by Felix Lévy and based at 15-17 West 38th Street, New York – is often credited with their importation. The company had associations with a number of French firms, including the makers of Hygienol Powder Puffs and Crème Simon, and there is a record of them distributing La Reine de Crèmes and La Reine de Crèmes Powder in 1919 so it is possible they did the same for Lesquendieu perfumes. I should also note that both companies, Maurice Levy and Lesquendieu, were renting space in the Bush Terminal Company Building on East 29th Street, Brooklyn, New Jersey in 1920.
Lesquendieu's presence in the United States was put on firmer ground with the establishment of Lesquendieu, Inc. in New York. The company was based at 45 West 45th Street, New York with Howard L. Ross [1897-1973], a major backer, as its president; he may have invested US$50,000 in the venture.
I have been unable to determine when Lesquendieu, Inc. (New York) was founded but may have been as early as 1923. However, as Lesquendieu trademarks were gazetted in America in 1925 and the company started advertising in 1926, it seems likely that it was established in 1925, the same year that Parfumerie J. Lesquendieu SA and La Reine des Crèmes SA were created in Paris. It is even possible that the two French companies were established to raise funds for investment in the American venture. Lesquendieu may have hoped to emulate the success that Coty had in the American market.
See also: Coty
Lesquendieu, Inc. (New York) was not a manufacturing concern and all of the Lesquendieu cosmetics, toiletries and perfumes sold through it were imported from France. As well as Lesquendieu perfumes such as Glorilis and Kamir the American business advertised and sold Lesquendieu skin creams, make-up, nail polishes and hair lighteners.
In 1929, Lesquendieu, Inc. (New York) was bought by Lehn & Fink through a share swap whereby Lehn & Fink took control of all of the 500 shares of Lesquendieu preferred, leaving outstanding 350 common shares. The relationship between Lehn & Fink and the French firms is unknown to me. At some stage Lehn & Fink may have taken control of the French businesses but it is worth noting that they did not include the phrase 'Paris and New York' in their advertising for Lesquendieu until 1935.
See also: Lehn & Fink
Tussy
After acquiring Lesquendieu, Inc. Lehn & Fink moved Lesquendieu's headquarters to the Dorothy Gray building at 683 Fifth Avenue, New York. They also began to rebranding Lesquendieu products as Tussy Cosmetiques, a name they took from Lipsticks Tussy which were part of the Lesquendieu make-up range. This may have been because they felt that Lesquendieu was too difficult for Americans to pronounce and spell. Through the 1930s, many of the Lesquendieu product names, such as Eclador, Famosa, Farjoli, Adorose and even La Reine des Crème began to disappear as well; for example, Eclador Nail Polish and Eclador Rosée de Pearles became Tussy Nail Polish and Tussy Pearl Polish, and La Sourcilla Cosmetique became Tussy Cosmetique.
Lehn & Fink also began manufacturing some Lesquendieu products in the United States at their factory in Bloomfield, New Jersey rather than importing them from the factory at Ivry-sur-Seine. This meant that they were now described as 'French-styled' rather than 'fully imported'.
Lehn & Fink also owned Dorothy Gray and there was a considerable overlap between the product lines of the two cosmetic ranges and even, on occasions, with cosmetics from other Lehn & Fink brands. A good example of this is deodorants which Lehn & Fink sold under the Etiquet, Dorothy Gray and Tussy brands.
Although Tussy started out as an exclusive French brand it drifted towards the cheaper end of the market while Lehn & Fink marketed Dorothy Gray in a more central position.
See also: Dorothy Gray
Skin-care
The early Tussy skin-care regime included the usual cleansing, toning and finishing treatments with some variation for skin types.
1. Cleansing
The addition of Emulsified Cleansing Cream in 1934 meant that Tussy had three cleansers on the market – cold cream, liquefying and emulsified – which covered a range of skin types
Emulsified Cleansing Cream: "for dry, thin, or sensitive skin. Its fine emulsion oils cleanse thoroughly, coaxing skin to feel softer."
Cleansing Cream (Cold-Cream Type): "for young, normal, or oily skin. Light, fluffy. Leaves the skin looking radiantly clean and fresh."
Liquifying Cleansing Cream: "for normal or oily skin. Light, quick-melting. Thoroughly cleanses away clogging dirt. Skin looks cleaner, finer."
A fourth cleanser, Vacation Cleansing Cream, containing menthol was added in 1937.
Vacation Cleansing Cream: "A thorough cleanser for skin grimy with dust. Works quickly. Feels cool and refreshing after exposure to sun and wind."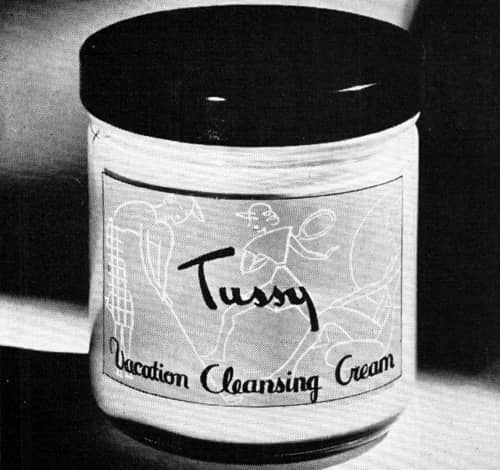 In 1941, the term Pink was added to the Tussy Cleansing Cream and recommendations then became Emulsified Cleansing Cream for dry skin, Pink Cleansing Cream for normal skin, and Liquifying Cleansing Cream for oily skin. When the Liquifying Cleansing Cream was dropped from the range Tussy Pink Cleanser then became the recommended cleanser for normal to oily skin.
Other cleansers added after the Second World War included Tussy Creamy Cleanser (1954) which was renamed as Tussy Dreamy Cleanser in 1956.
Tussy Creamy Cleanser: "This marvelous [sic] 1-minute liquid cream cleanses better than any soap, many creams! Removes makeup base, long staying lipstick, cake powder and grime … far better than repeated soap and water washings; acts like a soap and a cleansing cream at the same time! It beautifies as it deep-cleanses too … it's Moisturized!"
2. Toning
After cleansing, Tussy recommended applying a toner, either Dry Skin Freshener or Skin Lotion depending on skin type, before adding a finishing cream and make-up.
Dry Skin Freshener: "uncovers a new vibrant look in dry complexions. Gives you a bracing glow you can see, a refreshing tingle you can feel."
Skin Lotion: "brings an 'all-alive' color to normal and oily skins…an extra effective way to make sure cream is wiped clean away."
3. Finishing
Lesquendieu had a number of skin creams that could be used as a powder base including Velouté de Pêches and La Reine des Crème. Both of these cosmetics disappeared from the Tussy range or were simply renamed. For example, Velouté de Pêches may have become Tussy Finishing Cream as both were peach-tinted.
Tussy added a number of other powder-bases over the years. Some of these, such as Safari Powder Base (1943), were introduced as part of a fragrance-based line, while others, such as Tussy Moisture Lotion (1955), were responding to trends in skin-care relevant to their times.
Safari Powder Base: "a soft tinted foundation cream that forms a satiny base for your make-up .… helps rouge spread easier and more evenly, and face powder retain its velvety freshness hours longer."
Tussy Moisture Lotion: "combats damage, retains moisture In skin and attracts it from surrounding atmosphere. Non-greasy, can be worn through the night and under daytime make-up;."
General skin creams
Other skin creams released by included Tussy Rich Cream, Tussy Wind and Weather Cream, Tussy Wind and Weather Lotion (1935), and Tussy Moisture Cream (1953). A number of these creams were multi-purpose. For example, Wind and Weather Cream was recommended for the hands, body and face, while Tussy Rich Cream could be used as a night cream or as a powder base on dry skin.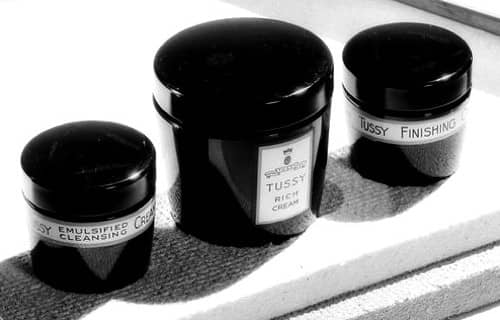 Tussy Rich Cream: "The original-blend cream that's working wonders for women worried about dry or wrinkled skins."
Wind & Weather Lotion: "to prevent or soothe chapped hands and legs; to soften and smooth after the bath; to protect your face and hold your powder."
Tussy also added Tussy Eye Cream (1936) specifically for the area around the eyes.
Tussy Eye Cream: "will prevent and correct dry and wrinkled eye tissue, crows feet, keep eyelids firm, smooth and elastic."
After the Second World War Tussy expanded its skin-care range but, as was the case before the war, only only three skin types were catered for: normal, oily and dry. Generally speaking, Tussy recommended a cream for dry skin and a lotion for normal or oily skins. For example Tussy Wind and Weather Cream was for dry skin, while Tussy Wind and Weather Lotion was for normal and oily complexions.
Other Tussy skin-care products added in the 1950s included Tussy Wind and Weather Lotion (1951), Tussy Wind and Weather Hand Cream, and Tussy All Purpose Cream (1953) with lanolin which could be used for cleansing, lubricating and as a powder base.
Tussy All Purpose Cream: "Does the work of three creams…because it contains the 'essence' of several beauty giving preparations. It cleanses deep and fast, yet won't dry skin. It's a rich night cream that softens smooths and 'supples' your skin while you sleep. It's a dewy-magic makeup base…contains an active moisturizer. Makeup goes on smoother, clings longer."
In 1955, both Tussy Wind and Weather Cream and Wind and Weather Lotion were reformulated with allantoin to heal, silicone to act as a barrier and hexachlorophene to disinfect.
Mature skin
Tussy equated mature skin with dryness so women with mature skin were recommended to use Tussy Dry Skin Treatment Cream (1949), Tussy Dry Skin Freshener and Tussy Moisture Cream (1953).
Dry Skin Treatment Cream: "contains an active blend of sterols which help maintain the natural oil balance of the skin."
Tussy Moisture Cream: "It 'quenches' the skin's thirst … gives beautifying moisture back to dry and older skin. Make-up goes on smoother, clings longer. Non-greasy, won't stain, a little goes a long way! Both a night cream and a foundation."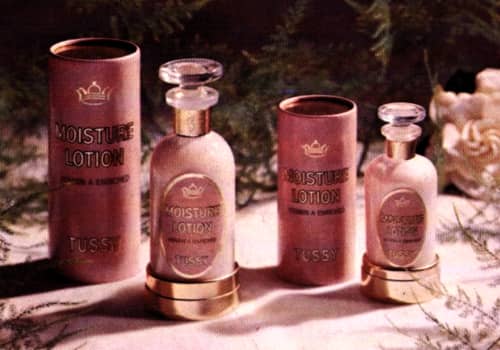 Tussy also included hormones in some of its cosmetics designed for mature skin, a standard cosmetic treatment for older skin at the time.
See also: Hormone Creams, Oils and Serums
Tussy's first hormone cosmetic was Beauty Plus (1946), a cream containing 10,000 I.U.s of estrogenic hormones. A liquid version, Beauty Plus Hormone Lotion, was added in 1952 and the two cosmetics were then combined with other cosmetics into a treatment regime Tussy called the 'Beauty Diet'.
Tussy Complete "Beauty Diet" for Over-30 Skin
Just as a planned food diet does wonders for your health … this "beauty diet" does wonders for your skin!
Cleanse with Tussy Dry Skin Cream. It actually conditions as it cleanses.
Brace with Tussy Dry Skin Freshener.
Beautify with Tussy "Beauty Plus" Hormone Cream every night. Each ounce contains 10,000 units of natural estrogenic hormone. Works against dryness, scaliness, lines and surface wrinkles.
And every day … Beautify with Tussy "Beauty Plus" Hormone Lotion. An exquisite powder base; a superb hand lotion.
A new version of the Beauty Diet was introduced in 1958. Recommended for women over 35 it consisted of Beauty Diet Cream – containing moisturisers, polyunsaturates for 'diet-dry' skin, rich oil blends, hormones, and royal jelly – and Beauty Diet Capsules with high levels of vitamin A and D included along with other vitamins and minerals. The use of royal jelly was short-lived and was dropped from the mixture in 1959.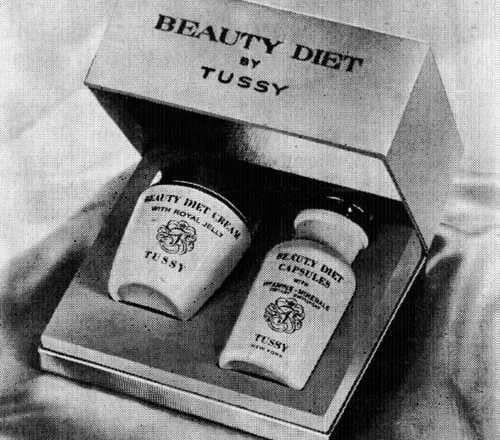 There is a gradual slowing down of the various bodily functions. The rate of shedding and renewing of skin cells is diminished (so your skin may look sallow). There is a progressive loss of natural skin moisture (perhaps your skin has taken on that typical dry, "papery" shine). The under layer of the skin is also affected. In contrast to young skin—with its vital suppleness and elasticity—older skin, when stretched by muscular movement fails to spring back to normal smoothness. This leads first to lines, then to wrinkles and bags. And there may be other symptoms: flakiness, deepening contours, tender and "calloused" areas. But all that this natural slowing-down process should mean to you is that it's time to spend some time on yourself, to give nature a hand. That's why Tussy created Beauty Diet. It's a marriage of two new products. One, the new Beauty Diet Cream to aid from without—second, the new Beauty Diet Vitamin and Mineral Capsule to aid from within.
See also Royal Jelly and Vitamin Creams
Youth market
In 1944, Tussy introduced Creamy Masque Cleanser and in 1950 combined this with Tussy Medicated Lotion to make a treatment for disturbed or problem skin. The Creamy Masque acted as a cleanser while the Medicated Lotion containing hexachlorophene concealed blemishes and helped dry and heal of pimples. At a later date the treatment was extended into a 3-step process with the addition of a skin toner while a skin-coloured Medicare Stick was added in 1955 as a quick blemish concealer.
Tussy takes the "growing pains" out of adolescent skin with its 3-step Medicare Set.
First Creamy Masque cleans by "floating out" clogging oil and grime better than any soap can. Second, Skin Toner clears…brightens as it stimulates and refreshes your skin. Third, Medicated Lotion, the antiseptic make-up base, covers-up as it helps heal (add a Medicated Stick for quick touch ups and you're set for the day).
See also: Hexachlorophene
In 1962, Tussy introduced a quicker two-step medicated treatment consisting of Tussy Medi-Clear followed by Tussy Medi-Pat, a medicated cake make-up in Honey Beige, Warm Tan, and Peach Rachel shades that was applied with a sponge. A soapless Medi-Clear Cleansing Bar was added in 1966.
Tussy Medi-Clear: "medicated cosmetic cleanser, gets out far-down dirt and make-up, clears complexion."
Tussy Medi-Pat: "medicated cake make-up hides while it heals. Treats your skin as it beautifies."
Suncreens
Special mention should be made of Tussy sunscreens. In 1928, Lehn & Fink developed a chemical sunscreen containing benzyl salicylate and benzyl cinnamate. This enabled them to produce some of the best products then on the market and develop a number of Tussy products aimed at sunbathers. The sunscreens may have been included in Eclador Almond Cream (1931), which was said to prevent sunburn, but they were almost certainly included in Tussy Anti-Sunburn Foundation Cream (1934). Other products aimed at this market included Tussy Suntan-Oil, Tussy Exotique Sunburn Powder, Tussy Emulsified Suntan Lotion (1935) and Beach Coat (1949).
Tussy Anti-Sunburn Foundation Cream: "is not only an ideal powder-base but actually helps to prevent sunburn. Use it on your face and it will make cream rouge blend naturally, and powder cling, at the same time keeping you from getting painfully red and burned."
Tussy Eau de Cologne: "Cooling, delightfully refreshing after a day in the sun."
Tussy Sun-Tan Oil: "Allows you to attain any desired shade of tan without burning. Recommended for children."
Tussy Exotique Sunburn Powder: "Blends smoothly with the sun-kissed skin. Has a sophisticated, haunting fragrance and comes in a smart modern box."
Tussy Emulsified Suntan Lotion: "A lotion which allows even fair skin to tan without burning."
Tussy Beach Coat: "Non greasy, not sticky, quick drying. Will not cause oily spots on towels."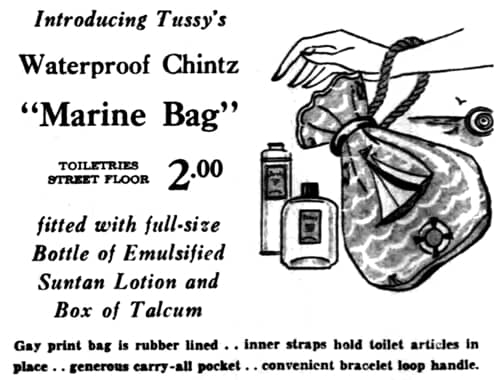 Deodorants and antiperspirants
Lehn & Fink manufactured Lysol which was used as a deodorant so the company had a long standing interest in this area. It produced a wide range of deodorants for its Lehn & Fink, Dorothy Gray and Tussy lines. Tussy products in this area were Tussy Deodorant Soap, Tussy Stick Deodorant, Tussy Spray Deodorant in a plastic squeeze bottle, and Tussy Cream Deodorant as well as Roto-Magic, a roll-on deodorant/antiperspirant introduced in 1957.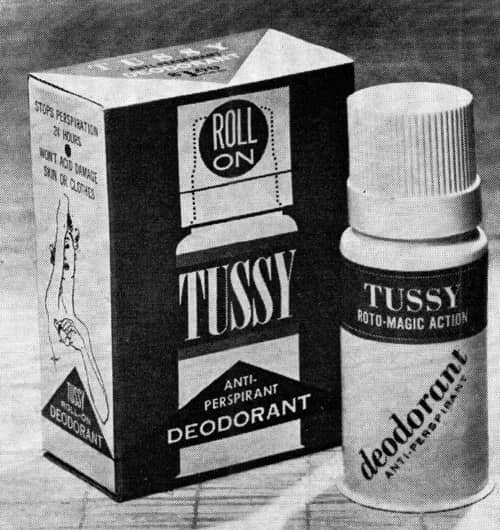 Of all the products Lehn & Fink put on the market under the Tussy brand only toiletries in this category are still available today.
Make-up
The Tussy make-up range in the 1930s included lipsticks, rouge, face powder and eye make-up.
Powders and foundations
Suggestions are that Lesquendieu powders, sold in six shades in the United States, were still being imported from France in the early 1930s. In 1933, Powder Exotique was added to the Tussy face powder range in Natural (flesh), Cream Rachel, Rachel, Ocre Rachel, Ocre Rose, and Sunburn shades. It also appears to have been fully imported from France and from 1935 came in a 'Tap-It' box that claimed to be spill-proof. All these powders were to be applied over one of the finishing creams mentioned earlier.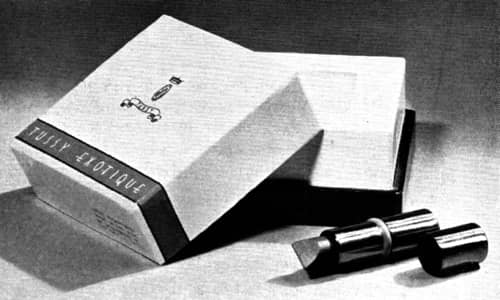 In the 1940s and 1950s Tussy introduced a number of different foundations. The first of these was Finishing Touch (1944), a cake make-up applied with a sponge.
Tussy Finishing Touch Make-up: "The make-up models like for its even-toned, velvety-smooth look. Apply with wet sponge or cotton–covers tiny flaws, uneven coloring, gives skin flattering bloom–lasts for several hours."
Powder Pat compressed powder was introduced in 1950 but was superseded by Beauty Touch (1953), a pressed cream powder with built-in foundation in Beige Rachel, Blush Rachel, Custom Blend, Radiant Musk, Rose Beige, and Midnight Mauve shades. As mentioned earlier, Tussy Medi-Pat, a medicated cake make-up was added in 1962 for the youth market.
By 1964, Finishing Touch had become a complete make-up range which included cream and liquid make-up, pressed powder and creamed powder rouge.
'Finishing Touch' Liquid, Rouge, Powder.
An incredibly fine creme base is the special secret behind this exciting new make-up collection by Tussy … helps you achieve the radiant, natural looking beauty you want. Put the 'Finishing Touch' on your own Spring beauty.
Creme Make-up … balances foundation, powder and moisturiser for special coverage. Won't change color ever.
Liquid Make-up … unique micro-homogenized formula won't separate … moisturizes, softens and smooths skin.
Pressed Powder … delicate emollients give this true-color powder a special silkened, softer texture.
Creamed Powder Rouge … combines the softness of a cream, the subtlety of a powder for a hint of a tint.
Tussy also introduced a number of fragrance-based cosmetic lines, such as Midnight, Safari and Bright Secret. Along with perfumes and colognes these fragrance-based lines generally contained dusting powders, hand and body lotions, and bath preparations. Some also included face powders. For example, Midnight Face Powder, scented with Midnight fragrance, was made in the same shades as the Beauty Touch compact powder: Beige Rachel, a cool clear rachel for fair, medium skin tones; Blush Rachel, a soft creamy pink for fair skins; Custom Blend, a special blend for medium skin tones; Radiant Musk, a flattering pink that added colour to all skin tones; Rose Beige, a subtle rosy tan for medium and olive skin tones; and Midnight Mauve, a rosy mauve shade, for evening wear with medium and dark skins. A new shade, Medium Tone, was added in 1953.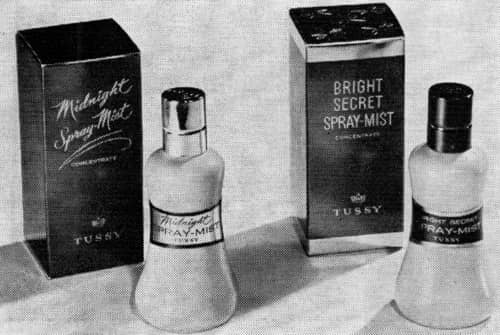 Rouge
Both cream (Fajoli Crème Rouge) and compact (Rouge Famosa Compact) rouges were imported into the United States with the cream rouges coming in a wider range of shades than the compact. Unfortunately, I know little about the shade ranges but it seems likely that they were matched with Tussy lipsticks.
A liquid rouge was added in 1956. Called Satin Blend it came in three shades: Crimson, Coral, and Pink. These were similar to the shade ranges of the Tussy Creme Rouge and Rouge Compact available at the time: Pastel Pink, Clear Red, Coral and Crimson.
Lipsticks
In the 1920s, Tussy lipsticks were made in eight shades – Mandarin (Orange), Rouge Radieux (bright geranium), Rouge 4 (rose), Electrique (vivid rose), Rouge 00 (red rose), and Rouge 0 (Chinese lacquer red) – and were packed into coloured galalithe (a synthetic plastic) or gilt containers. In the early 1930s, the colours sold in America were reduced to five – Tea Rose, Apricot, Flame, Rose-Coral and Raspberry – but the lipsticks now came in indelible and non-indelible variations and were housed in a gun metal, twist-up lipstick case. In 1935, a rectangular Tussy Automatic Lipstick (push-up type) was added in the same five shades and, in 1939, a larger De Lux lipstick was introduced in eight indelible shades.
The new Tussy Automatic Lipstick, in a one-hand case that works without hammer or curses. Never jams, even in the shambles of a woman's handbag…Tussy Lipstick, indelible, keeps your lips smooth and moist, without cracking or peeling. Eat, drink, smoke, even kiss all you please, the color lasts and lasts and lasts.
New shades of lipstick and rouge were added during the late 1930s including: Blueblood, Grape and Redcoat (1938); and Baby Pink (1939) and by the early 1940s Tussy was also providing matching Tussy Nail Polish in shades which included Kiltie Red and Stork Club (1941), Fighting Red and Jeep Red (1942), Sure-Fire (1945), Mankiller (1946), Garden Party and Funmaker (1948) and Charmerose and Merry Red (1949). Tussy also developed a Two-in-One lipstick (1948) in a range of colour combinations: Garden Party-Midnight for fair skin, Contraband-Midnight for medium skin, and Raspberry-Funmaker for dark skin. Additional combinations were added the following year: Garden Party-Chamerose for fair skin, and Funmaker-Merry Red for medium skin. This would not be Tussy's only two-in-one themed cosmetic. In 1949, it introduced a two-in-one lipstick and perfume combination starting with Optimiste and then later with Midnight perfumes and they introduced Flipstick, a two-in-one that combined lipstick and eyeshadow, in 1962.
In 1950, Hazel Bishop kick started a renewed American interest in indelibles. Tussy responded by releasing a new indelible called Permastick (1951) in Midnight, Contraband, Midnight Pink, Red Magic, Merry Red and Optimiste shades. Thereafter, when new lipstick colours – such as Youngtime Pink (1954), Apricot Brandy (1954) and Orangeade (1957) – were released they were made available in both Permastick and regular shades.
In 1959, Tussy added Perma-dew, a creamy, non-smear lipstick in six shades: High-High Pink, Coral Cloud, Garden Party, Young-Time Pink, Contraband, and Clipper Red along with White Icing, a stick frosting that could be worn under or over other lipstick colours. Other lipstick shades added during the early 1960s included Roseberry, and Flight-Time Red (1961), Ginger Pink and Roman Gold (1962), Gingerberry, and Utterly Pink (1963).
In 1964, Tussy released Golden Wonder, a longer lipstick which came in a flip-wheel case that opened like a lighter. This tear-dropped shaped lipstick had a pointed edge to enable the lipstick to also operate as a lip-liner.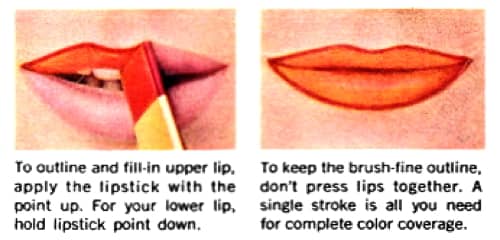 Golden Wonder was sold in regular and two-tone forms. Regular came in sixteen shades: Nudiste Pink, Brink of Pink, Pink Nectar, Perfectly Pink, Golden Pink, Pink-O-Pink, Amethyst, Orange Ice, Orange Pekoe, Tangerine Twist, Captive Coral, Wild Poppy, Toasted Almond, Pale Peppermint, Red on Red, and Cherry Wine. The two-toned variation had a second colour moulded into the lipstick. Its shades were tiger themed and included: Tawny Tiger, Bengal Red, Jungle Copper, Purr of Pink, Captive Crimson, and Roaring Rose.
Nail polish
When first introduced into the United States, Lesquendieu's Eclador nail polishes – called Eclador Brilliant – came in four shades: Red, Red Rose, Shell Pink, and Colourless. As with other nail polishes of the time they were translucent so the colours were probably dyes rather than pigments. The polish was removed with a separate preparation, Eclador Dissolvant. In 1927, Eclador Rosée de Perles was introduced in two shades: Radium-Rose and Silver-Sheen. I assume these contained fish scales to give them a pearlescent finish.
See also: Pearl Essence
In the 1930s, the Eclador name was dropped in the United States and thereafter they were simply called Tussy Nail Polishes.
Here's my trick, to make my nails appear longer and narrower!…Tussy Nail Polish is a firm, hard, glossy polish that stays where you put it without spreading…The brush is wide, two or three strokes cover the nail…Apply it down a bit over the tip of the nail, partly cover the hall moon, and leave a little space between the cuticle at the sides…The nail seems only as wide as the polished surface…Tussy actually costs less for it goes farther…One coat lasts for days!
Nail Polishes were not a strength in the Tussy range but the fashion for matching lipstick and nail polish shades meant that from 1936 onwards Tussy added matching shades of polish when they introduced new shades of lipstick, which is when, I assume, they followed Cutex's and Revlon's lead and moved from translucent to cream shades by adding pigments.
See also: Nail Polish
Eye make-up
I know very little about early Tussy eye make-up but by 1959 the Tussy range included cream and stick eyeshadow, Eye-Cue Pencil, Tussy Mascara and Tussy Cosmetique, a cream mascara. During the 1960s, when eye make-up increased in importance, Tussy introduced a range of new eye cosmetics in line with similar items produced by other cosmetic firms. Included in these new products was Tussy Mascarama (1957), a grooved, wand, waterproof mascara in Jet, Topaz, Sapphire, Emerald, and Smoked Diamond shades and Eye-Cue Shado-Rama eyeshadow in Emerald Green, Silver, Bright Sapphire, Mauve, Turquoise, and Blue Violet. Taking an idea from Jacqueline Cochran, Tussy then packaged Shado-Rama eye shadows in a Lidstack (1960) made up of all six eyeshadow shades in interlocking plastic containers. Tussy repeated this idea the following year with its lipsticks developing a Lipstack containing five small lipsticks.
Beauty Sticks!
Now you can smooth on lustrous lip color, match your eyes in tempting hues to suit your costume, mood or occasion!
Tussy Lipstack holds 5 petite lipsticks; Coral Cloud, High High Pink, Flight Time Red, Young Time Pink, Contraband.
Lidstack Shadorama holds 6 eye colors: Emerald, Silver, Mauve, Blue Violet, Turquoise, Bright Sapphire.
Our dainty plastic sticks tuck neatly into your purse, let you stroke on lasting allure with gay abandon.
Body make-up
In 1942, like many other cosmetic companies, Tussy introduced leg make-up that could be used as a stocking substitute. The Tussy cosmetic stockings came in two versions, a lotion called Leg-A-See and a cream called Show-Off. The latter appears to have been more successful and was still in the Tussy range in the 1960s.
Leg-A-See: "a clear lotion. Tints your legs a natural sun-kissed tan color. Water-proof. Won't rub off on clothes."
Show-Off: "a creamy lotion. Gives a silky sheen to your legs. Looks for all the world like the sheerest chiffon hosiery."
See also: Cosmetic Stockings
Another body make-up was added in the 1960s as part of the Real Girl make-up range.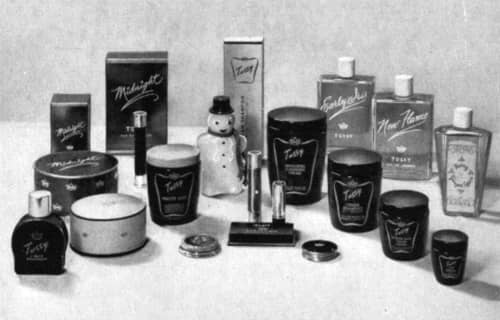 Real Girl
The success of Noxzema's Cover Girl (1960) may have been the inspiration behind the development of the Real Girl make-up line (1967) packaged in fresh, white cases decorated with pop-art hot-pink and burnt orange butterflies. As with Cover Girl, the range was aimed at young women and the accent was on simplicity.
Launched after Lehn & was bought by Sterling Drug the Real Girl line consisted of eight separate products: Liquid Foundation (medicated) in Light, Medium, Medium Blush and Tan shades; Translucent Pressed Powder; Blusher with Brush in four shades including Blush and Peach as well as Hi-Light White for added glow and contouring; Lipstick in Pink Bazooka. Orange Juice, Double Bubble, Defroster, Glacier Pink, Nudiste Pink, Captive Coral, Powerhouse Pink, Go-Mango, Go-Ahead Red and Snow Rose shades; Mascara and Eyeliner in Soft Black and Dark Brown shades; Brush-On Eye Shadow; and EyeBrow Shaper.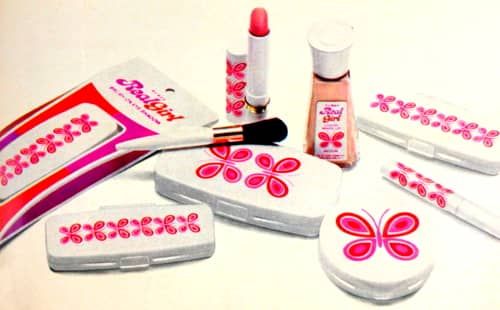 Make-up could be removed with Gel Make-up Remover and Cleanser which rinsed off in water. Strangely it was also recommended as a shampoo. Later additions to the Real Girl skin-care range included Real Girl Astringent, Real Girl Cleansing Grains and Real Girl Beauty Mask.
Global expansion
After the drastic reduction in net earnings in 1955, Lehn & Fink undertook a major review of its businesses. One outcome from this appears to have been a decision to dramatically increase its level of advertising and to expand the company's cosmetic brands into new overseas markets. In some countries Lehn & Fink was able to used the established distribution networks it had developed for Dorothy Gray. In places like Australia and New Zealand, where Dorothy Gray did not arrive until 1963, the introduction of Tussy came later (1965).
In France, Lesquendieu had maintained operations through the war and afterwards. Although it is possible, I do not have any concrete evidence that the French operations were owned by Lehn & Fink. However, whatever the situation, there was cooperation between the French and American businesses. Tussy America imported perfumes developed by the French company and Lesquendieu France began to advertise that its cosmetics were tested and approved by the laboratory in Bloomfield, New Jersey.
Sale
Lehn & Fink underwent a major structural reorganisation in 1964. As part of this reform Tussy was combined with Dorothy Gray, The Olgilvie Sisters and some other products into the Lehn & Fink's Consumer Products group. After Lehn & Fink was sold to Sterling Drug, Inc. this led to some strange changes. For example, by 1970, Real Girl was being advertised as a Dorothy Gray product range.
Tussy would eventually largely disappear from the American market, its sole remaining product being a deodorant. In France, Lesquendieu met a similar fate. However, the Lesquendieu name has not been totally lost. In 2015, a new company selling Lesquendieu perfumes was established by a descendant of its original founder.
Timeline
1902
Joseph Lesquendieu acquires Bossard-Lemaire.
1912
Calmon & Neate appointed sole agents for Lesquendieu products in the U.K.
n.d.
Lesquendieu, Inc. (New York) founded.
1925
Parfumerie J. Lesquendieu SA and La Reine des Cremes SA established in France.
1926
J. Lesquendieu Ltd. (London) created.
1929
Lehn & Fink acquires Lesquendieu, Inc. (New York).
1930
New premises are built, following a massive fire in March 1930
1931
Lesquendieu products repackaged in the U.S.
New Products: Eclador Almond Cream.
1932
Joseph Lesquendieu buys a factory in Mount Pleasant, Alperton, U.K.
New Products: Tussy Exotique Face Powder.
1934
New Products: Tussy Emulsified Cleansing Cream; Tussy Anti-Sunburn Foundation Cream.
1935
New Products: Tussy Emulsified Suntan Lotion; and Wind and Weather Lotion.
1936
New Products: Tussy Eye Cream.
1937
New Products: Tussy Vacation Cleansing Cream.
1942
New Products: Leg-A-See and Show-Off cosmetic stockings.
1944
New Products: Tussy Finishing Touch cake make-up.
1946
New Products: Tussy Beauty Plus Hormone Cream.
1949
Lesquendieu Ltd. (Canada) established in Toronto, Ontario.
New Products: Tussy Beach Coat, a suntan preparation; and Tussy Dry Skin Treatment Cream.
1950
New Products: Tussy Medicated Lotion; Tussy Powder Pat.
1951
New Products: Tussy Permastick indelible lipstick.
1952
New Products: Tussy Beauty Plus Hormone Lotion; and Tussy Finishing Touch liquid foundation.
1953
New Products: Tussy All Purpose Cream; Tussy Medicare Treatment Set; Tussy Beauty Touch compact powder; and Tussy Moisture Cream.
1953
New Products: Tussy After Bath Lotion.
1955
New Products: Tussy Medicare Stick; Tussy Wind and Weather Lotion; Tussy Wind and Weather Hand Cream; and Tussy Moisture Lotion.
1956
New Products: Tussy Dreamy Cleanser; Tussy Satin Blend liquid rouge; and Tussy Budding Beauty.
1957
New Products: Tussy Mascarama; and Tussy Roto Magic roll-on deodorant.
1958
New Products: Tussy Beauty Diet.
1960
New Products: Tussy Eye Cue; and Shado-Rama eyeshadow.
1962
New Products: Tussy Medi-Clear; and Tussy Medi-Pat.
1966
Lehn & Fink Products Corporation bought by Sterling Drug, Inc.
New Products: Tussy Medi-Clear Cleansing Bar.
1967
New Products: Tussy Real Girl range.
Updated: 27th February 2017
Sources
Cerebaud, R. (1920). Formulaire des principales spécialités de parfumerie et de pharmacie (New ed.). Paris: Author.
The chemist and​ druggist. (1859-). London: Morgan Brothers.
Lehn & Fink. Annual Reports 1929-1964.
The Manufacturing Perfumers Association of the United States. (1908). Trade names of perfumes and toilet articles (7th ed.). New York: Author.