Dorothy Gray was born Dorothy Cloudman in Gorham, Maine where she grew up on a farm. After moving to New York she worked for Elizabeth Arden as a treatment girl before opening her own salon 2 West 57th Street, New York in 1916. However, as she had changed her name to Dorothy Cloudman Gray in 1911, she opened the salon as Dorothy Gray not Dorothy Cloudman.
The reason for the name change is unclear. Dorothy had lost her father early on and the name change may have been to formalise an adoption by a Dr. Gray, the man who presumably bankrolled her new business. However, it may also have been to cover an intimate relationship with the same Dr. Gray, as there are stories that Elizabeth Arden sacked Dorothy after finding out that she was living with a man 'without benefit of clergy'. Whatever the circumstances, her business was a success and when she sold out to Lehn & Fink in 1927, she had salons in New York, Atlantic City, San Francisco and Washington and, in 1922, had opened a laboratory at 142 59th Street where her toilet preparations were manufactured under the charge of Michael J. Gregory.
After the sale Dorothy dropped out of history but used the money she made to travel widely in Africa and South America, eventually buying a large dairy farm in Amenia, Duchess County, N.Y., where she was known as Dorothy Long. After selling the farm in the 1960s she moved to Florida where, twice married, she died in her 80s having led a full life.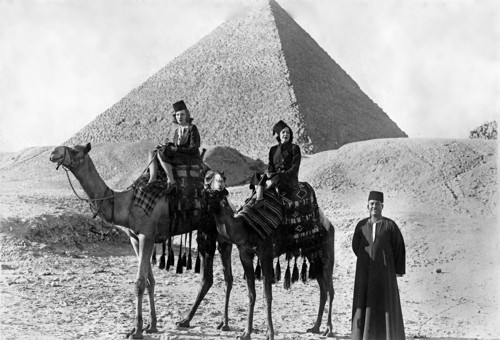 Lehn & Fink
Lehn & Fink, a New York based pharmaceutical company established in 1874, was mainly known for household products such as Lysol disinfectant and Pebeco toothpaste and powder. They had already bought the A. S. Hinds Company in 1925 and, after their purchase of Dorothy Gray, they went on to acquire Lesquendieu (1929) and The Ogilvie Sisters (1956).
See also: Lehn & Fink
When Lehn & Fink purchased Dorothy Gray it was turning over sales of less than half-a-million dollars but making a good profit. The chemist Michael J. Gregory continued to direct production and Helen Martin, formerly of the J. Walter Thompson advertising agency, was put in charge of the day-to-day management of the business. Lehn & Fink also appointed Lowell Fess [1895-1971], the son of Senator Fess of Ohio, as the sales manager of Dorothy Gray, who then embarked on a campaign to expand the number of Dorothy Gray salons – both within the United States and overseas – and increase sales. Beginning with Los Angeles in 1927, American salons were added in places such as Denver, Boston, Milwaukee, Norfolk, Seattle, and Buffalo. Starting with Paris in 1930, overseas salons were then established in Brussels, Stockholm, Amsterdam, The Hague, Rotterdam, Marseilles, Nice, Monte Carlo, Cannes and London. Dorothy Gray services were also installed on some ships of the Grace Line and the American Republics Line – the first ship-board salon being installed on the S.S. Santa Rosa ship of the Grace line in 1932.
American Design of Beauty
Until Revlon, Inc. appeared on the scene, Dorothy Gray was one of the three most successful cosmetic companies in the United States, the others being Helena Rubinstein and Elizabeth Arden, both of whom, like Dorothy Gray, had strong personalities. However, after a few attempts to use her image in advertising, the new management dropped the idea and all that remained thereafter was her name and initials.
The success of the company was not due to product innovation as, with few exceptions, it followed trends rather than setting them. However, like Helena Rubinstein and Elizabeth Arden, Dorothy Gray had a solid product line, an extensive stable of salons, was New York based, and advertised extensively. Its growth followed that of the United States and during the 1940s and 1950s and it projected an image that was American in outlook, which was synonymous with being modern and trustworthy to post-war American consumers. The corporate taglines 'American Design of Beauty' (1940s), 'Trust Dorothy Gray' (early 1950s), and 'For Beauty the Modern Way' (late 1950s), reflect this perception.
Facial skin-care
In the early years, Dorothy Gray's attention was probably focussed on mature, female clients who had the time and money to devote to the skin-care treatments and cosmetics that were available in her salons, so reducing the signs of ageing was high on her agenda.
Thin and withered faces van be made plump.
Sallow skins can be made white.
The pink glow of youth can be established.
Lines and crow's feet around the eyes may be corrected.
A reddened nose, large pores or blackheads may be treated successfully.
Too fat chins can be reduced.
Firm muscles indicate youth.
They can be yours!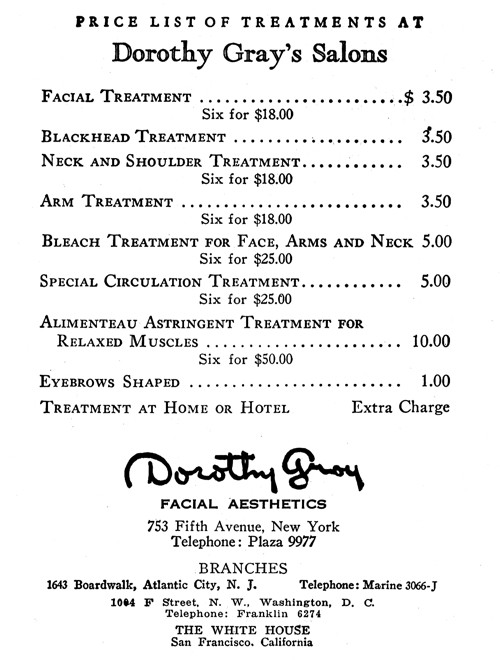 Also see the company booklet: The Story of Dorothy Gray
The main principle underlying the Dorothy Gray method for facial skin-care seems to be the need for good skin circulation, one of many ideas she got from Elizabeth Arden when Gray worked for her as a treatment girl.
Dorothy Gray's method of skin care appeals to the modern woman, for it was evolved with this scientific principle as its foundation: a rapid, healthy circulation is the first essential of a good complexion. Miss Gray's treatments and preparations cleanse, of course; they nourish the skin; they correct excessive oiliness or dryness. But the basic principle of the Dorothy Gray method is the stimulation of circulation.
Stimulating skin circulation combined with cleansing, lubricating, and protecting the skin from exposure, formed the basis for Dorothy Gray facial skin-care routines until well into the 1950s. Clients were advised against using soap and water on the face as 'water does not cleanse the face properly, and soap contains lye and other deleterious ingredients, which in time injure delicate skin', so her facial treatments used creams and lotions combined with patting and strapping – two treatment practices she got from Elizabeth Arden.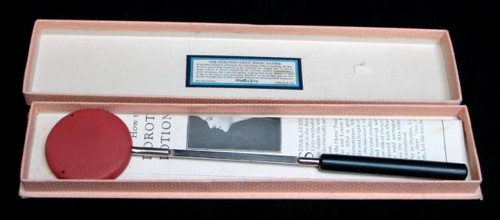 One-two-three
One-two-three
One-two-three
Beats the little Dorothy Gray Patter rhythmically, as it quickens the circulation into healthy activity. It is rapid circulation which helps keep the facial muscles active, the tissues firm. Dorothy Gray's method of stimulation is vigorous enough to benefit the muscles and tissues, gentle enough to leave unharmed the network of tiny blood vessels which lie beneath the skin. The Dorothy Gray Patter is designed to give the needed sting so difficult to achieve with the fingers.
Pat in a nourishing cream – Dorothy Gray's Special mixture for dry and sensitive skin, her Tissue Cream for plump faces, her Special Skin Food for thin ones.
See also: Patters and Straps, Bandages and Tapes
Skin types
As might be expected, skin-care routines were adjusted for different skin types. In the 1920s, the basic treatment for normal skin was to cleanse with Dorothy Gray's Cleansing Cream and then tone with Dorothy Gray's Orange Flower Skin Tonic. If the skin was dry, a skin food was added, either: Dorothy Gray's Special Skin Food if the client was thin; Dorothy Gray's Tissue Cream if client was plump, as it was considered to be non-fattening; or Dorothy Gray's Special Mixture if the skin was sensitive. As oily skin was generally associated with enlarged pores, an astringent that was stronger than Orange Flower Skin Tonic was considered to be needed for this skin type, so Dorothy Gray's Pore Lotion and Dorothy Gray's Russian Astringent Lotion were used instead and the skin food was skipped.
Cleanse, lubricate and stimulate
The Dorothy Gray system of 'facial rejuvenation' also identified areas of concern where 'youth fades first'. In the 1920s there were three of these: lines and wrinkles (particularly around the eyes and mouth); double chins; and flabby muscles resulting in a crêpy throat.
The home treatments for these 'areas of concern' came in plain, boxed kits suitable for posting by mail. The products and routines reputedly following the same steps as the treatments in Dorothy Gray salons. Some early skin-care lines were labelled as 'Russian' (e.g., Russian Astringent Cream) but this branding was dropped by the 1930s. So, although some names changed between the twenties and thirties the products used in the home treatments were as follows:
Double chin: Cleansing Cream, Tissue Cream, Astringent Cream, Orange Flower Skin Tonic, Astringent Cream (or Astringent Lotion if the skin is oily), together with a Reducing Chin Strap and Patter.
Lines and wrinkles: Cleansing Cream, Orange Flower Skin Lotion, Special Mixture, Special Toning Oil, Eye Wrinkle Paste, Astringent Cream (or Astringent Lotion if the skin is oily) together with Patter.
Relaxed muscles and crêpy throat: Cleansing Cream, Orange Flower Skin Lotion, Special Skin Cream, Circulation Ointment, Astringent Cream (or Astringent Lotion if the skin is oily) together with Patter.
All three treatments are variations on the theme of 'cleansing, lubricating and stimulating' with allowances for skin type and treatment area.
The 1930s saw a simplification in this home treatment regime. The number of products required was reduced and those referred to as a 'skin food', 'tissue cream' or 'skin tonic' were given more functional names. Here Dorothy Gray was something of an American pioneer, completing in the early 1930s what became mandated by the American Food and Drug Authority (FDA) in 1938.
See also: Skin foods and Skin Tonics, Astringents and Toners
Easy as 1-2-3!
In the 1930s, the range of products sold in each Dorothy Gray Salon Facial box was reduced to three and new packaging made it look more like an integrated system rather than a collection of products. The message of 'cleanse, lubricate and stimulate' became a lot clearer and easier to implement. Once a woman determined whether her skin was normal, oily or dry, the home treatment routine now became as 'Easy as 1-2-3!'.
Dorothy Gray Salon Facial Package
1. Cleanse. In the evening, use Dorothy Gray Cleansing Cream. It floats out deeply embedded dirt, helps prevent blackheads and coarse pores.
2. Lubricate. Then, lubricate with one of Dorothy Gray's emollient creams. (Special Mixture for dry skins, Suppling Cream for normal and oily skins) Pat it on with the fingers; leave it on overnight to make the skin soft, smooth.
3. Stimulate. Next morning, after cleansing again, pat on a stimulating lotion (Orange Flower Skin lotion for delicate dry skins; Texture lotion for oily skins or coarse pores.) This contracts the pores, refines the texture and brings out the hidden glow.
Using a Dorothy Gray Patter was of course preferred to using the fingers alone. In 1934, a refinement was attempted when the message was modified from 'cleanse, lubricate, stimulate' to 'cleanse, soften, stimulate' but this change was short-lived and by 1938 things were as before.
Also see the company booklet: Your Lovely Skin
In the 1940s, a further modification to the three-step routine took place which brought it more in line with accepted practice of cleansing of make-up, then using an astringent to remove the last traces of the cleanser, before finally applying a skin cream which matched the skin type. In order to get this to fit the cleanse, lubricate and stimulate model, the last two steps – lubricate and stimulate – were reversed.
Cleanse.
Dry skin? For you, wonderfully effective Dry-Skin cleanser. For normal skin there's luxurious Salon Cold Cream. If your skin is oily, it needs the beauty-cleansing ritual of Cleansing Cream (liquefying).
Stimulate.
Both dry and normal skins take on a glowing, younger appearance from patting with Orange Flower Skin Lotion. Oily skin gets the same stimulating "lift" from Texture Lotion.
Lubricate.
If the skin is either dry or normal, coax it to a more perfect softness with Special Dry-Skin Mixture. If oily—yes, oily skins do need lubrication—smooth in that very special Suppling Cream.
Nose, eyes and throat
Simplification of the home treatment routine in the 1930s and emphasising skin types of normal, oily, or dry, was accompanied by a rethink of problem areas, which moved from 'double chins, lines and wrinkles, and crêpy throat' to 'nose, eyes and throat', again with products that catered to the skin types of normal, oily or dry.
Pores and blackheads on the nose could be treated with Dorothy Gray Liquefying Cleansing Cream if the skin was normal or oily, or Dorothy Gray Cream 683 – named after the salon at 683 Fifth Avenue, New York – if the skin was dry. Particularly difficult cases might also require Dorothy Gray Pore Paste, or Dorothy Gray Pore Lotion if the skin was oily and, after 1929, Dorothy Gray Texture Lotion. Lines around the eyes required Dorothy Gray Eye-Wrinkle Paste, or Dorothy Gray Special Dry-Skin Mixture if the skin was dry. Crêpiness of the throat needed the rich emollients of Dorothy Gray Throat Cream with massage to improve circulation and of course a chin-strap to lift sagging muscles.
In 1937, like many other skin creams of the time, vitamin D was added to the Dorothy Gray Dry-Skin Mixture and Dorothy Gray Throat Cream, with vitamin A also included a year later.
Outdoor pursuits
The first quarter of the twentieth century saw women take a greater interest in sports, outdoor activities and sunbathing. Dorothy Gray had a number of products that catered for the more active woman and/or fashion trends that increasingly exposed more skin to the elements.
Dorothy Gray Finishing Lotion, introduced in 1929, evened out skin tones on arms and legs exposed to the sun – in shades of Blonde, Natural, Aureate, Rachel, Tawny, Orchid, and Suntone. It seems to have been an updated version of the earlier Dorothy Gray Enameline – a liquid powder that came in Natural, Flesh, Peach and White shades – the inclusion of darker shades being a reflection of the popularity suntanning had achieved in the 1920s.
See also: Liquid Face Powders
Dorothy Gray Sensitive Skin Cream containing vitamin D could help soothe skin overexposed to the sun and Dorothy Gray Sunburn Cream could be used for those who wished to avoid a tan altogether. Although less effective than modern formulations, the sunburn cream contained the UV filters benzyl salicylate and benzyl cinnamate in a formulation developed for Lehn & Fink by Emil Klarmann in 1928, making it the first of its type.
For colder climes there was Dorothy Gray Blustery Weather Lotion and the Dorothy Gray Snow-Bird Twosome containing Before-You-Ski and After-You-Ski lotions for the snowfields, as well as Dorothy Gray Special Dry-Skin Lotion and Dorothy Gray Dry-Skin Cleanser to help with the reduced humidity and dry skin that came with cold winter weather.
Pick-up treatment
The Dorothy Gray Salon Facial Package was to be used overnight. In 1935, the Dorothy Gray Pick-up Treatment was introduced. Designed to be used before going out in the evening it consisted of a cleanser followed the Dorothy Gray Masque Frappé face mask. The package came in two forms, dry and normal to oily with the normal to oily package came with Dorothy Gray Cleansing Cream while the dry skin package contained Dorothy Gray Cream 683.
The introduction of Dorothy Gray Cream 683 in 1933 entrenched the dry-oily skin divide right across 'cleanse, lubricate, stimulate' routine. Although Dorothy Gray Cream 683 disappeared and other product changes were made, the essentials remained the same through to the 1950s.
The rule of three
The 'Cleanse, Lubricate, Stimulate' routine was an early example of what Dorothy Gray referred to as a 'Rule of Three', that is, a routine that consisted of three parts. The company also used it in later skin-care routines such as that used for combination skin.
Outside of the United States where the company was not bound by the strictures of the 1938 Food, Drug and Cosmetic Act (FDCA), 'Lubricate' was replaced with 'Nourish' but otherwise things were much the same.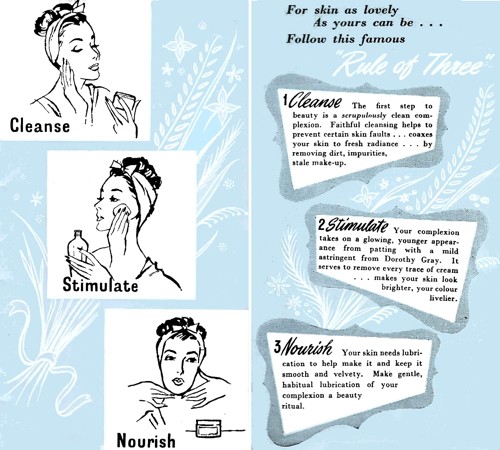 Also see the company booklet: Trust Dorothy Gray
Combination skin
The 'discovery' of combination skin after the war resulted in a 'Rule of Three for Combination Skin'.
1. A special smooth-texture cream is needed to cleanse thoroughly. Thus, Rule 1 is Cleanse with Salon Cold Cream (for very oily areas, use Cleansing Cream, Liquefying).
2. For finer texture, fewer flaws, give skin local stimulation. Rule 2. Stimulate by patting with non-drying Texture Lotion.
3. Dry scaly areas need softening: oily areas must be kept supple. So, Rule 3 is Lubricate with Special Dry-Skin Mixture.
The same thing applied to sensitive skin so that by the 1950s there were Dorothy Gray skin treatments for Normal, Dry, Sensitive, Oily, Older and Combination skins, all based on a three-step treatment model.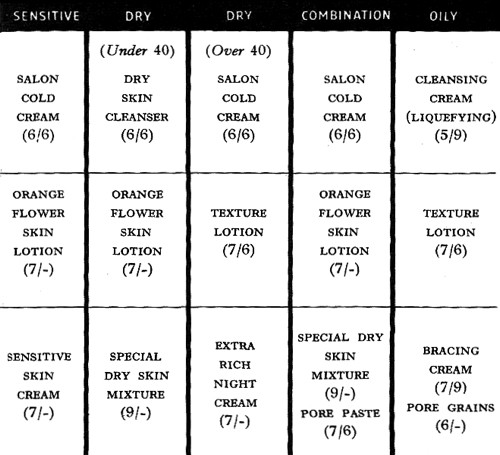 Also see the company booklet: Blueprint for Beauty
This system was modified again after Satura creams and lotions were introduced in 1956. An example is given below. Note that this routine is from Australia in the 1960s where it was still permissible to use terms like 'nourish'.
Dry skin
Night and morning: Cleanse with Dry skin cleanser, Tone with Orange Flower Skin Freshener. Every night: Nourish with Special Mixture for Very Dry Skin or Special Mixture for Dry or Normal skin.
Oily skin:
Night and morning:Cleanse with Salon cold Cream, Tone with Texture lotion or clear Skin lotion. Every night: Nourish with Satura Cream or Lotion.
Combination skin:
Night and morning: cleanse with Salon Cold Cream, Tone with Texture Lotion. Every night: Nourish with Special mixture for Dry or Normal skin.
Normal skin:
Night and morning: Cleanse with Salon cold Cream or 2-minute Magic, Tone with Orange flower Skin Freshener. Every night: Nourish with Satura Cream or lotion, or Special Mixture for Dry or Normal skin.
Hormone creams
After the Second World War, Dorothy Gray produced a range of skin-care products containing hormones. As with Helena Rubinstein – who was the first to introduce hormones into cosmetics in 1931 – the company made a number of cosmetics that contained hormones including: Cellogen Cream, Cellogen Lotion, Hormone Hand Cream, Remoldine and Satura, the cream most people remember today.
Satura
Introduced in 1956, Satura contained moisturising agents, along with 10,000 USP of estrogenic hormones per ounce and vitamin A. As the decade progressed the moisturising aspects of the cream were emphasised so it could be argued that despite the hormones, and the fact that previous Dorothy Gray creams tackled dry skin, Satura was Dorothy Gray's first cream marketed as a moisturiser.
Five instant aids to youthful radiance from one great moisture cream.
1. Special elements catch dew from the air to shield against drying by wind and weather.
2. Estrogenic hormones help protect against age lines and sallowness with deep, under-surface moisturizing action.
3. Humidifying formula works directly toward a young and creamy smoothness.
4. Vitamin A guards against flaking indicative of a dry or aging skin.
5. Special emollients slow evaporation from the skin to counteract the lines of age.
See also: Hormone Creams, Oils and Serums
The hormone was later dropped from the original cream and the name Satura was extended across a total product range including Satura Cleansing Cream, Satura Lotion Cleanser, Satura Skin Tonic, Satura Moisture Lotion, Satura Night Cream, Satura Algene Concentrated Conditioning Night Cream, Satura Super Rich Night Cream and so forth; the name was even applied to a range of lipsticks.
Also see the company booklet: How to make the most of your Natural Beauty
The youth market
The post-war period also saw an increasing emphasis by Dorothy Gray on the youth market. Working again with a three-step routine, the Dorothy Gray Scrub Set was designed for the troubled skin generally associated with this demographic. Rather than 'cleanse, lubricate and stimulate/nourish', the message here was 'clean, clear and medicate'.
Scrub Set
1. Clean: Medicated Scrub soap goes deep to rout out clogging grime, hardened oil and make-up. Special oatmeal ingredient stimulates surface circulation, helps rid skin of deep-seated impurities.
2. Clear: Medicated Refining Lotion keeps troublesome bacteria in check.
3. Medicate: Medicated Blemish Cream promotes healing of blemishes all night long.
Velveteen Medicated Night Cream and Foundation 445 were also available. The active ingredient in all these medicated products appears to have been hexachlorophene – a compound that got a lot of cosmetic companies into trouble – rather than the benzoyl peroxide commonly used today.
See also: Hexachlorophene
Make-up
Along with skin-care products, Dorothy Gray also sold a range of decorative cosmetics, such as powder, rouge, lipstick, mascara, eyeliner and eye-shadow; toiletries such as bath salts and soaps; and manicure equipment and nail polishes. Vanity cases, compacts and perfumes were also available for purchase.
Dorothy Gray make-up of the 1920s came in a limited range of colours that were mostly selected by hair and skin colour. Like other cosmetic companies of the time, powder colours were in shades like Natural, Flesh, Peach, White and Rachel, until the rise of suntanning in the 1920s saw a move towards darker tones as well. Some allowance was made for the standard hair colourings like brunette, medium and blond but in general there was very little colour choice available in the 1920s when selecting a rouge, lipstick, eyeshadow, mascara or eyeliner.
In the 1930s, Dorothy Gray introduced a colour coordination system for all its make-up, based on eight skin tones into which everybody was presumed to fit.
Time after time one sees charts of various types which are supposed to tell all about the type one is and the proper make-up for that type. But the disturbing thing is that most of us, average and blended types that we are, seldom fit into these definite "brunettes," "blondes," "Titians" and stuff. … [Dorothy Gray has] studied thousands of American types, and finally evolved eight definite skin tones into one of which everybody fits. … And since the Dorothy Gray cosmetics are all planned to complement these tones it is a simple matter to chose your make-up and be at ease.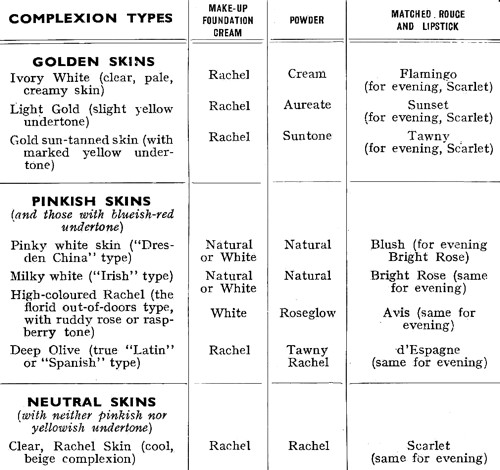 Although this regime remained in place through the 1930s, like similar highly organised systems of this type it did not survive. The increasing ability of women to change their hair colour, the proliferation of make-up colours, and the dictates of fashion – which saw colours change seasonally and annually – made it difficult to maintain. The need to follow Revlon's lead and introduce new lipstick and nail polish colours each year only exacerbated the problem. So, after the Second World War a much simpler simpler system was introduced which gave colour guidance based on broadly generalised skin tones.
See also: Revlon
Face powders
In 1926, Dorothy Gray was making loose face powders in three main forms:
Dorothy Gray Day Powder: "A fine, dry, moisture proof powder which adheres perfectly." Shades: White, Flesh, Cream, Natural Rachel, Aureate, Burnt Aureate and Sunburn. An early Peach shade had been dropped, presumable the result of the sunbathing craze that began in the 1920s.
Dorothy Gray Jacqueminot Face Powder: "An extra-fine, invisible face powder." Shades: White, Flesh, Cream, Natural, Rachel, Aureate, Burnt Aureate and Sunburn.
Dorothy Gray Extra Heavy Face Powder: "A finely adherent espacially heavy face powder. " Shades: White, Flesh, Cream, Natural, Tawny Rachel, Aureate, Burnt Aureate and Sunburn.
In addition to these general powders there was also: Dorothy Gray Violet Powder, for a 'décolleté dress' when under artificial light; and Dorothy Gray Sunburn Powder for use during the summer months.
Along with the rationalisation of other Dorothy Gray lines the face powders also underwent changes following the sale of the business to Lehn & Fink.
In 1933, Dorothy Gray Salon Face Powder was introduced in two varieties: Transparent and Opaque, in Aureate, Coppertan, Cream, Natural, Rachel, Glo-Rachel, Special Blend and Tawny Rachel shades. By the end of the decade, two new face powders had been added: Elation Powder, a superfine powder – perfumed with Elation Perfume which came in the same shades as the Salon Face Powder; and Portrait Powder (1938), a slightly more tacky powder containing an emollient, in Aureate, Coppertan, Cream, Natural, Rachel, Roseglow, Suntone, Tawny Rachel, and Evening shades.
The Dorothy Gray Salon Face Powder was later dropped from the inventory so that by the 1950s only Elation Powder and Portrait Powder remained. By then, with the exception of Evening, which only came in Elation, the shades in production were as follows:
Pink-toned skin: Glo Rachel, Evening, and Rose Glo.
Olive-toned skin: South American.
Golden-toned skin: Suntone, Regalia Rose and Bemuda Rose.
Neutral-toned skin: Midnight, Special Blend, Peach Glo.
As well as loose face powders Dorothy Gray also made compact forms and the previously mentioned Finishing Lotion, a liquid powder that was replaced by newer foundations after the Second World War.
Foundations
As far as I can tell Dorothy Gray never produced a product labelled as a vanishing cream. Her face powders were described as being 'clinging' but if needed, women in the 1920s could use Dorothy Gray Russian Astringent Cream as a powder base. This combined a skin food with an astringent, an interesting idea as many women of the time thought that make-up could clog open pores. It was described as 'greaseless'; i.e., it was not a cold cream, so was probably a type of vanishing cream.
In the early 1930s, the firm's new owners introduced Dorothy Gray Make-up Foundation Cream to help face powder 'go on smoothly and provide additional cling'. Unlike the earlier Astringent Cream, it was tinted in White (for skins with a lot of natural colour), Natural (for pinkish skins) and Rachel (for golden or neutral skins), and was available in only these colours for the remainder of the decade.
The Russian Astringent Cream was kept as a transparent powder base but was wisely renamed Dorothy Gray Pearly Powder Base – described as suitable for all skins except those that were very dry – with Dorothy Gray Astringent Lotion suggested as a powder base for individuals with oily skin. Then, along with the introduction of Elation Powder, came Elation Make-up Film (1939), a fluffy cream that only came in one shade, a soft peachy pink.
By the 1950s, the foundation range had been extended to included a number of preparations aimed largely at a younger market.
Astringent Base: "A creamy colored liquid foundation for oily skins. Checks oily shine and gives smooth matt make-up. May be used alone or under Finisheen if [a] more coloured effect is required."
Finisheen Liquid: "A liquid which adds colours to the skin; covers blemishes, minor skin discolourations, and gives the skin that gorgeous even colouring which will last for hours. More suitable to oily type of skin. Shades: Blush, Rachel Tone, Special Blend, and Portrait Pink."
Finisheen Cream: "Designed for the woman who prefers a cream foundation; has the consistency of whipped cream, covers tiny blemishes and leaves the skin even-toned, fresh and lovely. Non-drying. Shades: Blush, Rachel Tone, Pink Rachel, Special Blend, Portrait Pink, and Suntone."
Sheer Velvet: "A non drying, creamy liquid foundation. A flattering make-up for all types of skin. Does not streak. Gives a smooth matt finish. Shades: Rose Glo, Regalia Rose, Peach Glo."
Midnight Foundation: "Tested to hold powder through a long evening. Delicately tinted to give warmth to a pale or sallow skin and to conceal too high a colour."
Elation Make-up Film: "This was specially prepared for Dry and Sensitive Skins … It leaves the skin beautifully 'tacky' and so holds powder especially well. Colourless on the skin."
Lipstick and rouge
Only four shades of Dorothy Gray lipstick were available for most of the 1920s – Light, Medium, Dark and Evening – but this had increased by the late 1930s to include: yellow-reds like Flamingo, Sunset, Tawny, Coppertan and Sierra Gold; red-reds like Scarlet and Siren; and blue-reds like Blush, Bright Rose, Avis, d'Espagne, Royalty Red, and Plum Paste.
By this time, new shades like Daredevil were being introduced on a regular basis with Dorothy Gray, like many other firms, playing catchup with the leading colourist of the period, Revlon. Other new Dorothy Gray shades included Cockade, Firelight Red, Ripe Cherries, All Clear Red, Nosegay, Brass Band, Crimson Glory, Smiling Red, Headline Red, Red Letter Red, Portrait Pink, In the Pink, Vintner Red, Bright Touch, Savoir Faire and Elation (1940s); Red Trey, Sea Coral, Drum Red, Bright Lilac, Flamboyant, Spring Crocus, Edwardian Rose, Wild Peach and Apple on a Stick (1950s); and Coral Sail and Spinnaker Pink (1960s).
Rouge was produced in both cream and powdered/compact forms in the 1920s in a very limited range of colours, with the powdered form also being sold in larger cakes marketed as Boudoir Rouge by 1935. As the 1930s progressed, lipstick and rouge were sold in matching combinations so the number of rouge colours increased as new lipstick shades were added. Later, advice was offered on what clothes would work best with lipsticks and eventually, as with Cutex and later Revlon, lipstick and rouge was matched with the colour of nail polish, a cosmetic Dorothy Gray had been selling since the 1920s, initially under the name Chan Wah Poli.
Eye make-up
Early eye pencils, mascara, and eye-shadow originally came in a very limited range of shades like Light-Brown, Gray, Blue-Brown or Black. However, by the 1960s, when eye make-up was more important, there were six shades of eyeliner and thirteen shades of eye-shadow in a range of clear, matte and frosted tones.
Dorothy Gray salons
After starting out on Fifty-Seventh Street in 1916, Dorothy Gray opened up other salons in New York on 749 and then 753 Fifth Avenue. The reception room at 753 Fifth Avenue was decorated with walls of dull silver with panelling, doors painted in Russian Green and an oriental carpet covering the floor. Furniture was in Louis XVI style upholstered in yellow, rose and blue with the treatment rooms painted in a shade of pink referred to as flesh enamel.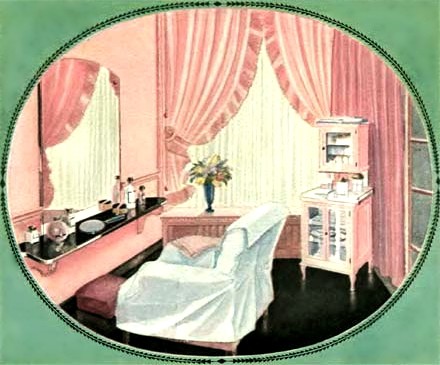 In 1929, after the business was sold to Lehn & Fink, the company opened a flagship shop and salon in the new Dorothy Gray Building at 683 Fifth Avenue which then became the headquarters of the company.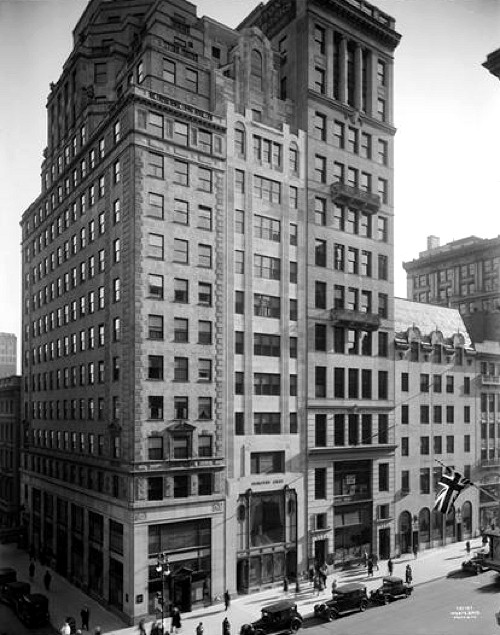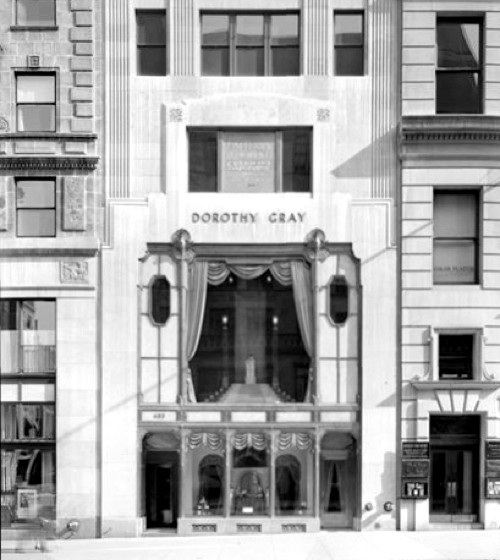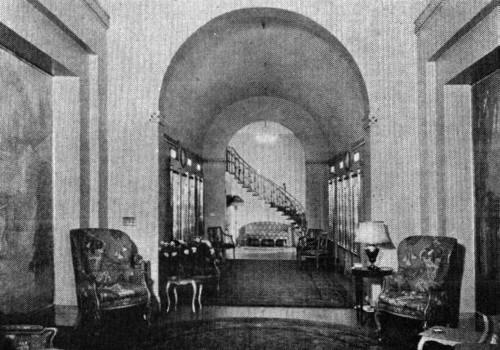 Women booked in for a facial were ushered into a room where they settled into a big, deep, covered armchair with an additional block to raise the legs. They faced a large, shelved mirror and there was a small medicinal looking cabinet to one side which held a range of products.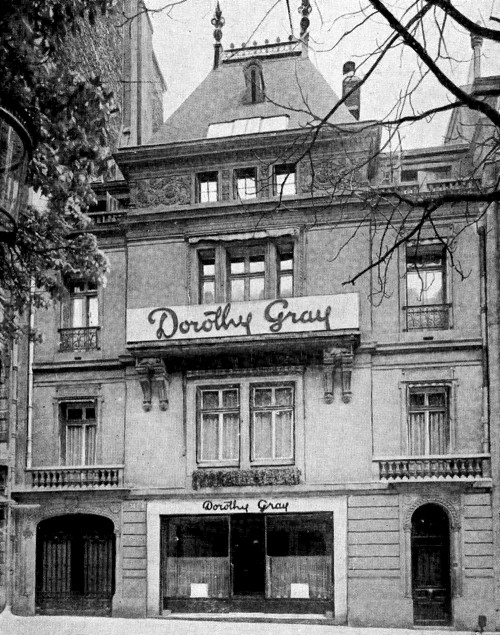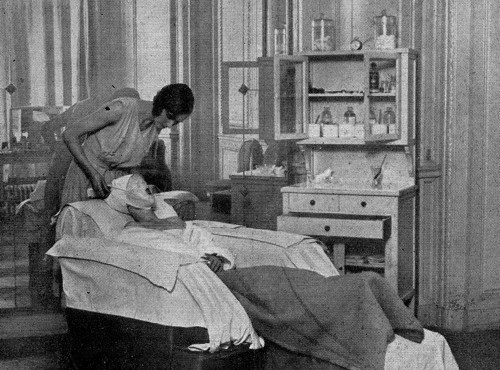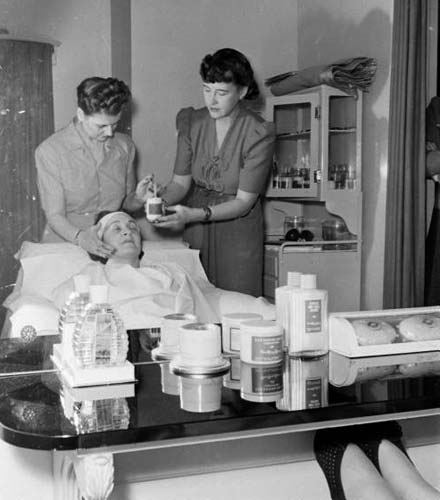 A physician could be consulted to set up a weight loss plan. Massage and other body treatments, along with exercise routines including squash were also available to help clients slim down or improve their posture. They could also remodel themselves into a 'new personality' by enrolling in a Personality Styling Course that included lessons in skin-care, make-up, hair-care, clothes-styling, diet, and voice modulation.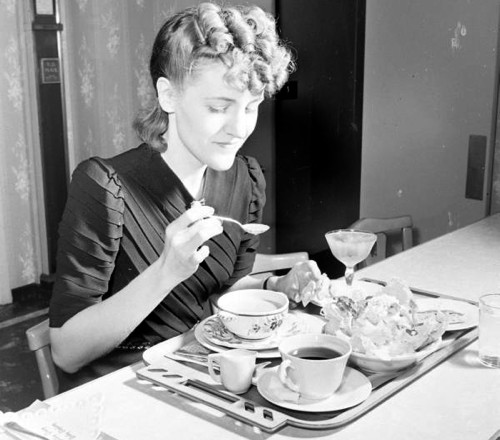 Not all Dorothy Gray salons were as extensive as this. Those built into department stores or on shipping lines would have been more limited.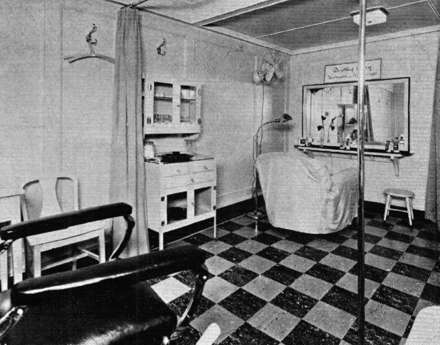 What happened to Dorothy Gray?
In 1966, Lehn & Fink was bought by Sterling Drug, a U.S. pharmaceutical company. Sterling Drug was acquired by Eastman Kodak in 1988, the various components of Lehn & Fink were separated and Dorothy Gray along with Tussy and some other components were sold first to Reckitt & Colman in 1994 and then to Playtex Products in 1998. After some unsuccessful reorganisations, Playtex sold a number of its brands, including Dorothy Gray and Tussy to Cenuco in 2005. Unfortunately, Cenuco also had financial problems and, after renaming itself Ascendia Brands in 2006, sold Dorothy Gray and Tussy to KCM Brands for $1 million in 2008.
This series of buyouts progressively weakened and then nearly caused the extinction of the brand. It no longer exists in the United States, Europe or Australasia but can still be found in Argentina and Uruguay. Both countries appear to have functioning websites with extensive product lines for sale.
Timeline
1916
Dorothy Gray opens a New York studio salon at 2 West 57th Street, New York.
n.d.
Dorothy Gray, Facial Aesthetics relocates to 749 5th Avenue, New York.
1922
Dorothy Gray, Facial Aesthetics establishes a laboratory at 142, 59th Street, New York, in charge of Michael J. Gregory.
1923
Dorothy Gray, Facial Aesthetics moves to 116 East 59th Street.
1924
Dorothy Gray, Facial Aesthetics moves to 753 5th Avenue, New York.
1927
Dorothy Gray acquired by Lehn & Fink.
Dorothy Gray incorporates in New Jersey.
1928
Dorothy Gray building erected at 683 Fifth Avenue, New York.
New Products: Dorothy Gray Sunburn Cream containing U.V. chemical filters.
1929
Dorothy Gray salon opens in the new Dorothy Gray building.
Dorothy Gray packaging updated.
Dorothy Gray begins radio sponsorships.
New Products: Texture Lotion; and Finishing Lotion.
1930
Dorothy Gray opens its first European salon in Paris at 34 Avenue George V.
New Products: Skyscraper compact.
1931
Part time physician in attendance at some Dorothy Gray salons.
Numerous products renamed: Muscle Oil becomes Special Toning Lotion; Orange Flower Skin Tonic becomes Orange Flower Skin Lotion; Deodorant Dusting Powder becomes Dusting Powder.
New Products: Lashique, a mascara; and Sensitive Skin Cream.
1932
Dorothy Gray opens first ship-board salon on the Grace Ship the Santa Rosa.
New Products: Liquid Cleanser (emulsified).
1933
New Products: Salon Face Powder; and Make-up Foundation Cream.
1934
New Products: Salon Facial Package released in two forms: Dry Skin and Oily skin; and Cleansing Cream 683 for dry skin.
1935
New Products: Pick-up Treatment.
1936
New Products: Salon Cold Cream.
1937
Dorothy Gray Salons Company established in London.
New Products: Vitamin D added to the Dry-Skin Mixture and the Throat Cream; vitamin A added in 1938.
1938
New Products: Portrait Face Power.
1939
New Products: Elation Make-up Film; and Hot Weather Cleansing Cream.
1940
New Products: Color Cue which harmonised lipstick, nail polish and face powder.
1941
New Products: Nosegay Make-up.
1943
New Products: Dorothy Gray Baby Oil and Baby Powder.
1944
New Products: Cellogen Cream with hormones.
1947
Dorothy Gray takes over the American distribution of Suzy Perfumes.
Dorothy Gray salon moved to 445 Park Avenue, New York.
1948
Dorothy Gray packaging updated in solid blue containers.
1950
New Products: Lipstick Couplet lipstick; Liquid Cleansing Cream; and Dual-Purpose Emollient.
1952
New Products: Remoldine with and without hormones; and Cellogen Cream containing hormones.
1953
New Products: Wedgwood fragrance line; Cream Stick deodorant and antiperspirant; and Quick Cleansing Cream.
1954
Radioactive dirt campaign begun.
1955
Special Dry Skin Lotion rebottled.
New Products: Sili-Creme Lotion containing silicone and allantoin.
1956
New Products: Satura Face Cream containing hormones and vitamin A.
1957
New Products: Satura Sheen tinted foundation; Abunda moisture cream with royal jelly; and Velveteen Night Cream.
1960
New Products: Sun Tan Lotion.
1961
New Products: Secret of the Sea treatment cream.
1966
Lehn & Fink sold to Sterling Drug, Inc.
1968
New Products: Satura Algene.
1988
Sterling Drug, Inc. acquired by the Eastman Kodak Company.
1994
Lehn & Fink division of Sterling Drug bought by Reckitt & Colman, Pty. Ltd. from Eastman Kodak.
1998
Personal Products Division of Reckitt & Colman sold to Playtex Products, Inc.
2005
Dorothy Gray brand acquired by Cenuco, Inc.
2006
Cenuco, Inc. becomes Ascendia Brands.
2008
Dorothy Gray sold to KCM Brands.
Updated: 28th November 2016
Sources
Dorothy Gray – 1916-1935 – The Early Years. (2011, August 19). Retrieved August 24, 2011, from http://collectingvintagecompacts.blogspot.com/2011/08/dorothy-gray-1916-1935-early-years.html
Dorothy Gray. (1926). The Dorothy Gray story [Booklet]. U.S.A.: Author.
Dorothy Gray. (1929). Your dowry of beauty [Booklet]. U.S.A.: Author.
Dorothy Gray. (1939). Your lovely skin [Booklet]. Great Britain: Author.
Dorothy Gray. (1954). Trust Dorothy Gray [Booklet]. Great Britain: Author.
Dorothy Gray. (1959). Your personal blueprint for beauty designed by Dorothy Gray [Booklet]. Great Britain: Author.
Dorothy Gray. How to make the most of your natural beauty with Dorothy Gray cosmetics [Booklet]. Sydney: Author.
Lehn & Fink. Annual Reports 1929-1964.
The man behind the scenes. (1932) Dry goods economist. New York: Textile Publishing Company.
Peiss, K. (2007). Hope in a jar: The making of America's beauty culture. New York: Henry Holt and Company.
Woodhead, L. (2003). War paint: Miss Elizabeth Arden and Madame Helena Rubinstein. Their lives, their times, their rivalry. London: Virago.