In the 1950s, the Noxzema Chemical Company of Baltimore, Maryland – known mainly for their Noxzema Skin Cream – began a program of diversification. The company hired new staff with experience in sales, advertising and product development, and began creating and market testing new lines.
Amongst the new products brought to fruition in the 1950s were two medicated cosmetics – Cover Girl Liquid Make-up and Cover Girl Compressed Powder – first sold nationally in January, 1961, backed by an extensive magazine and television advertising campaign.
This modest beginning marked the start of the incredibly successfully Cover Girl brand. Noxzema had some experience with cosmetics but the company had never sold make-up before so the 'overnight' success of Cover Girl is quite remarkable.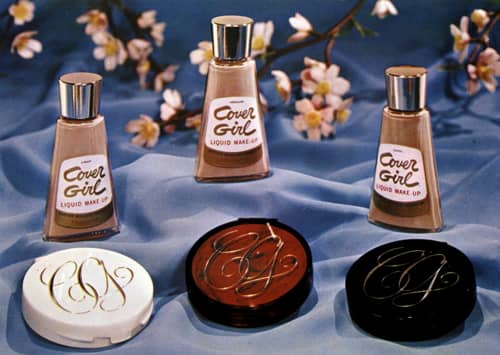 Medicated Make-up
Cover Girl was formulated with some of the medicinal compounds found in Noxzema Skin Cream – such as camphor, menthol, olive oil and eucalyptus oil – but also included the bactericides methyl and propyl parahydroxybenzoate and hexachlorophene. As bacteria are associated with pimples and other skin blemishes, the inclusion of parahydroxybenzoates and hexachlorophene allowed Noxzema to claim that Cover Girl was 'really good for the skin' and 'better than not using make-up at all'.
In October, 1972, the U.S. Food and Drug Authority (FDA) restricted the use of hexachlorophene. Noxzema – by then renamed the Noxell Corporation – had pre-empted the FDA announcement and removed the substance from its lines earlier in the year. However, as Cover Girl make-up still contained other bactericides the company could still describe the cosmetics as medicated.
See also: Hexachlorophene
Youth market
The target audiences for Cover Girl were teenagers and young women and the cosmetics were packaged for sale in drug and grocery stores where most price-sensitive young women bought their cosmetics and where most other Noxzema products were sold.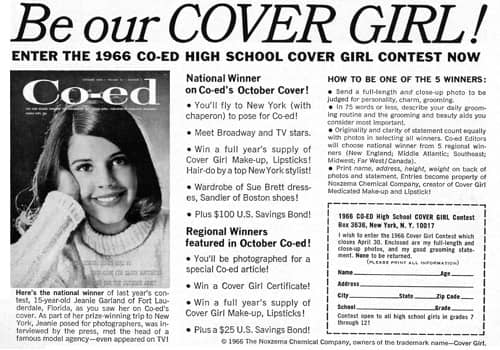 Much of the impetus for the development of Cover Girl may have come from Mary Ayers who worked for the advertising agency Sullivan, Stauffer, Colwell & Bayles (SSC&B). She had previously suggested increasing Noxzema's market share by promoting the cream to women as a medicated facial cleanser and water-soluble beauty cream.
[T]he most popular acne treatment for teens was a flesh-colored medicine called Clearasil, a slightly opaque ointment that came in a tube and had a distinctive, rather unpleasant, scent. Mary suggested to her client that Noxzema also develop a medicated, flesh-colored product, but make it opaque enough to cover the skin like a makeup and produce a range of shades. The treatment would actually contain Noxzema, which smelled more medicinal than most cosmetics, but had a more pleasant odor than most acne applications.
Others have suggested that the idea for creating a medicated make-up line came from Noxzema's director of Product Development, William (Bill) Hunt.
The name 'Cover Girl' appears to have originated with Carolyn Oelbaum, a junior copywriter who also worked for SSC&B (Scott, 2013). It was a good choice as the name suggested that the make-up 'covered' while at the same time opened up the possibility of using models as the basis for an advertising campaign.
As noted previously, Cover Girl started life in 1961 as a liquid and compressed powder, with a loose powder added later in the year. Initially, these three cosmetics were only sold in three shades – Light, Medium and Dark. By 1964, this had been extended to four – Creamy Light, Light, Medium and Brunette – but it was still only suitable for individuals with lighter skins.
To promote sales, customers were encouraged to buy more that one shade of Cover Girl and use them for contouring.
USE LIGHTER SHADES to accentuate or bring forward features that need emphasizing.
Receding chin? Carefully blend a light shade of foundation over the jawline from ear to chin.
Nose too small or retroussé Lightly blend a streak of lighter makeup right down the center of the nose over your regular shade.
Circles or lines under eyes? Blend a very light foundation over these areas first, then apply your regular liquid make-up shade over it.
USE DARKER SHADES for contrast or to diminish features that may appear too prominent.
Face too round or too square? Blend darker base or powder nest to jawline from ears to chin in a long triangle.
Nose too long? Apply darker base over the tip only.
Nose too wide? First apply darker base along the sides of nose, blending carefully into adjoining areas. Then apply regular make-up shade over your entire nose.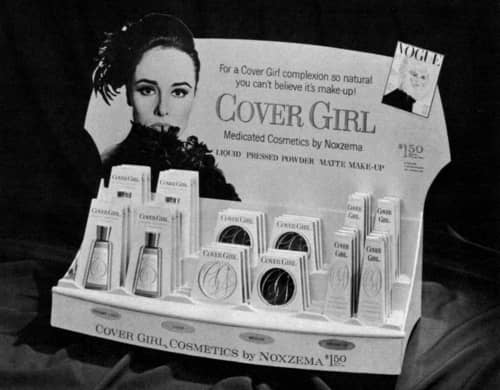 When Cover Girl Lipsticks were added in 1964, this idea was used again, with suggestions to mix different lipstick colours to create an individual shade or look.
Experiment with color, mix and match several shades of Cover Girl Lipstick. Try outlining your lips with one color, filling in with another.
Promotion
Despite its limited product and shade range, Cover Girl sold very well. Within a year it had achieved sales volumes well over half of the all time record for Noxzema Skin Cream; something that must have astounded the company executives and shareholders.
Much of the credit for the success of Cover Girl lies with the SSC&B television and print advertising campaign. It combined models and known magazine mastheads which required SSC&B to get agreement from magazines such as 'Redbook', 'McCall's', 'Teen', 'Women's Day', 'Harper's Bazaar', 'Vogue', 'Glamour', 'Co-Ed', 'Life' and 'Look' to use their mastheads in Cover Girl advertising. Pressure from other cosmetic companies such as Revlon caused many magazines to rescind these agreements with a year or two but by then the Cover Girl brand was well established. Not all magazines capitulated and those that were still available to cover Girl continued to be used in advertising for some time to come.
The success of Cover Girl soon had other cosmetic companies like Revlon, Max Factor and Chesebrough-Pond's adding medicated make-up ranges – in some cases also using hexachlorophene – but these new entries failed to stop the expansion of the Cover Girl brand.
See also Revlon, Max Factor and Chesebrough-Pond's
Models
The Cover Girl campaign is sometimes credited with starting the trend of using named models in advertising which led to the development of the supermodel. Although overstated, Cover Girl was the first brand to widely use identified models across print, radio and television. This elevated their status and turned many of them into household names.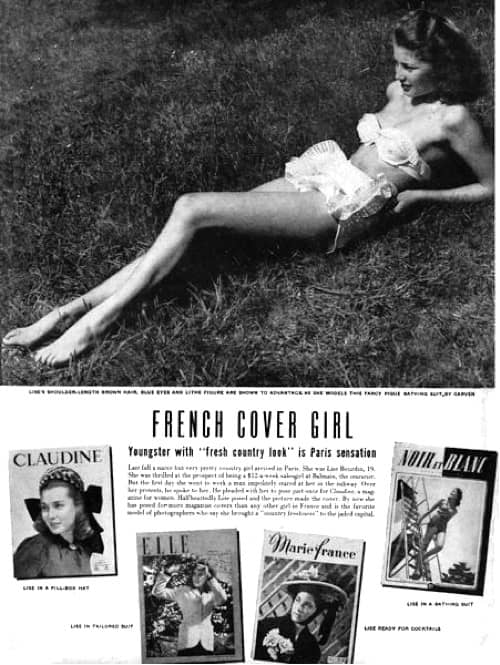 Clean make-up
In 1968, Cover Girl advertising shifted gear and began representing Cover Girl as 'Clean Makeup'.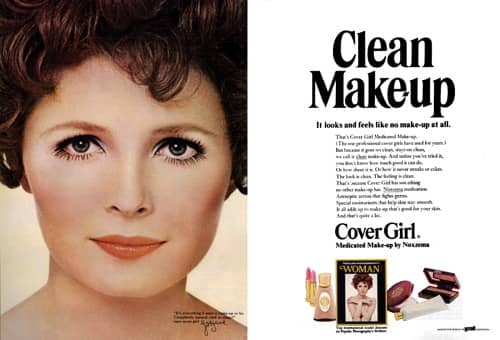 It looks and feels like no other make-up at all.
That's Cover Girl Medicated Make-up.
(the one professional cover girls have used for years.)
But because it goes on clean, stays on clean, we call it clean make-up. And unless you've tried it, you don't know how much good it can do.
Or how sheer it is. Or how it never streaks or cakes.
The look is clean. The feeling is clean.
That's because Cover Girls's has something no other make-up has. Noxzema medication.
Antiseptic action that fights germs.
Special moisturizers that help the skin stay smooth.
It all adds up to make-up that's good for your skin.
And that' quite a lot.
Brunette models were used in the 'Clean Makeup' advertising but blondes – such as Cybill Shepherd [b. 1950] – tended to predominate as they looked cleaner and fresher. The 'Clean Makeup' campaign did not do away with previous claims that Cover Girl was medicated.
Extending the range
New Cover Girl cosmetics were added during the 1960s starting with Cover Girl Powder (1961) and Cover Girl Matte Make-up (1962), a cream make-up sold in a tube.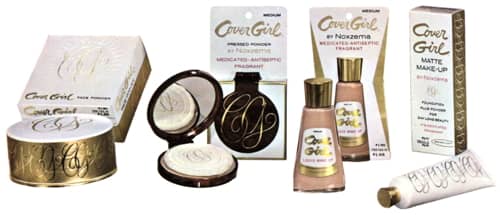 In 1964, Cover Girl Lipsticks were introduced in eight shades (Real Red, Clear Crimson, Pure Scarlet, True Rose, Natural Peach, Pink Beige, Pastel Pink and Natural Frost) with frosty shades (Beige Caper, Pink Whim, Bare Minimum and Orange Fling) and two lip toners (Boss Gloss and Bold Gold) added in 1966, and near-neon 'Flasher' shades (Natural Flash, Amber Flash, Pink Flash and Lightning Flash) released in 1967.
All of these products were made and packaged by private label firms. In 1966, Noxell opened a new plant in Cockeysville, Baltimore County, Maryland. By the following year this factory was being used to make packaging for Cover Girl and to assemble various lines using product delivered in bulk from private providers.
Full scale manufacture in-house of some Cover Girl cosmetics – Cover Girl liquid and tube make-up and Cover Girl Plus 3 – did not commence at Cockeysville until 1968, by which time Cover Girl Liquid Make-up was the top selling single brand in the United States with Cover Girl Pressed Powder the second. The high demand for Cover Girl products might explain why Noxell introduced new pilfer-proof packaging for the Cover Girl range in that year.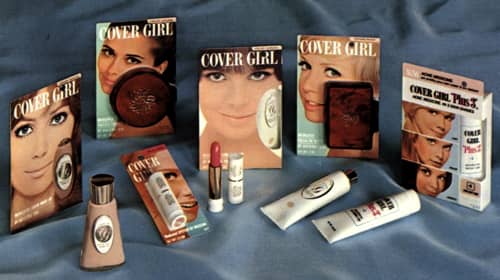 Cover Girl lines introduced in the 1960s included: Plus 3 acne remedy in three shades (1968); Brush-On blusher and Pearlies lipsticks (1969).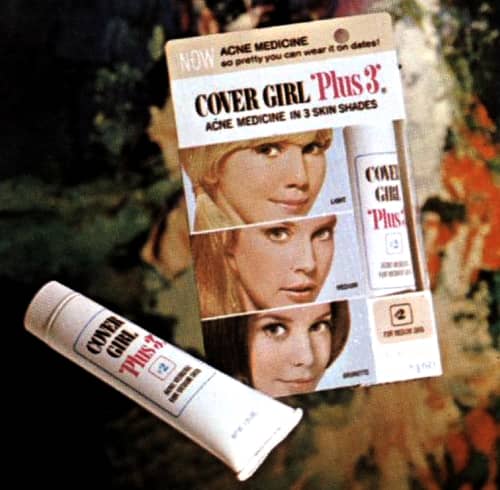 In 1970 – the same year that Max Factor launched its Pure Magic Super-Sheer Medicated Make-up line – Noxell introduced a range of Cover Girl Super Sheer cosmetics better suited to the 'natural look'. The range started with three products: Cover Girl Super Sheer Liquid, a foundation in Sheer Bare, Sheer Buff, Sheer Blush and Sheer Beige shades; Cover Girl Translucent Powder, a pressed powder in Sheer Nude and Sheer Natural shades; and Cover Girl Translucent Blusher Duo, a double-panned blusher in Sheer Peach/Peach Glow or Sheer Pink/Pink Glow sets.
The following year Noxell released Cover Girl Eyes Make-up (1971), a line of 47 products that included mascaras, eyeshadows and eyebrow pencils. Other make-up lines introduced in the 1970s included: Cover Girl Gloss & Gleam, a compact blusher and lip gloss, Super Gloss for Lips (Super Sheen line) and Shiny Shadow, a cream eyeshadow in pots (1972); PeeperSticks, a range of eyeshadow crayons (1973); Cover Girl Long 'n Lush Mascara, Softline Eyeliner, Softline Eye Shadow and Moisturized Big Eye Shadow (1974); 9-Hour Eye Polish, a liquid shadow and liner in one, and Cover Girl Shiny Lipsticks (1975); Cover Girl One-Stroke Eye Colors (1976); and Professional Mascara, Color-Matics Eye Shadow and 9-Hour Cheek Color, a liquid blush (1978).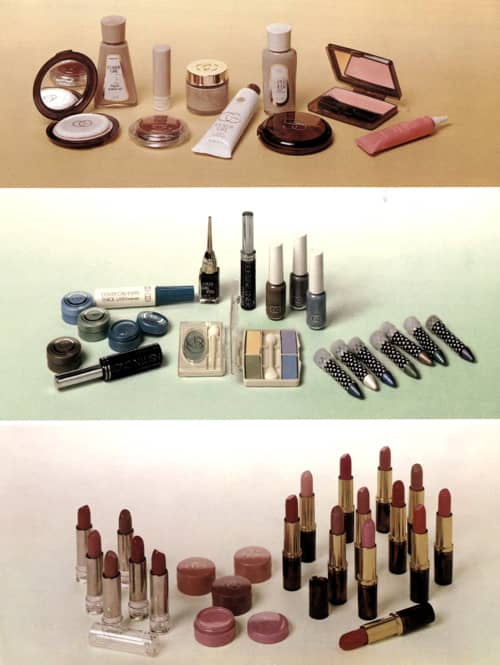 In 1977, Cover Girl Nailslicks nail polishes went on sale which meant that Cover Girl now had products in each of the main categories of make-up: face, eyes, lips and nails.
Realising that its initial target audience was growing up, Noxell also began to add Cover Girl products for women who were 25 years or older. Starting with Cover Girl Moisture Make-up and Cover Girl Moisturizing Cover Stick in 1973, Noxell added three additional cosmetics in 1976 – Moisture Cream Make-up, Moisture Cream Blush and Moisture Encapsulated Pressed Powder – thereby creating the Cover Girl MoistureWear Make-up range of five products in all.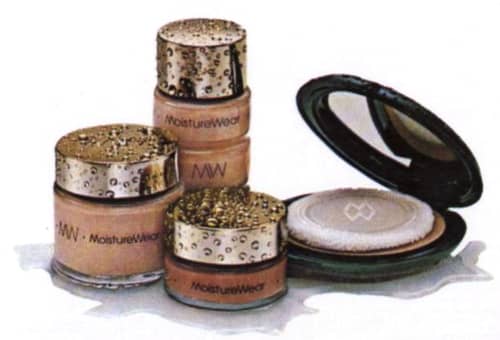 Also in 1976, Noxell added Cover Girl All-Day Oil Control Liquid Make-up in five shades, later complementing it with Oil Control Translucent Powder (1978), also in five shades, and Oil Control Powder Blush (1981). This meant that the company now had three lines of face make-up: Regular for normal, Oil Control for oily and MoistureWear for dry or older skins.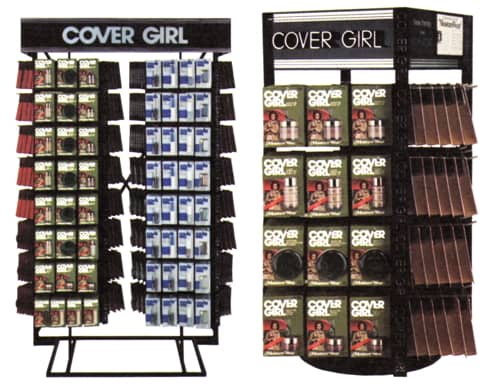 Although Cover Girl was very successful in the United States and Canada, Noxell did not rapidly globalize the brand. Noxzema had not been marketed on a global basis so when it came to selling Cover Girl overseas Noxell tended to rely on exporting or licensing agreements. Although the first foreign branch was opened in Britain in 1964, it was not unti 1977 that the Noxell Corporation (U.K.) Ltd. was established there and manufacturing began. By 1977, Cover Girl was being distributed in nine European countries and – through an arrangement with Lion Dentrific Co. Ltd. in 1973 – was also sold in Japan. However, sales outside of North America were modest.
In North America, the line continued to strengthen in the 1980s achieving sales that were better than Maybelline, making Cover Girl the leading mass-marketed cosmetics line in the United States at the time. Both companies committed large amounts of money to advertising, particularly in television and it is estimated that in 1980 Noxell was spending US$20 million on Cover Girl advertising or about 20% of its sales of the line.
Later developments
Cover Girl's premier position attracted the attention of Procter & Gamble – which did not have a make-up line in its stable of products at the time – and in a stock-swap deal valued at US$1.3 billion, Procter & Gamble acquired the Noxell Corporation in 1988. Procter & Gamble operated the brand until 2016 when, as part of a major reorganisation, they sold Cover Girl along with 42 other brands to Coty.
Timeline
1961
New Products: Cover Girl Liquid Make-up; Cover Girl Compressed Powder; and Cover Girl Face Powder
1962
New Products: Cover Girl Matt Make-up, a foundation and powder in one.
1964
New Products: Cover Girl Lipstick in eight shades.
1965
Cover Girl manufactured abroad for the first time.
1966
Noxzema Chemical Company renamed as the Noxell Corporation.
Cockeysville plant opened.
1968
Improved pilfer-proof packaging introduced.
New Products: Plus 3, an acne remedy in three shades.
1969
New Products: Brush-On blushers; and Pearlies lipsticks.
1970
New Products; Cover Girl Super Sheer Liquid Make-up; Cover Girl Translucent Powder; and Cover Girl Translucent Blusher
1971
New Products: Cover Girl Eyes Make-up.
1972
Hexachlorophene eliminated from Cover Girl products.
New Products: Cover Girl Gloss & Gleam; Super Sheer Super Gloss for Lips; and Shiny Shadow cream eyeshadow.
1973
Royalty agreement reached with Lion Dentrific Co. Ltd. Japan to market Cover Girl and Noxzema in Japan.
Lipstick reformulated and repackaged.
New Products: PeeperSticks, eye shadow crayons; Cover Girl Moisture Make-up; and Cover Girl Moisturizing Cover Stick.
1974
New Products: Cover Girl Long'n Lush Mascara; Softline Eye Shadow; and Moisturized Big Eye Shadow.
1975
Agreement signed with Beiersdolf AG, Hamburg to distribute Cover Girl in West Germany.
New Products: 9-Hour Eye Polish, a liquid eye shadow; and Cover Girl Shiny Lipsticks.
1976
New Products: Cover Girl MoistureWear Make-up line; Cover Girl All-Day Oil Control Liquid Make-up; and Cover Girl One-Stroke Eye Colors.
1977
1977 Noxell Corporation (UK) Ltd. established.
New Products: Cover Girl Nailslicks.
1978
New Products: Professional Mascara; Color-Matics Eye Shadow; and 9-Hour Cheek Color, a liquid blush.
1988
Procter & Gamble acquires Noxell Corporation.
2016
Cover Girl sold to Coty.
Updated: 1st June 2017
Sources
Jones, G. (2010). Beauty imagined: A history of the global beauty industry. Oxford: Oxford University Press.
Noxzema Chemical Company. Annual Reports 1959-1965.
Noxell Corporation. Annual Reports 1966-1979.
Scott, L. M. (2013). Classic campaigns – Cover Girl cosmetics: 1960-1990. Advertising & Society Review. 13(4). Retrieved February 2, 2016, from https://muse.jhu.edu/