In 1896, Frances (Fanny) Forsythe – using the name Mrs. Hemming – opened an establishment in a converted front room of a house at 58 South Molton Street, London, to discretely provide beauty treatments. The Cyclax Company was founded the following year and began general sales of Cyclax beauty products in 1902; Frances' descendants believe the company was named after the Greek island group, the Cyclades.
The secret of the Perfect Complexion of noted beauties of the day is disclosed; and the Remarkable Preparations which have produced and retained these Extraordinary Results at last obtainable by the General Public, although for years they have been exclusively supplied by a Specialist solely to her private patients.
Fanny Forsythe
Frances Forsythe, was born Frances Hamilton in Windsor, Berkshire in 1872. She married Sydney Forsythe in 1895, a year before she opened her business in 1896; her first child, Gery Hamilton Forsythe [1896-1964], arrived in the same year. Given the reputation that cosmetics had in the 1890s, it is understandable that she elected to use the alias Hemming to open her business. She went on to be married twice more – in 1912 to William Lissberger (who changed his name to Walter Lester) and in 1932 to Robertson Braine. She died in 1934 at 'Navahoe' St. Jean Cap Ferrat in the South of France.
Skin-care
Like her contemporary Eleanor Adair, Frances believed that 'women of discrimination' did not use make-up to hide imperfections; these could only be cured by 'proper remedies'.
It must appeal to the woman of discrimination that it is quite wrong to use "make-up" in the hope of hiding imperfections of the skin as it can only be brought into a condition of perfect health by using proper remedies. It is a grave mistake to imagine that ordinary so-called beautifying washes, rouges, etc. will conceal the ravages of time on the human face, as they merely serve to harden the expression and emphasise the lines and wrinkles. To be beautiful by nature, and to preserve that beauty, the skin and tissues must be fed and braced up daily, and kept free from acidity and all impurities.
Also see the company booklet: 1912 The cultivation and preservation of natural beauty
The skin must be "fed and braced up daily, and kept free from acidity and all impurities" (The Cyclax Company, 1908, p. 11). Frances preached that skin blemishes like pimples, acne, blackheads and redness were due to an excess of uric acid and bile, the remedy for this being to cleanse and unclog the pores. Her interest in uric acid extended into her advice on diet and in her selling Anti-Rheumatic Bath Crystals which were said to "throw off the uric acid through the pores of the skin" (The Cyclax Company, 1908, p. 29). It also explains why Cyclax Special Lotion figured prominently in treatments: made with calamine (Personal communication, 2012) Cyclax claimed it could remove skin acidity.
Lines on the face were regarded as being the result of a decline in the facial muscles, due to a lack of 'proper nourishment and attention' – a common belief of the time. Frances counseled against using strong astringents or electricity to tighten muscles, preferring instead to build them up using skin foods combined with massage and, in the case of the throat, chin straps.
See also: Skin Foods and Skin Tonics, Astringents and Toners.
Unlike Adair, she does not appear to have been an advocate of muscle strapping treatments either done by hand or with an electrical massager. She considered 'vibrations and heavy massage' as artificial methods that were bound to produce 'artificial results'.
See also: Massage, Wrinkles and Double Chins and Eleanor Adair
Frances also took on some ideas from the Physical Culture movement – well established in the 1890s – and counseled that diet and exercise were an important part of looking good. Good skin could be spoilt by "indigestion, want of air and exercise, and neglect of that cardinal rule, cleanliness" (The Cyclax Company, 1908, p. 12). Consequently, early Cyclax brochures included information on diet, exercise and general cleanliness.
Salted fish and meat are to be recommended strongly, as the value of salt in the chemistry of nature is so much neglected. In cases of constipation, chronic or temporary, regard must be given to the great value and benefit to be derived from the use of saline salts, the most efficacious of which is the preparation of J. C. Eno, Ltd., London. Luncheons should be light and nourishing, and nothing should be partaken of which produce flushings or heat of the face, as these are immediate danger signals announcing that the foods taken are disagreeing with the system. Tea should be taken sparingly and always freshly made. Dinners should never be too elaborate, made dishes should not be taken, and ice-puddings, ices, and black coffee should be avoided. Half-a-pint of Contrexéville Water (Source du Pavillon) before going to bed at night is an excellent corrective, as it enables the kidneys to disgorge the uric acid and forces the system to void waste products which often occasion disorders of many descriptions.
Early preparations
By 1910, the ground floor of the house in South Molton Street had been converted into three connecting salons, decorated in blue and white, with show-cases in dark wood frames. There were a number of Cyclax consultants in her employ but Frances continued to provide salon treatments as well, using the end apartment every Tuesday and Thursday.
By this time there were over 40 preparations in the Cyclax range. Formulated by Frances in conjunction with John Bell and Croydon of Wigmore Street, they included cosmetics for the skin, hands, eyes and hair, face powders, a mouth wash, soap, and perfume, along with other items like a chin strap, anti-rheumatic bath crystals, a reducing fluid, water softeners, washing squares and powders for keeping sponges clean.
Cyclax Skin Food: "it feeds the tissues, and plumps them up; it cleanses the pores of all impurities and foreign matter, and whitens the skin, while it builds up the flesh so that lines and wrinkles disappear, hollows cease to exist, and the unnatural depressions so often observable regain their proper form, and are no longer visible".
Cyclax Special Lotion: "absolutely cures acne, eczema, roughness, redness, blackheads, and all acidity of and in the skin".
Cyclax Complexion Milk: "renders the skin most beautifully smooth, eradicates lines, and closes up pores".
Cyclax Salustra Lotion: "specially prepared to swiftly cure pimples and eruptions".
Cyclax Reducing Fluid: "obesity is surely and gradually diminished".
Cyclax Throat Lotion: "for stimulating the glands and muscles of the throat, and it is a sure remedy for looseness under the chin. It braces up the muscles in a wonderful way, and the face gradually regains its normal contour".
Cyclax Transforming lotion: "imparts to the skin a beautiful transparent whiteness … specially designed as a protective agent against all changes of temperature and the effects of exposure of all kinds".
Cyclax Morn-dew Cream: "imparts a most delicate whiteness to the skin of the face, neck, arm and hands, and is particularly adaptable to hot climates, as it represses the unpleasantness of perspiration".
Cyclax Braceine: "keeps the skin in perfect health, stimulates the action, strengthens the tissues, and make the face beautifully firm and of a youthful appearance".
Cyclax Face Powder: "practically invisible, and yet at the same time imparts a most perfect surface to the skin. It is an extraordinarily fine powder, and is in every way beneficial, and guaranteed not to clog the pores. Further its action is antiseptic and it neutralises the effect of perspiration".
Cyclax 'Bloom of Nature' Powder: "imparts a natural colour to the cheeks. It is quite unlike rouge or any preparation of that kind. It imitates incomparably the natural colour, and is absolutely undetectable".
Cyclax Dusting Powder: "has very cooling properties, and is strongly antiseptic".
Cyclax Soap: "contains ingredients which whitens and softens the skin".
Cyclax Hair Stimulant: "immediately stops falling hair".
Cyclax Lustrozene: "darkens and beautifies the eyelashes and eyebrows".
Cyclax Eye Lotion: "gives immediate relief, and produces a most beautiful feeling of freshness and rest to the nerves of the eyes".
Cyclax Eyebrow Pomade: "while stimulating the growth, it causes the colour to deepen by natural means and the eyebrows to become luxuriant".
Cyclax Nose Ointment: "unequalled for the cure of any redness, from whatever cause arising, about the surface or sides of the nose".
Cyclax Lip Lotion: "cures the most obstinate cases of cracked lips, and renders them invariably soft, natural in colour and condition, and mobile. A few drops applied to the cheeks impart a natural and beautiful colour to the skin".
Cyclax Milk of Roses: "cures most obstinate cases of chapped skin (either of the hands or the face)".
Cyclax Hand Bleach: "renders the hands beautifully smooth and white, and keeps the skin exceedingly soft and elastic".
Early home treatments
Early Cyclax home treatments consisted of a morning and evening regime with the occasional special routine at night, like the use of a chin strap. Through her brochures Frances also included information on the best way to massage her products into the face. No allowance in her treatments was made for 'skin types' – as these had yet to be invented – or for specific regions of the face, except perhaps for the eyes and throat, but clients could buy products for specific problems such as red noses, pimples and obesity.
Home Treatments
On alternate nights use "Cyclax" Skin Food and "Cyclax" Complexion Milk in the manner described below:—
(a) "Cyclax" Skin Food:—Apply freely over the face and throat, working in the Skin Food very lightly with the third finger of the right hand gently all over the face, using a rotary movement.
(b) "Cyclax" Complexion Milk:—Sponge the face well with Complexion Milk, and allow it to remain on for a few minutes. Then dry with a soft towel except around the eye muscles, where the action of the Lotion is more beneficial if not wiped off.
(c) "Cyclax" Special Lotion:—On one night in each week use the "Cyclax" Special Lotion in the manner described in directions for the Special Treatment.
Morning Treatment
Apply Skin Food bountifully in the manner described above; allow it to soak in as long as possible, perform the facial movements … then wash in cold water, to which add one teaspoonful of Oatmeal Preparation and one teaspoonful of "Cyclax" Braceine. Use, for washing, a Turkish towelling washing-square and "Cyclax" Soap. Afterwards sponge freely with the cold water mixed with "Cyclax" Braceine and Oatmeal Preparation. Then, with Absorbent Wool, apply lightly a grain or two of "Bloom of Nature" Powder, and "Cyclax" Salustra Lotion … Wipe with a soft towel, taking care that no visible deposit is left on the face. Apply a little Skin Food to the bridge of the Nose, then dust "Cyclax" Face Powder over the whole face and polish off with Absorbent Wool.
Special Treatment. Night
Instead of using "Cyclax" Skin Food or "Complexion Milk," on one night in each week wash well with warm water, Oatmeal Preparation, and "Cyclax" Soap. Afterwards paint the face with "Cyclax" Special Lotion, and allow it to dry on. When dry, paint on a second coat freely, and allow it to remain throughout the night. In the morning perform the Morning Treatment as usual.
Expansion
By the 1920s, a second salon had been established in London at 13/14 New Bond Street and Cyclax preparations were being sold through postal order, local chemists and department stores in Britain, Europe, the United States and across the British Empire.
In 1919, Gery Hamilton Forsythe – who was studying journalism in the United States – was summoned back to England to help with the business (SPC, 1964). He concentrated on expanding the wholesale side of Cyclax, eventually establishing separate companies, each with their own manufacturing facilities, in Australia, New Zealand and South Africa, and later in the United States. Parts of the world without manufacturing facilities such as Far East, the Middle East, Canada and many European countries – including Ireland, Italy, Switzerland, Spain and France – were serviced through a network of distributors and agents. Cyclax salons were also established in various parts of the world – either independently or within department stores staffed by Cyclax operators – some of whom travelled to London to be trained as international Cyclax representatives.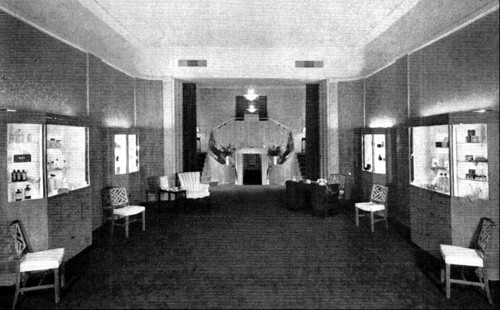 Cyclax skin-care in the 1930s
Between the two world wars the Cyclax method remained fairly true to the principles laid down by Frances at the turn of the century. Although any mention of uric acid disappeared 'skin starvation' and 'poisoning evils' that "clogged pores and choked the dermis" were still seen as the main causes of skin problems.
These pores are actually the outlets of little ducts of glands which throw off the waste products of the blood—(which we usually classify roughly as perspiration or sweat). In other words, the pore of the outer skin is like a lock-gate which opens to let out the stream of impurities which the blood wants to get rid of. Clog up those tiny openings, those lock-gates, and the stream is checked. It turns back on itself and lies there stagnant. You have suffocated the dermis, the true skin …
Clogged pores mean more and more blemishes on the skin, they mean blackheads, spots, coarseness — all those poisoning evils which you naturally want to avoid.
Cleansing continued to be of primary importance in the Cyclax method. Unlike many other beauty advisors of the time, Frances was a strong advocate of using soap (preferably Cyclax Skin Soap) and water rather than cold cream to clean the skin and keep pores clear and used a small brush to apply it so as to keep the pores clear. There was a Cleansing Lotion in the skin-care range but this was to be used during the day to prepare the skin for fresh make-up when soap and water might not be readily available.
There are women, I know, who have become so used to creaming the face clean that they shudder at the brutal idea of using soap-and-water. Much too harsh, they say. They're quite wrong. I can honestly say that I have never yet met a woman whose skin did not quickly improve under my soap-and-water treatment. When I think of one or two women I know who have not actually washed their faces for three or four years, it makes me feel almost as stifled and choked as their skin itself must feel.
However, according to Frances, cleansing alone was not enough. Soap and water were effective in removing surface skin impurities but could not fix problems that originated deeper in the skin dermis, and fixing these problems required clients to use Cyclax Special Lotion which was was applied with a brush.
However scrupulously you may cream or wash your face everyday—your skin still secretes certain poisons that are beyond the reach of any ordinary cleansing, yet must be removed before your skin can breathe and function at its best. Cream and massage will loosen them; soap and water will wash much of them away. But only Cyclax Special lotion will attract them—irresistibly as a magnet attracts iron; drawing every particle of impurity to the surface of your face, ready to be eased away with skin food before washing in the morning. One single application will free your skin of poisons that have been tiring it and worrying it for years, and once you skin is in a healthy condition a weekly application of the Lotion will be sufficient to carry on the good work. This essential cleansing is the basis upon which I have built my entire Cyclax Treatment.
Frances's ideas about the importance of keeping the skin pores clear of impurities were widely held at the time. Once the 'clogged pores' and 'choked-up dermis' were taken care of, a skin food could then be applied to 'nourish the under skin and make firm flesh'.
See also: Enlarged Pores
By the 1930s, allowances were being made for different skin types and skin areas, so Cyclax Skin Food was now produced in four grades: Thick for greasy skins, Special O for normal or dry skins, Baby for sensitive skin and Special E for thin throats.
After the skin was prepared, a day lotion/powder base was then applied to anchor the face powder, with excess being removed with a soft towel. Although Cyclax produced a range of rouge types, until the 1940s, Cyclax demonstrators generally recommended that Cyclax powder rouge be used under the day lotion/powder base to ensure a more 'natural and matt effect'.
The day lotion/powder base came in two forms, Sunburn Lotion for dry or normal skin – despite being called Sunburn Lotion it was not a sunscreen or even a remedy for sunburn – and Blended Lotion for greasy skins. Both products were produced in a range of shades including: Peach, Light Rachel, Rachel, Deep Rachel, Dark Rachel, Sunburn No.1 and Sunburn No. 2.
Frances' advice to clients about avoiding greasy creams also extended to powder bases and she recommended and supplied liquid lotions rather than cold or vanishing creams.
And of course that greasy cream is a deathtrap for your make-up. Go into a hot room, or become warm with exercise (even a good argument will send up your temperature) and the cream quietly but persistently leaks through and just ruins your make-up. Creaming the face clean means over-greasing the face. It means that the make-up is a very precarious affair, liable to dissolve into its component parts at awkward moments, like a Madame Tussaud's wax figure in front of a fire.
Problem areas such as the nose could be treated by using Antishine and Astringent Powder before applying face powder. As with the Day Lotion, powders came in a range of shades but could also be individually colour blended at a Cyclax salon if so required. Powder was to be applied with a swansdown puff because Frances considered all other types of puff to be injurious as they forced powder into the skin and irritated or damaged the pores.
Wrinkles
Frances' ideas on the causes of wrinkles were standard for the time. Facial lines were either the result of repeated expressions or due to sagging or stretched skin.
The expression on your face has its effect on your face muscles, and accordingly on your beauty. If you allow your lips to turn down at the corners, this will drag on the muscles and make little furrows.
If you frown a good deal, you contract the muscles of the forehead and wrinkles result. If your eyesight is weak, and you strain when you are looking at anything, you will accumulate little puckers round the eyes. If you worry a lot, you will line your face as systematically as though you willfully painted on each line and wrinkle.
A positive outlook on life would help, as gloomy thoughts would "throw a continual strain on the muscles, and your expression will tend to settle down into one of premature age" (Hemming, 1934, p. 46). Cyclax treatments included skin foods, to tone the flesh and keep it 'firm and strong and round and young-looking', massage to bring stretched muscles back to their normal state, and chin-straps in conjunction with Muscle Restorer to 'strengthen and brace relaxed muscles around the chin'. In addition to home treatments clients could attend a salon to get specialist attention during a facial.
The client reclines comfortably on a leather upholstered semi-lounge … With hair carefully covered with a cloth, and another over the shoulders, she is ready for the facial treatment.
First there is a gentle washing with warm water soaking a pad of cotton wool rubbed over with special cleansing Cyclax soap; then a liberal coating of skin food—soft in texture and faintly perfumed—spread all over the lace and under the chin to nourish and brace the skin. This is patted in with the tips of the fingers. It is all very soothing and comforting, even at this early stage. Meanwhile, two little pads of cotton wool soaked in Cyclax lotion have been placed over the eyelids. (The skin food in the home treatment would be left on all night.)
After the cream has been well rubbed in there follows a reviving splash, snow cold and invigorating—a rinsing with cold water in which a teaspoon of Braceine Tonic has been added to one pint. Then a powder base of milk of roses, tantalisingly elusive in perfume and an emollient lotion which is worked in with the finger tips and keeps the skin soft, and over this, a dusting powder—the shade depending, of course, on the individual tone of the skin. … Then follows the application of rouge. … Over the rouge, to protect the skin and to blend the rouge so that there is no suggestion of a hard and unnatural look about the complexion, a sunburn lotion is applied. (This by the way has no actual connection with summer and is used all the year round.) It gives that effective matt finish to the make-up. Lastly comes another dusting of powder. If one is unfortunately, the possessor of a shiny nose, a dab or two of anti-shine lotion will remove all trace.
1930s home treatments
Those clients who could not come to a Cyclax salon could use the Home Treatment Regime. Each evening, the face was washed with soap and water. Cyclax Special Lotion was to be applied once a week with the other nights using Cyclax Skin Food and Cyclax Complexion Milk alternatively. In the morning Cyclax Skin Food was applied before again washing the face with Cyclax soap and water, after adding a little Braceine skin tonic to the water.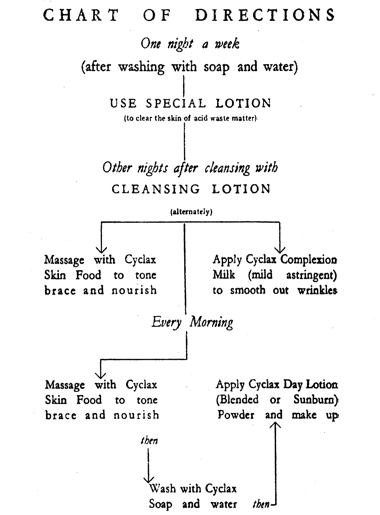 Although most Cyclax representatives around the world followed this regime there were variations.
A Guide to Cyclax
First, the pores of the skin must be cleansed and kept clean of all buried acids and dirt. Second the surface of the skin must be kept unclogged and clean by avoiding sticky cream and powder bases.
Begin this evening
At bedtime, wash your face with Cyclax soap and warm water then paint on one coat of Special Lotion. Let this dry for a minute or two, then paint on another coat. Smooth carefully with finger-tips.
First thing next morning
Overnight the Lotion will have drawn out every particle of acid and all impurities can gently be sponged away. Then massage with Cyclax Skin Food.
Before washing your face
During your bath the steam will open your pores and help the Skin Food complete its gentle, unforced cleansing. Soap and water cleanliness is an essential part of the Cyclax system.
Cyclax soap and water
Soap is almost a beauty treatment in itself. And always use Cyclax Oatmeal water-softener, it renders the hardest water soft.
Keeping the pores clean
Braceine in the rinsing water gives a delightful tingling coldness and safely closes the clean pores. Now your face is immaculately clean.
Before powdering
Pat on a little Cyclax Powder-Base. Smooth it in evenly, then take a soft towel and pat your face all over.
And finally, make up
Add rouge and powder. Your skin will have a finish that no greasy cream or heavy liquid mask can give. Cyclax Rouge and Powder cling naturally.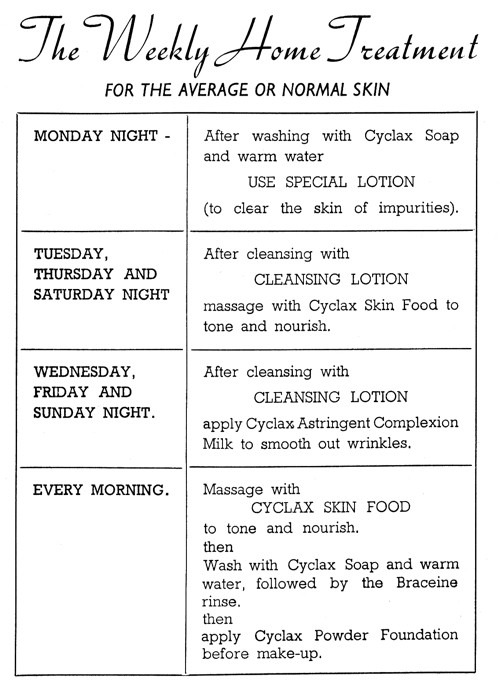 Wartime
The onset of the Second World War began a difficult period for Cyclax. European outlets in Germany and France were cut off, there were the inevitable war shortages, and cosmetics in Britain became subject to heavy taxation to help pay for the war and reduce demand on non essentials. Although other parts of the world carried out their own manufacturing, given that new products were mostly developed in Britain, weakness in the parent company also affected subsidiaries.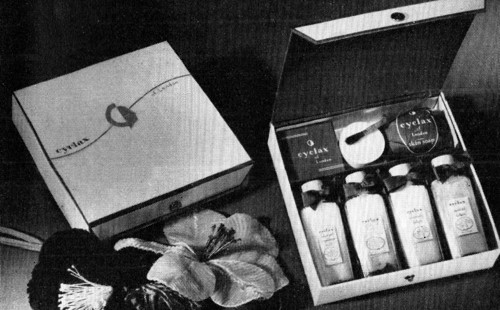 The factory in Tottenham Court Road was destroyed during the London Blitz so the production of cosmetics was moved, first to the family home in Sonning, Berkshire, then to a rented factory space in Ledbury Road with perfume manufacturing carried on at the Potter & Moore factory in Seymour Road, Leyton. These interim arrangements ceased once a new factory was established in Harlow New Town, Essex in 1953. Fortunately, the shop at 58 South Molton Street was not damaged, possibly because it was protected by its outwardly curved windows.
In 1939, Cyclax developed a lipstick shade called Auxiliary Red specifically designed for service women; many believe it started the trend for the bright red lipsticks commonly seen during the war. Cyclax contributed to the war effort in other ways as well, developing a special lotion for the treatment of burns, a sunproof cream for soldiers fighting in hot climates and a camouflage cream for the British army.
The camouflage cream was reputedly developed by Thelma Holland. The cream was also used as a base for Cyclax Stockingless Cream applied by women to colour their legs. It was supplied with an eyebrow pencil to draw a line down the back of each leg to mimic the seam present in stockings of the time.
See also Cosmetic Stockings
Postwar period
As Cyclax emerged from the war it returned to producing its full product range including perfumes, bath salts, suncreams, depilatories, deodorants, shampoos, hair sprays and hair tints as well as the usual beauty cases, bags and gift packs.
In Britain, the end of the war was followed by a post-war austerity period that lasted well into the 1950s. The cosmetic business there was severely affected by heavy taxation with the Purchase Tax on cosmetics only being dropped from 90% to 60% in 1958 after strenuous industry lobbying. This severely hampered sales in an economic climate where there was little money available for luxury items.
Cyclax worldwide also faced increased competition from American brands that were not affected by the postwar austerity, had better financial resources, good sources of supply and more effective advertising campaigns often backed by the glamour of Hollywood. Cyclax representatives were accustomed to selling on the basis of quality and value for money, factors that had diminishing appeal when living standards improved. Cyclax had associated itself as the 'choice of leading models and mannequins' but in the 1950s these had less appeal than movie stars – the supermodel had yet to arrive. Change was also taking place in the British Commonwealth, where the younger generation looked more to America and companies like Max Factor and Revlon than to British firms like Cyclax and Yardley, a trend that was not reversed until 'Swinging London' briefly gained ascendency in the 1960s.
Skin-care
The history of Cyclax skin-care from the 1950s to the 1970s was one of slow evolution. The emphasis on soap and water was downplayed in preference to the use of cleansers but the company persisted with skin foods – except in the United States. Skin was to be first cleansed with Cyclax Cleansing Balm, toned/refined with the astringent Cyclax Complexion Milk and then nourished with Cyclax extra nourishing Tissue Cream containing lanolin.
Cyclax could continue to use terms like 'skin food' and 'tissue cream', as the ban on nutritional claims for cosmetics – that had been in place in the United States since 1938 – did not exist elsewhere in the world. Restrictions on nutritional claims for cosmetics did eventually occur in other advanced economies but before this took place the moisturiser became the central narrative in skin-care, and skin moisturisation rather than skin nourishment became the dominant theme of cosmetic advertising.
Also see the company booklet: Skin care and loveliness
Cyclax produced a range of moisturisers in the 1960s including Eternal Spring, Creme Dew and Moistura to add to its Milk of Roses which was now rebadged. A new treatment plan was also devised which, in its most complex form, included day and night components and variations for dry, combination and oily skins.
Cyclax Skin Revival Collection
Dry Skin
1. Cleanse, every night, with Moisturised Cleansing Balm.
Daytime dust and makeup just float away under this gentle, baby-pink balm. Your face emerges soft and clean, with a subtle glowing look.
Every morning with Cyclax Skin Soap. A soap so creamy it should have come in a jar. Softens and leaves the skin with an early morning freshness. Feeling flawlessly clean—without tautness or dryness.
2. Tone, after cleansing both night and morning, with Flower Balm.
Flower Balm gives kind encouragement to fine textured skin. It tones, moisturises and freshens—without the harsh bite of astringents. The miracle is cucumber juice.
3. Nourish, at night, with Activated Night Cream.
A brilliant blending of vital ingredients for dry skin—like avocado oil, special vitamin extracts and bio-genic stimulators. A luxurious nocturnal cream that saturates your skin with moisture and nourishment, to soften and recondition.
In the morning, moisturise with Milk of Roses. A few silky soft drops shield your skin from moisture thieves—like wind, sun or air-conditioners. And this silky shield is also and under-makeup base. Makeup glides on, stays daisy fresh.
4. Purify, once a week, with Liquid Beauty Mask.
Dry skin often suffers from a dull sallow look. It stems from an acid-alkaline imbalance. This unique Cyclax product tips the scales. Gives a fresh, clear country-air glow, literally overnight.
Combination Skin
1. Cleanse, every night, with Cleansing Lotion.
Whisks away every last speck of makeup and dust. Cares for the 'split personality' of your skin, with a gentle astringent action that takes away any unwanted oils.
Every morning with Cyclax Skin Soap. Has the effect of a cream, while it does the work of a soap. Soft bubbles wash away excess oil and leave the skin extra clean and fresh—yet supple.
2. Tone, after cleansing both night and morning, with Skin Tonic.
A lightly astringent toner. It prepares the skin for nightime nourishing or new-day makeup by closing pores and refining skin texture. Also chases away any shiny oil, so give special attention to the oily areas of your skin.
3. Nourish, at night, with Moistura.
Loaded with moisturisers and lightly nourishing ingredients, the instant this cream touches the skin it hurries down deep into the pores to protect and replenish. Leaving only its softness behind.
In the morning, moisturise with Milk of Roses. A liquid silk containing luxurious almond oil. Milk of Roses protects you skin from drying weather. Also a marvellous makeup primer—your foundation glides on, powder stays sitting pretty.
4. Purify, twice a week, with Liquid Beauty Mask.
Over night this remarkable lotion restores clarity to the skin by drawing out acid wastes and impurities. Your skin wakes up with a smoother texture, a clearer colour. (Apply second night of the week to oily areas only.)
Oily Skin
1. Cleanse, every night, with Cleansing Lotion.
Makes a clean sweep of makeup, surface dust and oil. At the same time delves down pore-deep to soak up any unwanted oils. Lightly astringent it leaves you skin feeling clean and fresh.
Every morning with Cyclax Skin Soap and Complexion Brush. Cleansing is of prime importance to oily skin. So Cyclax has created a soft bristled brush that gently stimulates the complexion. Lathered with soap it cleans away any excess oil, leaving the skin with a healthy, active glow.
2. Tone, after cleansing both night and morning, with Skin Tonic.
Tingles over-oily pores into shape by blotting away excess oil, tightening, firming—refining. So fresh and light it seems to waken your complexion, just like soft spring rain.
3. Nourish, at night, with Moistura.
Oily skin has too much oil, not enough moisture so it's bound to get thirsty. Give it a night-cap. Just smooth on this greaseless cream and its instantly absorbed, leaving your skin supple and fresh.
4. Purify, twice a week, with Liquid Beauty Mask.
This brilliant Cyclax invention normalises oily skin, by drawing out impurities and acid wastes—waking up the circulation.
Leaves your complexion beautifully clear and finely textured.
Given that the above plan was constructed after the company had been sold it is interesting to see how much of the original Cyclax method remains. Although the emphasis on soap and water has been reduced it is still there, as is the preference for lotions rather than creams which, although present, are restricted to night use. The treatment still talks about 'drawing out acid wastes and impurities', 'deep cleaning pores', and 'nourishing' but now adds 'moisturising' to the benefit list with moisturisers replacing skin food and day lotion. Special Lotion has gone but its place has been taken by Liquid Beauty Mask which is still applied once or twice a week.
Of course not everyone was prepared to put in this amount of effort, so, like others in the industry, Cyclax developed speed skin-care plans, such as the Cyclax 3-step Moisturising Plan and the 10-Minute Mask.
Cyclax 3-step Moisturising Plan
Milk of Roses Moisture Balm.
This remarkably light moisturiser provides the moisture every skin type needs, and is a perfect base for makeup. Rich in almond oil, it leaves your skin silky soft, protecting against further moisture loss throughout the day.
Moistura.
This light, fluffy cream moisturises and lightly nourishes while you sleep.
Flower Balm Freshener.
Made from pure cucumber juice, this refreshingly cool lotion refines skin texture without drying.
Those clients who were prepared to pay extra could use the 4-minute-a-night Neo Juvex Routine to fight off dryness, lines and wrinkles. The products were perfumed with cucumber, rose or violet and packed in purple and silver containers. The Neo Juvex range included Neo Juvex Deep Cleanser, Neo Juvex Toning Lotion, Neo Juvex Cream for the Face and Neo Juvex Cream for the Neck. Neo Juvex Moisture Film was added later as a base for powder followed by Neo Juvex Firming lotion for the face, Neo Juvex Firming lotion for the Neck, Neo Juvex Day Eye Cream, Neo Juvex Beauty Oil and Neo Juvex 10 Minute Mask. Some products like Neo Juvex Collagen All Day Moisture Balm (to be used by day) and Neo Juvex Collagen Intensive Treatment Cream (to be used at night) contained soluble collagen. Neo Juvex Foundation with soluble collagen was added to the range a year or two later.
Collagen care for your skin with new Neo Juvex Collagen All Day Moisture Balm.
Now your skin can benefit from the continuous care of soluble Collagen—by day with Collagen All Day Moisture Balm, and by night with Collagen Intensive Treatment Cream.
Soluble Collagen is a natural protein found in healthy young skin which absorbs and holds moisture, giving the complexion its firm youthful appearance.
As we grow older, the Collagen content in our skin slowly becomes insoluble, and loses its capacity for holding in precious moisture. The skin becomes dryer, it loses its elasticity and early wrinkles appear.
Special ingredients
Cyclax was very conservative in its inclusion of skin-care additives and avoided most of the fads that periodically swept the industry. As well as soluble collagen in the Neo Juvex range, other additives included in skin-care products were vitamins and plant extracts such as avocado and cucumber.
In the 1970s, Cyclax responded to the growing consumer interest in plant extracts and natural formulations by producing their Cyclax Natural Formula Range which included Almond and Milk Cleanser, Cucumber and Honey Toner, Milk and Honey Moisturiser, for use during the day along with Avocado and Almond Cream to be used at night.
Youth market
Early attempts to attract the youth market were fairly perfunctory. In 1947 Cyclax introduced Demoiselle 'for the young in years' which consisted of a rouge, lipstick and face powder in shades of Rosemary, Marigold, Prudence and Victoria. A more serious attempt to cater for the skin problems of the youth market was made in the 1960s when Cyclax introduced a series of medicated lotions. Developments in this direction resulted in the Beauty Clear Collection which by the 1970s included Anti-Acne Lotion, Medicated Soap, Medicated Moisturiser, Medicated Lotion, Medicated Spot Mask, Medicated Cleanser and Medicated Night Cream.
Make-up
As the financial returns from make-up continued to accelerate in the post-war period Cyclax attempted to keep up with trends and new formulations as they became fashionable.
Frances had suggested that a day lotion/powder base should be used under a face powder. In the 1950s, this practice was updated with GlamOtint liquid foundation to be used under Beauty Pressed compact powder. The products originally came in five shades: Pink Velvet, Peach Velvet, Rose Velvet, Bronze Velvet and Tan Velvet. The Natralucent range introduced in the late 1960s followed a similar path and included Flowing Make-up (liquid) and Natralucent Powder (in compact and loose forms).
In regard to lipsticks, Cyclax followed the industry-wide practice of releasing new shades annually. A theme was usually chosen for each new range and then individual items were named in keeping with that theme, e.g., in 1972, Vintage lipsticks came in shades of Burgundy Fizz, Sherry Twist, Champagne Punch and Claret Cup.
When it came to names, Cyclax was rather reserved, tending to stick with plant names like Fox Glove, Ripe Plum, Tawny Rose, Melon and Golden Ash; names that evoked an Englishness such as Tudor Brown or Pagegirl Pink; or matter-of-fact descriptions such as Deeply Bronze, Magenta and Cinnamon. Although rather dull, this practice fitted well with the company image of selling reasonably priced, no nonsense products that would help you to acquire an English complexion.
Men's line
Like many other companies, Cyclax had only limited success with cosmetics for men. Wisely it stuck to toiletries, such as aftershaves and deodorants, marketed under its Talisman Range.
Royal warrant
The company's relationship with the crown began when Queen Elizabeth (the Queen mother) agreed to engage a Cyclax representative, Thelma Holland, to become the royal cosmetician and beauty advisor. Thelma went on to advise Queen Elizabeth II about make-up for her wedding and subsequent coronation. The relationship eventually resulted in the issuing of a Royal Warrant of Appointment to Cyclax in 1961, an important advertising advantage for Cyclax as many Commonwealth customers took note of what skin-care and make-up Elizabeth used.
See also: Coronation Cosmetics
Corporate acquisition
The 1970s were a time of major change for Cyclax. In 1970, Cyclax was acquired by Lehman Brothers, Inc. on behalf of a group of private investors. The four Cyclax businesses (Australia, South Africa, New Zealand and Britain) continued to operate as subsidiaries of Cyclax London International which was itself placed under the control of Cyclax Ltd., a U.S. holding company and operations in the United States were expanded through Cyclax of London, Inc.
Following its acquisition, the entire Cyclax product range was examined and revamped resulting in many lines being discarded and Cyclax only producing about half of the products it had previously made. Conflicts between some lines were resolved and confusing names were removed. The new owners also expanded the Neo Juven range introduced a year or two earlier.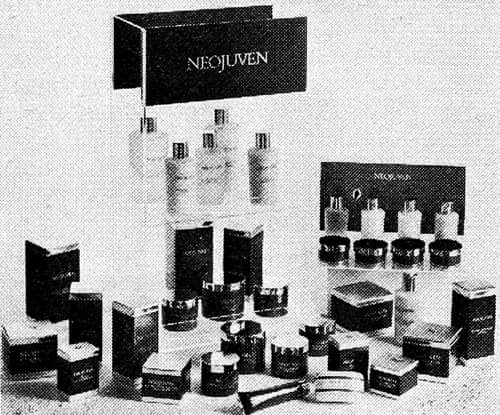 Having refurbished the line, the private investment group sold Cyclax to Cooper Laboratories in 1973. The following year, after deciding to concentrate on pharmaceuticals and dental products, Cooper Laboratories sold Cyclax to British American Cosmetics (BAC), a subsidiary of British American Tobacco (BAT), for about US$4 million. In 1985, after a management change at BAT the new board announced they were going to concentrate on tobacco and BAT sold all its cosmetic interests to Beecham.
In 1989, Beecham merged with SmithKIine Beckman to form SmithKIine Beecham. As with BAT, the new entity later chose to concentrate on its core business, which was pharmaceuticals, and sold their cosmetics assets, including Cyclax, to a U.S. investment group, Old Bond Street Corporation in 1990, who then on-sold it to International Classic Brands (ICB) in 1994.
ICB went into receivership in 1998 and its assets were split up. Cyclax was bought by Richards & Appleby Ltd. who have continued the brand. As well as budget priced skin-care (Cyclax Moistura), sunscreens and waxing preparations, they have also released a natural skin-care line (Cyclax Nutressa).
Timeline
1896
Frances Forsythe opens a business in 58 South Molton Street, Mayfair using the name Mrs. Frances Hemming.
1897
Cyclax Company founded.
1902
General sales commence.
1903
Cyclax trademark obtained in Great Britain and Ireland.
nd
Cyclax opens salon at 13/14 New Bond Street.
nd
Cyclax opens salons in Paris and Berlin.
1914
Cyclax trademark obtained in the United States.
nd
Harrods becomes the first retail agent for Cyclax.
1919
Gery Hamilton Forsythe returns from the U.S. to work for Cyclax.
1934
Frances Forsythe (now Frances Braine) dies.
1935
Cyclax companies established in Australia and New Zealand.
1936
Cyclax of London, Inc. established in New York.
1938
Cyclax company established in South Africa.
1937
Cyclax opens a salon at 7 East 53rd Street New York. Lillian Mayle who had been running the salon in South Molton Street was sent to America to operate it.
1941
New Products: Stockingless Cream.
1942
Cyclax factory in Tottenham Court Road bombed.
1953
New Cyclax factory completed in Harlow New Town, Essex.
1956
New Products: Neckline.
1958
New Products: Mainly for Men range
1970
Cyclax acquired by Lehman Brothers on behalf of private investors.
1973
Cyclax sold to Cooper Laboratories, Inc.
1974
Cyclax acquired by British American Cosmetics (BAC).
1984
British American Cosmetics sold to Beecham.
1989
Beecham merges with SmithKline to form SmithKline Beecham.
1990
SmithKline Beecham and sells its Yardley-Lenthéric cosmetics group (including Cyclax) to the investor group Wasserstein Perella to be operated through the Old Bond Street Corporation.
1994
Yardley, Lenthéric, Morny and Cyclax sold to International Classic Brands.
1998
International Classic Brands goes into receivership.
1999
Cyclax purchased by Richards & Appleby Ltd., who continue to maintain the line.
Updated: 27th June 2016
Sources
The Cyclax Company. (1923). The cultivation and preservation of natural beauty [Booklet]. London: Author.
Gunn, F. (1973). The artificial face: A history of cosmetics. London: David & Charles.
Hemming, F. (1934). Towards beauty: Handbook for the would-be lovely [Booklet]. London: The Cyclax Company.
Manufacturing chemist. (1937-2012). London: Miller Freeman [etc.].
Mayle, L. The art of being lovely (4th ed.) [Booklet]. London: The Cyclax Company.
Perfumery and essential oil record. (1910-1969). London: G. Street & Co., Ltd.
Skin care and loveliness [Booklet]. London: Cyclax of London.
SPC. Soap, perfumery & cosmetics. (1935-1970). London: London Trade Press Ltd.
Wykes-Joyce, M. (1961). Cosmetics and adornment: Ancient and contemporary usage. London: Peter Owen.