Very little is known about Eleanor Adair the person, other than that she was born in Ireland in 1867 and, from 1900, opened salons in London, Paris, Nice, Brussels, Birmingham, New York and elsewhere. She was also the person that introduced Florence Graham to the beauty business – Florence used her time with Adair to learn enough beauty craft to start what became Elizabeth Arden.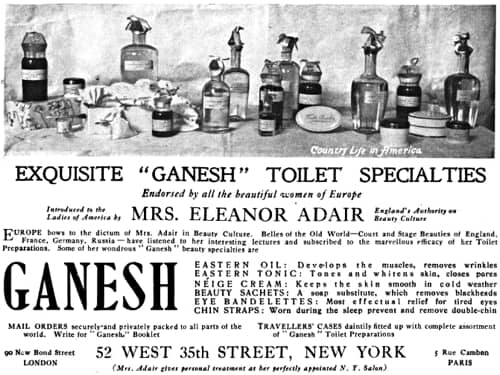 Adair was considered one of the top beauty experts of her time and, despite what Elizabeth Arden might suggest, carried on a successful international business for thirty years or more. Aimed at the top end of the social set, her salons received ladies of 'good social standing' and charged high prices for treatments which included skin-care, eye-care, strapping, weight reduction and electrolysis. She sold a range of skin preparations either directly from her salons or through chemists, agencies and mail order. Her advertisements for these products appeared in selected magazines and newspapers in Britain and Europe, as well as North and South America.
Ganesh
Although she named her salons after herself, Adair did not do the same for her products and treatments. These she claimed were based on 'secrets' she professed to have discovered in the Vale of Cashmere on the Indian subcontinent. The story of her 'discovery' was laid out in her booklet 'Beauty Lore of East and West'.
In keeping with this story, many of her products and treatments were labeled under the trademark Ganesh. In later years, like others in the business, she downplayed the 'exotic secrets' story and accentuate her products and treatments as scientific.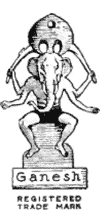 Preparations
By 1916 Adair boasted that she had fifty preparations in her product line with which she was able to treat every 'aging, fading, blemished condition of the skin&rdsuo;. Some products went by different names, and Adair would sometimes add, or leave off, the word Ganesh in her advertising.
Ganesh Eastern Muscle Oil; Ganesh Muscle Developing Oil: "Effaces wrinkles; builds up sagging tissues; makes flesh firm and healthy".
Ganesh Eastern Diable Skin Tonic; Ganesh Diable Skin Tonic: "tones and whitens the skin; contracts enlarging pores; reduces puffiness".
Ganesh Eastern Balm Skin Food; Ganesh Eastern Skin Food; Ganesh Skin Food: "Firms muscles and fills out hollows".
Ganesh Cleansing Cream; Ganesh Balm Cleansing Cream: "Soothing and penetrating cream cleanses the pores of all impurities, leaving the skin smooth, soft and lovely".
Ganesh Beauty Sachets: "For use instead of soap on the face; especially valuable in removing blackheads and clearing the pores".
Ganesh Acne Lotion: "An effective remedy for enlarged pores and blackheads".
Ganesh Freckle Cream: "If applied at night will be found quite capable of keeping the skin untanned".
Ganesh Cream for the Hands; Ganesh Hand Cream: "For softening and whitening chapped hands".
Ganesh Juno: "For improving size and firmness of the neck and bust".
Eyelash and Eyebrow Tonic Ointment: "Grows luxuriant, velvety lashes. Deepens color".
Ganesh Eye Lotions; Ganesh Marvelle Eye Drops: "Eyes that are dull are made brilliant, and eyeballs that are yellow, or red, or bloodshot, are made clear".
Ganesh Anti-Puff Lotion: "For bad puffs under the eyes … applied with a brush every second night for a week".
Ganesh Brown Spot Lotion: "Removes brown spots and moth patches".
Ganesh Foam Dentrifice: "For hardening the gums and making the teeth white".
Ganesh Retardine: "When applied externally, reduces the most persistent fat".
Dara: "[F]or removing all superfluous hair. Does not burn or soil the skin but removes the hair by the roots".
Ganesh Frangipani Hair Tonic: "Stops falling hair".
Ganesh Barocarpine Hair Ointment: "Prevents grayness and nourishes the root of the hair".
Ganesh Pilocarpine Hair Ointment: "Good for dry hair; makes it bright and glossy".
Ganesh Reducing Saltina: "remove all unnecessary flesh", and "promote a healthy, youthful figure".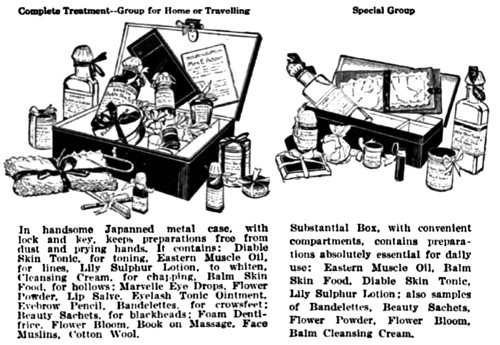 Other items for sale included:
Ganesh "La Frappe": "a small hand held vibrator (not as machine) for bracing the muscles and increasing the circulation"
Ganesh Rubber Gloves: "for whitening the hands"
Special Medicated Rubber Forehead Strap; Ganesh Forehead Strap: "In rubber or leather".
Ganesh Chin Strap: "The patented Ganesh Chin Strap restores lost contours and cures double chins, lines running from nose to chin: will also keep the mouth closed during sleep and prevent the habit of snoring."
Ganesh Reducing Belt: "for reducing the figure below the waist and restoring suppleness".
Ganesh Bolerette: "for reducing stoutness under the bust and the bust itself; made to measure".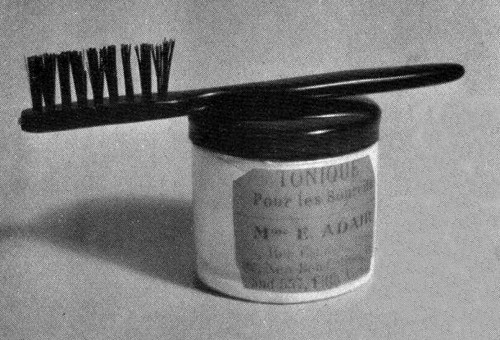 Ganesh Strapping Muscle Treatment
Adair salon staff were trained to deliver an extensive range of treatments that covered all the beauty issues of the day. The Ganesh Strapping Muscle Treatment was the mainstay of Adair salons. It used a combination of gentle finger patting to reduce wrinkles and straps to lift sagging skin, in conjunction with with Ganesh preparations including Ganesh Eastern Muscle Oil, Ganesh Skin Food and Ganesh Diable Skin Tonic.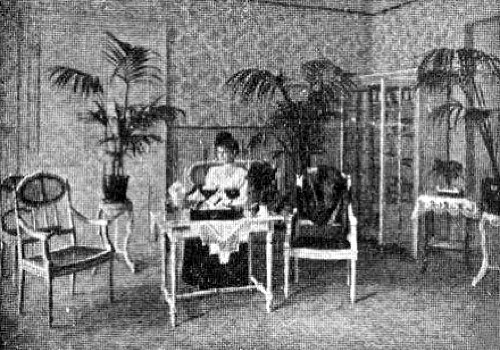 Unlike her contemporary Mrs. Pomeroy, Adair used patting or tapping rather than massage to avoid stretching the skin; also, she was not a 'steamer'.
Instead of steaming the skin, which robs it of its natural oils, or the vigorous massaging, which stretches the tissues and often produces flabbiness, the skin is gently patted and strapped, increasing the blood circulation and training the flabby muscles into their proper place.
See also: Mrs. Pomeroy and Vapourisers (Steamers & Atomisers)
Clients could follow up her salon treatments by using a patter at home.
One of the most satisfactory treatments in that it has produced the results promised—is given in the restful little, white boudoir of a salon on Fifth Avenue, right in the heart of the new shopping district.
This treatments has as its foundation strapping the muscles, assisted by the finest of creams, tonics and an Eastern muscle oil. There is a cleansing cream to clean the pores, a skin food to feed them, and the muscle oil to brace up the relaxed muscles. All of these are applied to the skin by the strapping or patting motion. A similar effect can be produced at home by the patter—a chamois pad at the end of a spring—which the originator of the system has invented. Two pads, one for the tonic and the other for the cream, are included in an outfit selling for $5.00.
See also: Patters.
Adair claimed to have invented the chin strap and it is possible that she did so – she was reported to have a wax head bound in a chin strap in the entrance of her New York salon. She also sold forehead straps and recommended that clients use both at home, to firm up necks and smooth out wrinkles on foreheads.
Later straps appear to have been made from fabric. Adair also sold Ganesh Wrinkle Plasters presumably for use around the eyes and mouth.
See also: Straps, Bandages and Tapes.
A recorded interview with an Adair salon operator suggests that there were different chin straps for double and flabby chins, and that some salon treatments incorporated electrical muscle contraction (presumably galvanic) as part of the process.
In the salon treatment itself there are several unique features: one, what is known as "strapping"—Mrs. Adair's term invented for her own modified form of massage—to brace up the muscles of the face; another, the use of electricity in a manner also of her own origination. There is a special treatment for the quick assuaging of the automobile eye. There is in fact a treatment for every ill the face is heir to. …
Some people say the eyes show the age, but it's not really true. The true test is the chin, the contour. I always look first at the contour. … Moreover, you know there are two kinds of double chins. … One where there is a real fold of flesh added, and one where the muscles of the neck and cheek have sagged and become stringy. We have a strap adapted to each kind of chin, a muscle oil that goes with it, and anyone who is at all persistent in their use can face the world confident that she looks no older than she feels.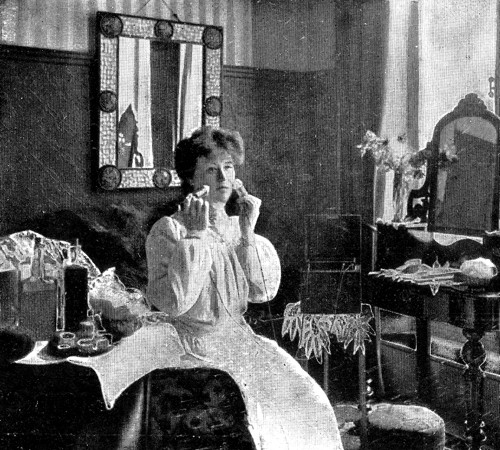 In the 1920s, Adair may have supplemented the gentle finger patting and straps – that were part of the Ganesh Strapping Muscle Treatment – with a more vigorous massage known as 'Muscle Strapping'. This used stronger massage movements such as vibration and tapotement and would have allowed her to forcefully massage the face without 'stretching' it.
Society women of bygone days whose ambition was worldly success and triumph never for one moment neglected the cultivation of their beauty, for well did they know "that when beauty walks out of the door love flies out of the window." In those days it was far more difficult to keep Father Time at bay, as the beauty specialists were not in existence. Can one not imagine the welcome that would have been accorded to Mrs. Adair, 92 New Bond Street, with her battery of beauty weapons. Among her treatments that well-known social beauties of to-day hold in special reverence is the new Strapping Treatment, which braces the relaxed muscles, and by it the youthful contours of face and neck may be retained even in advancing years, and those who have lost it can have it restored.
See also: Massage, Wrinkles and Double Chins.
Other treatments
Additional treatments could be added to a salon visit, depending on the needs of the client. Eyes that were 'tired' or suffering from 'automobile eye' could be treated with Ganesh Bandelettes and eye lotions, unwanted hair could be removed by electrolysis and superfluous fat 'rubbed away' with massage and Ganesh Retardine.
Eye Treatment: "the tired lined appearance is entirely removed, while it improves the sight, and prevents wrinkles and lines".
The regular "Tappy Eye Treatment" that Mrs Adair herself gives to so many of our leading society women, is a treatment that is eminently successful in restoring the beauty of the eyes, in strengthening their vision, and in soothing all the nerves that are in their vicinity. No one save those who have taken it knows the feeling of entire restfulness that comes while taking this eye treatment. With this tapping treatment Mrs. Adair combines electricity and the new light ironing cure. This treatment is wonderful for the lines and removes them altogether.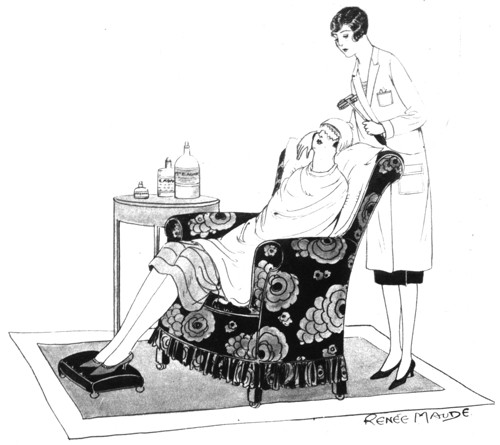 Clients could also purchase eye drops for use at home.
Her "Ganesh Strengthening Eye Drops" sold for $1.00 and "Ganesh Marvelle Eye Drops," $1.25, for clearing eyes that are red and bloodshot, and giving them that winsome blue whiteness that ones sess in the eyes of little children, are made to the prescription of that Eye Epecialist; and eyes that are wearied by long nights at bridge, or other excitements, should be washed night and morning with the former of those; while a drop or two of the latter put into the eyes just before a dinner party or dance, will make those eyes more brilliant and fascinating than usual, and prevent the usual tired ache.
Electrolysis: "antiseptic Electrolysis is done in the Adair Salons by experts only. Roots of superfluous hair, moles, warts, purl spots, etc., removed without marking the skin".
See also: Electrolysis
Swedish Rubaway: "used in conjunction with 'Retardine' is a scientific 'flesh reducer,' which reduces flesh in a very short time".
Clients could follow up with weight loss treatments at home by purchasing a Ganesh Reducing Belt made of an elastic material or add Ganesh Reducing Saltina to their bath.
Violet Ray treatment: Used in a range of treatments including nervous disorders.
Not all are aware that the "Violet Ray" treatment is extremely beneficial for disorders of the nervous system—neuralgia, neurasthenia and the like—but that, nevertheless is the case. The powers that be at Mrs Adair's, 92, New Bond Street W. 1. have had proof positive of its extraordinary efficacy; by its means they have been able to bring about many complete cures. Naturally, the more experienced the hand, the more effective the treatment, and one knows that Mrs. Adair employs only the most experienced of assistants, and that the results, therefore, could not be other than satisfactory.
See also: High Frequency.
Vibro and Electrical Face Treatments: There is some evidence to suggest that Adair also used vibratory massage. This was a fairly standard treatment for wrinkles at the time and could be followed up at home through the use of a mechanical massager, an item Adair conveniently sold.
Mail order
If a salon visit was impossible, customers could follow the instructions outlined in her booklet 'How to retain and restore the youthful beauty of face and form' using products purchased from agencies, outlets or by post.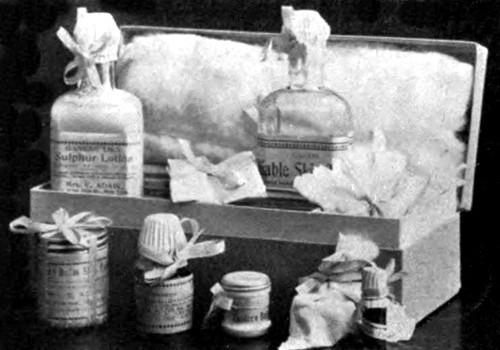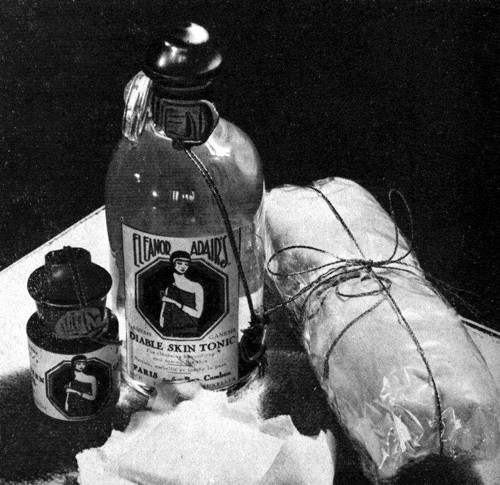 Make-up
Adair was initially hostile to 'paints' claiming that "Simple Ganesh Methods [were] superior to 'Make Up'."
A poor complexion requires care: proper skin cleansing and nourishment will do more to beautify the skin and features than all the most wonderful artificialities.
She did however sell some preparations that could add colour and later even included a make-up removing cream (Lotion Or) in her range.
Ganesh Parisian Beauty Neige Cream: "Greaseless. Makes powder adhere, protects the complexion from chapping and keeps the skin soft and satiny". Shades: Pink, Cream, White.
Lily Sulphur Lotion; Ganesh Lily Lotion: "An incomparable liquid powder. Prevents and relieves tan and sunburn". Shades: Pink, Cream, White.
Ganesh Enameline: "To whiten neck and arms for evening".
Ganesh Cactus Powder; Ganesh Flower Powder: "Finest quality, exquisitely perfumed". Shades: Blond, Brunette.
Ganesh Flower Bloom: "A harmless natural liquid rouge".
Ganesh Koheul D'Orient: "A harmless oriental powder which gives the eyes a soft, fascinating shadow".
Decline and closure
It would appear that Adair made a number of attempts to expand her business empire but was subject to increasing competition. Helena Rubinstein set up n Paris in 1909 and then New York in 1915, and Elizabeth Arden arrived Paris in 1920. Both encroached on her business. After Helena Rubinstein announced her opening in New York, Adair took out a large advertisement titled "Ganesh the First" suggesting that she was first in her field but it could also be read that she was here first! She repeated this line in numerous advertorials such as this one in the English version of Harpers Bazaar:
You owe it to your complexion to see Mrs.Adair first about that blemish. Remember she was the first to specialize in her field. That she offers you the results of a long and practical experience. That her constant and analytical study of complexion and contour has resulted in the perfection of no less than fifty Ganesh Preparations and Appliances, each with their individual use.
That her long established Salons in London and Paris are as busy today as they were before the war, so essential is the service they render to woman of refinement.
Discover how youthful you can look after a Ganesh (Original) Strapping Muscle Treatment, administered by English experts, at Mrs. Adair's New York Salon. Learn of the permanent results which can be accomplished by a course of treatments.
Adair was still making points similar to this in the 1930s, if perhaps a little more stridently. Unfortunately for her, loyalty counted for little in the beauty business.
I do not know what model Adair followed when opening new salons but, unlike those owned by Rubinstein and Arden, her salons may have been affiliations rather than being directly controlled by her. A 1932 advertisement in French Vogue suggest that she owned the Paris, London and Brussels salons but that those in Nice, Cologne, Geneva, Prague and Zagreb may have been owned and operated by others. If this is true, it would mean that Adair would have to convince another salon to accept an agency or affiliation when individual owners decided to leave the business. Rubinstein and Arden would simple replace staff. Adair had a history of short-lived business arrangements: an agency with André in Rio de Janeiro, and another in Washington run by a Miss Edes did not last long; and Emily Yorke, who appears to have looked after the New York salon for a while, also seems to have left after a few years – the New York salon was closed for good by 1930, possibly in 1929 after the stock market crash.
Unlike Arden, Rubinstein and others who sold their products through department stores – with sales from this source subsidising salons that increasingly became loss-making concerns – Adair preferred to sell her products through her salons and agencies. This would also have reduced the resilience of her business.
In addition, as her strongest presence was in Europe – particularly France – rather than in Britain or the United States, business life would have become very difficult when the Second World War broke out, various parts of Europe were cut off, and France was divided. Arden, Rubinstein and other global beauty businesses also had their European interests severed by the war but their American concerns enabled them to prosper even during the hostilities. Adair did not. One hopes she was not trapped in Paris during the war.
Whatever the reason for the closure, unlike either Elizabeth Arden, Helena Rubinstein or Dorothy Gray, there was no prosperous business to sell, so when she left the industry the Adair name disappeared as well. However, despite the fact that she is now largely forgotten, her role in the development of Beauty Culture was significant, with many of her treatments copied by Elizabeth Arden, Dorothy Gray and others in the industry.
Timeline
1900
Eleanor Adair establishes her beauty business.
n.d.
Paris salon opens on Rue Cambon.
n.d.
London salon opens at 90 New Bond Street.
1903
New York salon opens on Fifth Avenue. A salon also operated in Newport in the season during which time the New York salon appears to have closed.
1904
Agency opens in Washington D. C.
1920
Agency opens in Rio de Janeiro.
1923
Brussels salon opens on Place Louise
1929?
New York salon closes.
1934?
London salon moves to 149 New bond street.
Updated: 20th August 2017
Sources
Eve: The lady's pictorial. London.
Shuker, N. (2001). Elizabeth Arden: Beauty empire builder. Woodbridge, CT: Blackbirch Press.
The theatre: Illustrated monthly magazine of dramatic and musical art. (1915). Vol. XXI, New York: The Theatre Magazine Company.