Continued from: Coty
When France capitulated to the Germans in 1940, Yvonne and her second husband Léon Cotnareanu were still in Paris. Léon was Jewish so the situation was dire. Yvonne took her jewellery to the bank, hid other valuables behind a new wall in the cellar at the Coty home in the Avenue Raphael and then the family drove to the Spanish border. After crossing the border the family made their way to Lisbon and from there flew to New York. Unable to get residency in America for two years they departed for Canada and lived in Quebec until they were allowed to settle in the United States (Toledano & Coty, 2009).
Some of the Coty fortune may have followed later. According to an FBI informant, Léon's younger brother, Philippe Cotnareanu – who changed his name to Philip Cortney – smuggled a half million dollars in American currency from Vichy France into the United States (FBI Silvermaster file, 1946).
Despite the fact that Coty subsidiaries in France, Italy and Romania were owned by Coty U.S., and America was not then at war with Germany, these companies were either seized or interfered with by the German government. For example, Coty operations in France were shut down until it was 'aryanised' and allowed to trade again. Coty U.S. protested but there was little it could do.
Coty England also suffered as it came under increasing regulation as government edicts regarding concentration of industries, price controls, restrictions on output, and repurposing of factories took effect and supplies of essential oils were cut off. By 1941, Coty England had moved some of its manufacturing from London to Leighton-Buzzard in Bedfordshire and Glasgow in Scotland. After Stratford House was bombed the company offices were moved to 41 High Street, Leighton-Buzzard where they remained for the duration of the war.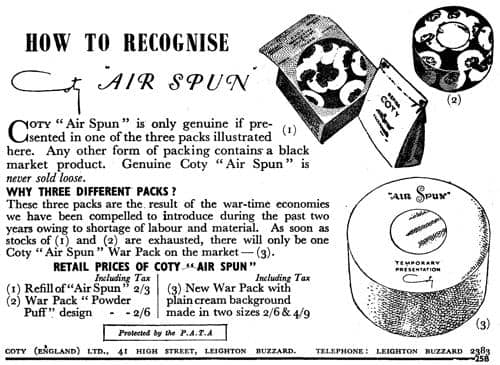 In Britain, Coty contributed to the war effort by making foot powders, solid fuel tablets for cooking and camouflage creams for the troops. They also used their face powder machinery to grind fine chemicals for explosives.
United States
Although the United States did not enter the Second World War until late 1941, world events precipitated a number of management changes at Coty, Inc. and Coty International. In 1940, Benjamin E. Levy [1879-1952] – who was by now in his early sixties – retired and Grover A. Whalen became chairman of Coty, Inc. and then Coty International. He had been very helpful to Yvonne, Léon and their families during their displacement from France.
By 1941, Léon's brother Philip Cortney had become vice-chairman of Coty, Inc. and Coty International and Herman L. Brooks had also been made president of both companies. Other family members such a Yvonne Cotnareanu, Léon Cotnareanu and Roland Coty were made or continued on as directors.
Coty production in America was cut off from supplies of essential oils normally sourced from France. However, the company had stocks in reserve and was able to maintain perfume production for the moment; cosmetics, such as face powders, were largely unaffected.
New American legislation was another matter. Like other American cosmetic companies, Coty had to deal with the ramifications of the U.S. Food, Drug and Cosmetic Act (FD&CA) which passed into law in 1938. which had a dramatic effect on the way American companies named and advertised their cosmetics. Fortunately, Coty had generally refrained from making outrageous claims for its products and avoided contentious names such as 'Skin Food' so the changes it needed to make to comply with the FD&CA were minimal. In 1940, the introduction of the FD&CA and the improved economic situation seems to have stimulated the company to refresh its product line, packaging its cosmetics in new blue-lidded bottles and jars with Coty written in tall letters on the label.
Coty's skin-care range at the time included Cleansing Cream, Skin Freshner, Conditioning Cream, Foundation Cream, Foundation Lotion, Eye Cream and Creamy Hand Lotion. In 1940, Coty U.S. added some new make-up items including: Coty Mascara (Shades: Black, Blue and Brown), Coty Eye Shadow (Shades: Blue, Brown, Gray, Green and Violet), Cream Rouge (Shades: Light, Magnet Red, Medium and Dark) and Sub-Tint, a creamy make-up base (Shades: Light, Medium, Dark). The following year, Coty U.S. released Shapelip Lipstick, said to apply colour evenly where it was most wanted, either thick like a crayon or thin like a pencil. It came in all Sub-Deb colours including Extra Light, Dark, Gitane, Bali and Tamale.
In 1941, Coty U.S. opened the Maison Coty in the Rockefeller Center at 451 Madison Avenue, New York. Fitted out by the interior designer Dorothy Draper – who had done the interiors for Coty's pavilion at the World's Fair – it contained a perfume shop on the ground floor and salons/treatment rooms in the floor above. The new facility was christened with an outdoor pageant in the Rockefeller Plaza with the theme 'Beauty Is a Joy Forever' featuring ten of the company's best known perfumes.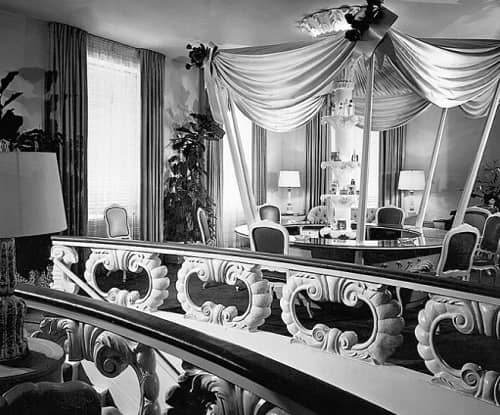 Coty treatments offered at the Maison Coty included manicures, a 'Relaxation Facial' which incorporated a back and neck massage, and a 'Pick-Up Facial' which started with a streamlined facial cleansing and toning treatment, followed with an Air-Spun make-up.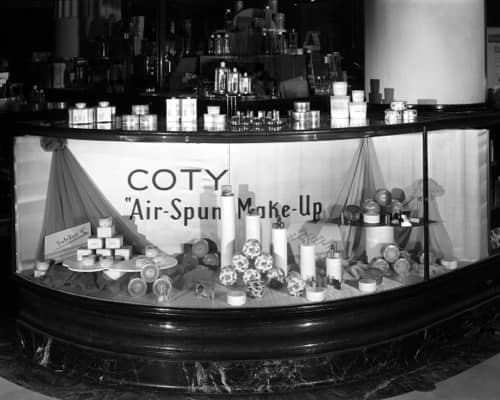 America's entry into the war created personnel and material shortages and ushered in new government controls. In 1943, as stocks of some raw materials ran out, Coty U.S. was forced to cease production of some perfumes, such as Chypre and Le Vertige, and to stop all sales of its products to syndicated stores. However, things were not all bad. In 1943, Coty sponsored the first American Fashion Critics' Award which the company had established in 1942, added a new powder shade, Cafe Cream, and a new rouge and lipstick tone, Cassis, to its make-up line. The lipstick and rouge were packaged in red and white plastic containers, first introduced in 1942.
Coty U.S. made a number contributions to the American war effort including manufacturing insect repellant camouflage creams and solid fuel tablets for cooking; items similar to those already being made by Coty in England. The American company also sponsored the Women's Military Services Club at 415 Madison Avenue which operated from 1943 until the end of the war.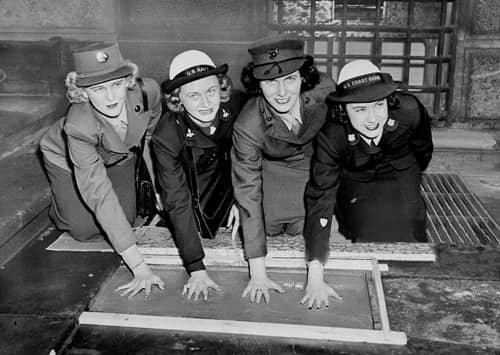 Post-war
The economic situation after the war was not without its challenges. Many countries devalued their currencies and implemented strict currency exchange laws, prices for many commodities rose, and strikes raised labour costs.
In 1945, Yvonne returned to her house in the Avenue Raphael in Paris, while Léon Cotnareanu remained largely in the United States. Yvonne had bought an estate in Warrenton, Virginia in 1941 – now known as Canterbury Farm – and she stayed there when she visited America. Despite this, and the occasional visits by Léon to France, the couple became increasingly estranged.
Although Léon Cotnareanu remained a director, the American branch of Coty was largely placed in the hands of his brother, Philip Cortney, who replaced Herman L. Brooks as the president of Coty, Inc. and Coty International in 1945. When America removed price controls in November, 1946, Cortney raised the price of Coty perfumes and toilet waters to cover large rises in the costs of imported raw materials. Unfortunately, he was unable to do the same for Coty powders, lipsticks and creams as during the post-war recession the supply of cosmetics outstripped demand. This forced the company to concentrate on reducing its production costs and where possible production processes were automated.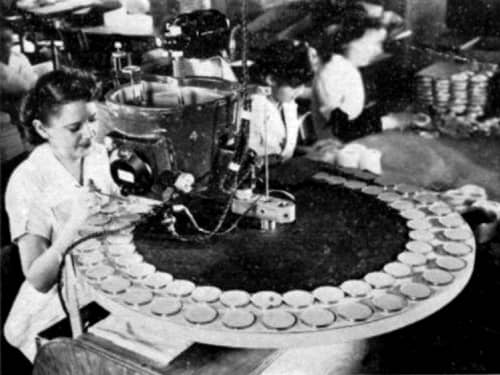 Although American production of the perfume Chypre did not recommence until 1947, Coty launched Muse in 1945, its first new perfume in eight years.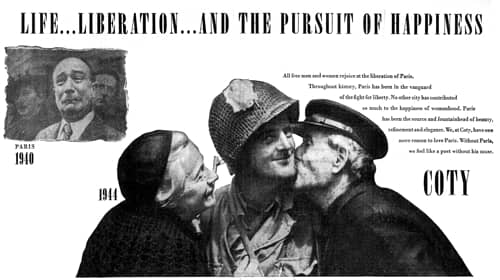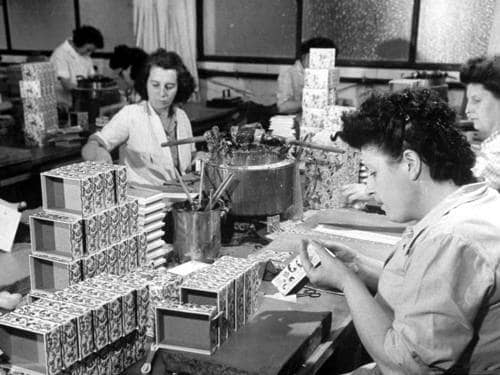 Despite the economic difficulties Coty U.S. was doing more business and needed to expand its manufacturing capability. In February, 1945, the company sales and executive offices were moved to the Heckscher Building – now called the Crown Building – at 730 Fifth Avenue, New York. This freed up some manufacturing space at the West 55th Street factory site but the company still had to allocate resources carefully to ensure that outlets received adequate supplies of Coty products.
In Britain things were also showing some improvement. The Coty showrooms in London reopened – now listed as being at 3 New Bond Street – lipsticks were once more sold in metal rather than cardboard cases, product packaging was updated, and new products were introduced.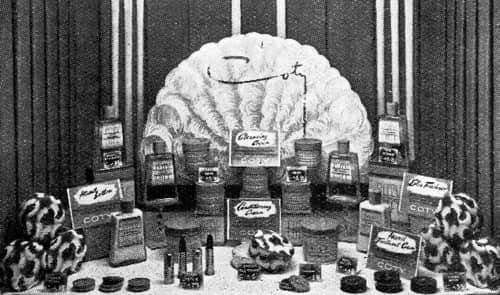 Make-up
Although there were no discernible changes to Coty's skin-care range in the late 1940s, the company did develop some new make-up items including: Pastel-Tint (1948), a pressed cream make-up base in Light, Medium, Vibrant and Dark shades with Soleil d'Or added later in the year; and Creamy Lipstick (1949) in Rose, Fuschia, Geranium, Red Ribbon, Continentale and Sophisticate shades.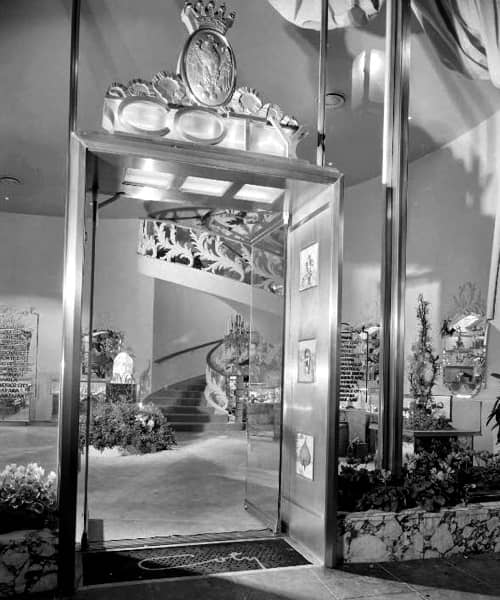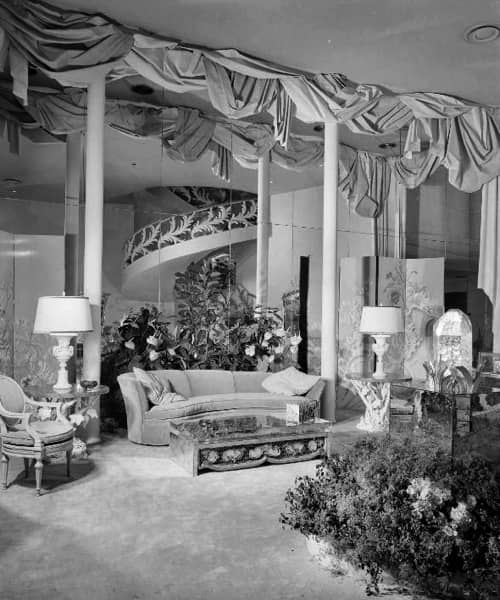 1950s
Powders and lipsticks were as important to Coty U.S. as its fragrances. However, by 1947 Revlon had become the largest vendor of lipsticks and nail polishes in the United States. Revlon treated its lipstick and nail enamel colours like fashion items bringing out new shades in spring and autumn. It ran regular shade promotions, the best known of which was 'Fire and Ice' (1952).
See also: Revlon
Coty was no stranger to fashion and after the war the company began to run advertisements matching its shade ranges with current fashion colours, all the while emphasising the Coty's links with Paris, the perceived capital of fashion.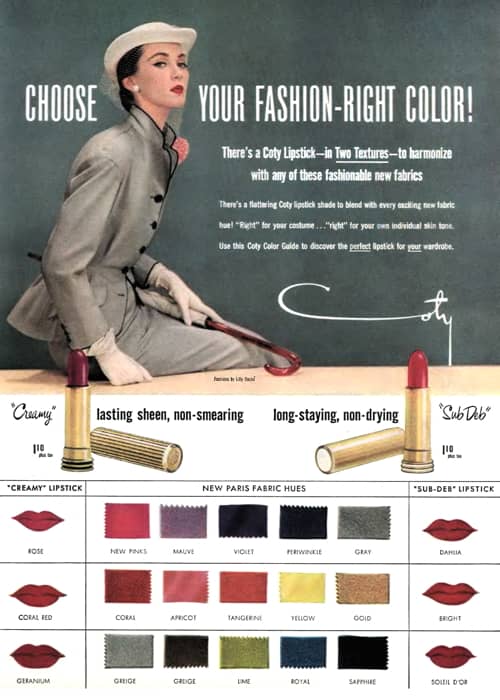 Coty nail polishes were no match for Revlon so they were generally left out of any advertising. Coty's weakness in this area can be seen by the fact that, in 1940, Coty U.S. collaborated with Peggy Sage – along with Schiaparelli, Lucien LeLong, Lentheric, Charles of the Ritz, Du Barry, and Dorothy Gray – to harmonise its lipstick colours with Peggy Sage nail polish shades.
Competition with Revlon came to a head in the 1950s during what has been referred to as the American 'Lipstick Wars' which started in 1950 when Hazel Bishop introduced its Lasting Lipstick in the United States. By 1953, Lasting Lipstick had captured 25% of the American lipstick market largely through the use of television advertising. The success of Hazel Bishop caused other American cosmetic companies to release new indelible lipsticks and to seriously engage with the new medium of television.
See also: Lipstick Wars
Coty U.S. got caught up in these events. In 1952, it began advertising on American television and then in 1955 it had a major sales success with Coty "24" its new indelible lipstick. With advertisements that used the tag line 'Wake up beautiful' the company sold 5 million lipsticks within three months of its launch. These sales helped make the 1954-1955 financial year Coty's best post-war year to date.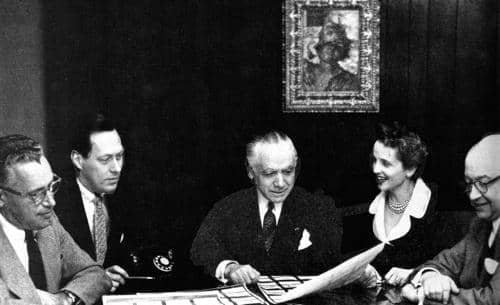 The company also tried to address the weakness in its nail polish lines by introducing Super-Sheer Nail Polish in twelve colours to match its Coty "24" lipsticks (Shades: Tangerine, Medium, Soleil d'Or, Bright, Dahlia, Vibrant, Flame Red, Riviera Pink, Ruby Red, Magnet Red, Rose and Precious Pink).
Unfortunately, in 1955 a phenomenally successful television program, 'The $64,000 Question', went on the air in the United States with Revlon as its sole sponsor. Revlon's association with the show almost doubled its sales in 1955 and was the main reason behind Revlon becoming one of the largest American cosmetic companies by 1960.
See also: Revlon and 'The $64,000 Question'
Revlon used 'The $64,000 Question' to launch its Living Lipstick (1955) which affected sales of Coty "24". Coty U.S. lost money in 1957 and 1958 due to competition from Revlon and the rising costs of television advertising which, for Coty, had doubled from over US$458,000 in 1956 to over US$753,000 in 1957 (Sponsor, 1959, pp. 34-35).
The losses initiated some radical changes at Coty U.S. which involved further reducing its costs of production and increasing its advertising budget, particularly in television. It also began to sell cheaper fragrances in drugstores which eroded its status and reputation (Jones. 2010. p. 157).
Lilly Daché
Coty's early television campaigns made use of the 'Coty Girl' which, in the early 1950s, generally meant a beautiful girl in a big, black, Lilly Daché picture hat.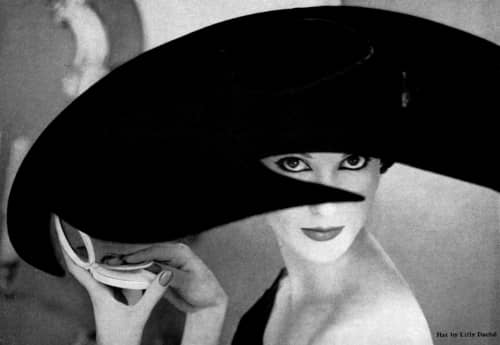 Daché [1896-1989] had a close association with Coty having married the Coty executive vice-president, Jean Despres [1903-1988] in 1931. She had been operating out of a studio at 78 East 56th Street, a nine-story building she owned, but was looking for new opportunities as the hat business went into decline post war.
In 1954, Daché's loose association with Coty was formalised. Coty had bought 55% of the stock in Société des Parfums Lucien Lelong (Paris) and Lucien LeLong, Inc. (Chicago) in 1953, after Lucien Lelong decided to retire. After this acquisition Coty established General Beauty Products, Inc., to distribute Lucien Lelong, Marie Earle and Lilly Daché Hair Cosmetics in the United States. As part of the deal, Daché was given the right to purchase 20% of the shares of General Beauty Products at a fixed price after she had been with the new company for five years and Coty agreed to take out a ten-year lease on the building she owned. Daché took up the role of president of General Beauty Products and opened a salon at 78 East 56th Street managed by chief stylist Kenneth (Kenneth Battelle) [1927-2013].
Make-up
Make-up in the post-war period underwent a number of changes due to widespread introduction of new types of compact, liquid, cream, stick and cake foundations and the general trend towards a more 'natural' look.
Coty U.S. already made two powder bases: Sub-Tint (1940), a soft powder cream; and Pastel-Tint (1948), a solid powder cream. In 1950, they continued this 'Tint' theme by adding Rouge-Tint and Eye-Tint. These were combined with Coty Eye Crayons (Shades: Brown, Black and Blonde) and Coty Mascara (Shades: Black, Brown and Navy).
Pastel-Tint: "To create instantly a new, flawless complexion of natural beauty. Lasts for hours without retouching. No dryness, no shine, no caking … just beauty!" Shades: Light, Vibrant, Soleil d'Or, Medium, and Dark.
Rouge-Tint: "Smooths on and blends magically to any desired blush. Result:—the same natural coloring as young skin itself!" Shades: Raspberry, Geranium, Coral Red and Medium.
Eye-Tint: "Blends on with a feather-light touch. Your eyes—you most expressive feature—look larger, more beautiful!" Shades: Blue, Green, Grey, Mauve, and Brown.
Other forms of make-up followed. In 1952, Coty U.S. launched Instant Beauty, a liquid, tinted foundation in Ivory, Beige, Rosy Beige, Fair, Blush and Bronze shades. Designed as a matt-finish foundation that masked blemishes and uneven colouring, it could also be used to tone down redness or add colour where needed. Similar products were released by Coty elsewhere. In France, Coty S.A. introduced Aspalis (1952) in tubes and pots (untinted or in Naturelle and Soleil d'Or shades) suitable for all skin types. Instant Beauty also became available in France in six shades: Naturelle, Camping, Tamale, Cotytan, Floride and Miami.
For a more lustrous appearance, American women could use French Formula (1956), a liquid make-up. Like Instant Beauty this corrected colour flaws and concealed blemishes but it also gave the skin a dewy appearance. It contained Lecitone – which may have been a form of lecithin – as a moisturising agent.
For women who preferred a compact there was Cream Powder Compact (1952) made with Air Spun powder mixed with a cream and compressed into a pattie. Described as a complete make-up it came in six new muted shades including Muted Cotyrose, Muted Beige, Muted Sun, Muted Rachel and Muted Bronze, with shade names varying in other countries.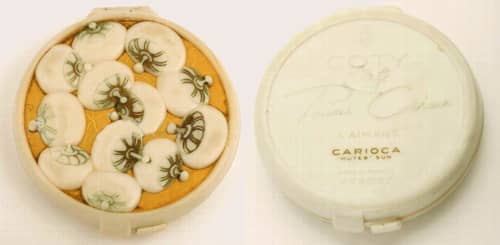 In America, this was followed by French Flair (1958), an oil-free, pressed powder which promised to soften facial lines while providing a translucent effect. French Flair compacts were made available in golden metal compacts but the cases were also made in white, pearlised, tortoiseshell and black plastic. French Flair shades included: Soleil d'Or, Vibrant, Tamale, Naturelle, Muted Cotyrose, Muted Beige, Florida, Rosy Beige, Blush Beige, Suntan, Rachel, Muted Honey, Deep Tan and Honey Beige with some shades restricted to specific compacts.
Matching all of these foundations was Air Spun Face Powder, still available perfumed with L'Aimant, L'Origan, Emeraude or Paris, although not all shades were available in all fragrances. Paris perfumed powder was available in fewer shades than L'Aimant or Emeraude, which in turn were produced in a smaller range of tints than L'Origan.
In 1959, Coty updated its eye make-up line with Liquid Eye Lights, a liquid make-up in iridescent colours that worked as an eyeliner, eyeshadow or mascara depending on how it was applied with the included sable brush; and Duo-matic an automatic mascara applied with a grooved applicator at one end and a self sharpening eye crayon at the other. The automatic mascara was essentially the same as the one introduced by Helena Rubinstein in 1957.

See also: Liquid and Cream Mascara
Skin-care
Although not a strong suit for the company, Coty attempted to strengthen its skin-care range during the decade. The American company did not get involved in any of the biological crazes that ran there through the 1950s – such as placental extracts and royal jelly – and only introduced two additives that had been around since the 1930s; vitamins and hormones.
In 1952, Coty U.S. released Vitamin A-D Complex Cream containing vitamins A and D, adding a Vitamin A-D Lotion in 1956 along with Vitamin Moisture Balancer.
Vitamin A-D Complex Cream: "Skin specialists call Vitamin A the 'skin vitamin' because its presence, as in milk, cream and butter, is helpful in all sorts of skin conditions. Now Coty has found a way to blend the 'skin vitamin' and other active moisture-giving elements, into a new beauty cream that leaves the skin looking smoother … feeling firmer, fresher, younger."
Vitamin Moisture Balancer: "penetrates deeply, provides perfect moisture balance in both and lower skin layers, so essential to skin health and beauty. Because of its special qualities, Moisture Balancer can be worn under your make-up without affecting it in any way: no 'dulling,' no patchiness. All day, every day, Moisture Balancer will work or you … softening and refining skin texture, restoring suppleness, minimising sagging … making your skin look firmer, smoother, more youthful."
Vitamin Moisture Balancer came in two formulas, one for oily skins, the other for normal and dry skins. The cream was said to maintain the moisture balance of the skin while vitamins A, D and E and a lanolin derivative nourished and promoted the skin growth.
If your skin is Dry:
1. Keeps essential skin moisture "in balance".
2. Helps Nature replace old skin with new.
3. Removes dry, flaky surface skin – heals roughness chapping.
4. Restores youthful suppleness – gives skin a filled-out, smoothed-out look.
5. Softens the skin with vital beauty-giving oils.
If your skin is OILY:
1. Keeps essential skin moisture "in balance".
2. Helps normalize your skin, reducing the chance of blackheads, enlarged pores, etc.
3. Removes roughened surface skin – heals chapping.
4. Restores youthful suppleness – gives skin a filled-out, smoothed-out look.
Although Coty had previously introduced Avocado Beauty Milk in 1936 and occasional references were made to it containing vitamins – avocados contain A, B and D – the importance of vitamins was not made as strongly as it was in the 1950s.
See also: Vitamin Creams
Coty's flirtation with hormones began in 1953 when Coty U.S. released Body Beautiful Lotion containing natural hormones and estradiol. The company did not pursue hormone products more forcefully, possibly because the field was already crowded and the American Food and Drug Authority (FDA) was expressing increasing concerns about the use of hormones in cosmetics.
See also: Hormone Creams, Oils and Serums
Coty also updated its cleansers. Following the introduction of Instant Beauty, Coty released Instant Cleanser (1953), a creamy, homogenised liquid cleanser. This joined Coty's Homogenized Cleansing Cream (1953) which, like Vitamin Moisture Balancer, was available in two forms for different skin types: dry and normal to oily. The homogenising theme used for Instant Cleanser and Homogenized Cleansing Cream was replicated in Homogenized Night Cream (1953).
Also see the company booklet: Coty for Fragrant Beauty
Other products
Along with a range of hair-care products, Coty also introduced Shakti (1950), a cologne and body deodorant; Preferred Stock (1955), a new men's line; Fairy Princess (1956), a children's toiletries line; two aerosol suntan lotions (1975), Fastan (to accelerate tanning) and Slotan (to act as a protective screen); and Curl Set (1957), a hair spray available in L'Aimant, L'Origan, Emeraude and Paris fragrances.
1960s
In 1960, a decision was taken to stop production of perfumes in the United States; Coty U.S. would now only bottle and package fragrances imported in bulk from France. This enabled Coty to advertise all their perfumes as French and – along with a simplification of their product lines, other production changes, and the sale of Marie Earle, Lucien LeLong and Lilly Daché to Mary Chess – helped reduce their American workforce by 60%.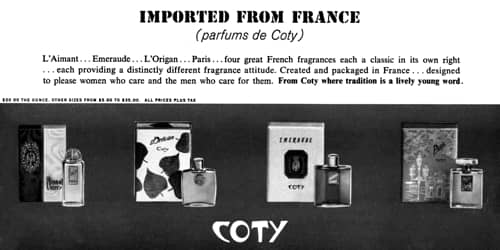 As well as reducing costs, Coty U.S. endeavoured to improve its sales. It continued to increase its promotional expenditure, which rose from from 7% of sales in 1952 to 15% of sales in 1962, opened direct accounts with numerous drug stores, doubled its sales force between 1960 and 1961, and raised the number of its trained demonstrators and counter clerks.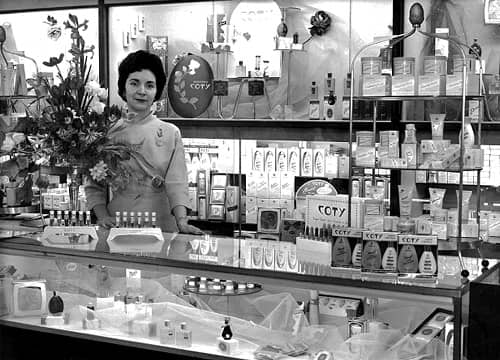 Coty G.m.b.H. (Germany), which had been established in 1957, was expanding rapidly but as it was largely financed internally by the company, some of which was coming from Coty S.A. (France), both the French and German subsidiaries made losses in 1961. In 1962, to help simplify the operations of the Coty International, both Coty International Corporation (Delaware) and Omnium de Participations Industries de Luxe S.A. (Panama) were dissolved.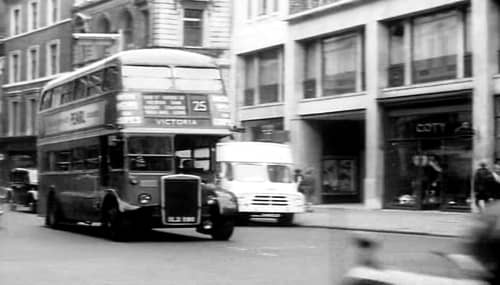 Youth market
After conducting an investigation into the company image in the 1950s, Coty U.S. executives were shocked to find that a high percentage of American women thought their products were favoured by their grandmother. Realising they had a major image problem, Coty began implementing changes to make its products more attractive to teenagers and young women. The Coty Girl lost her hats, the company updated its logo, giving it an Arte Nouveau flavour, and Coty U.S. began developing new youth-oriented products.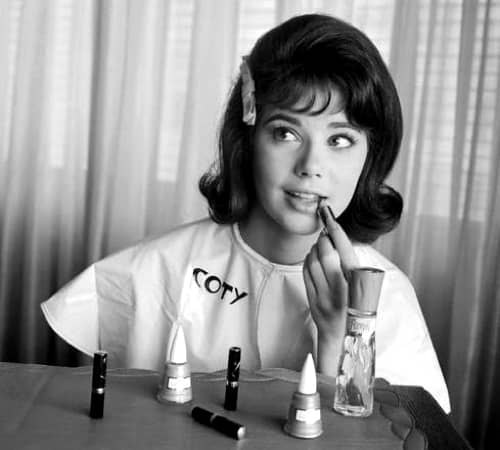 In 1960, Coty U.S. released Dermacare, a medicated treatment kit for teenagers with blemished skins. The kit consisted of a Dermacare Foam Wash, Dermacare Make-up Cream in six shades (Fair, Ivory, Blush, Beige, Rosy Beige and Neutral) and Dermacare Night Lotion. Later in the year they developed Light and Lovely, a greaseless, matt, fluid foundation and powder in one, in eight shades which increased to ten the following year. It came in two formulas: Natural for a light, translucent finish; and Dramatic, for a more complete coverage.
The company also updated their Coty "24" lipstick, now sold as Coty X'24', and increased the shade ranges of its make-up lines. Unfortunately, although Coty had suitable products the company's marketing was nowhere near as effective as Cover Girl which debuted in 1961 and quickly captured the sort of young customer that Coty was after.
See also: Cover Girl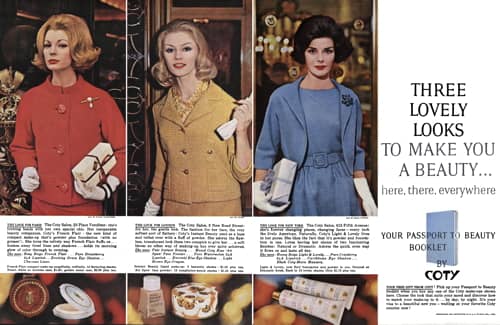 Chas. Pfizer
In 1963, after buying shares in Coty and Coty International from Pharmaparcos S.A. and Dunhill International, Inc., Chas. Pfizer & Co. Inc. extended the offer to other shareholders and acquired most of the stock of Coty, Inc. and the Coty International Corporation. Léon Cotnareanu appears to have convinced Yvonne to sell her Coty shares to Chas. Pfizer when the offer was extended.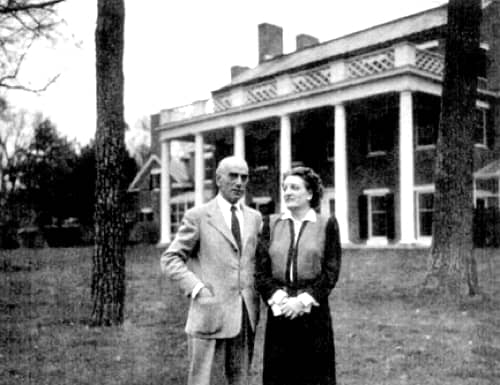 Chas. Pfizer's acquisition of Coty was part of their expansion plan to widen their production of consumer goods. In 1961, they had bought Pacquin, Inc. – the makers of Pacquin Hand Creams and Lotions, Silk 'n Satin Lotion for the body and Mani Magic Cream Cuticle Remover – and followed this in 1962 with the purchase of the Barbasol Company – makers of men's toiletries.
After reviewing Coty, the new management, under president Meredith C. Hough, replaced the Coty logo with something more contemporary and began a process of rationalisation that would go on for the rest of the decade. This started with severe cuts to the Coty product range, reputedly reducing the number of items from 750 to a mere 150. For example, Coty skin treatment preparations available in the United States appear to have been reduced to Foundation Lotion, Special Astringent, Skin Freshner, Instant Cleanser, Vitamin Moisture Balancer (Dry and Oily types), Cleansing Cream (Normal and Oily types), Eye Concentree, and Vitamin A & D Cream.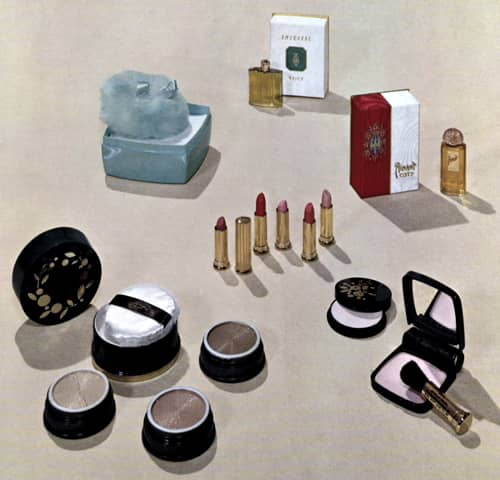 On a global scale, Chas. Pfizer started standardising Coty perfume packaging across the world, something that made sense as all Coty perfumes were formulated and produced in France. It also began opening new markets for Coty, starting with Japan in 1965.
Having pruned the Coty line, Chas. Pfizer began introducing new products. In 1964, this included: Veil Naturelle, a foundation in six shades powdered down with a single shade of opalescent finishing powder; Cremestick lipstick in twenty four shades (plain and frosted) with matching Super-Sheer Nail Polishes; and Blush Accent (Shades: Rose Tint, Tawny Tint and Bisque Tint) in both cream and Blushette pressed powder compacts. The Cremestick lipstick formulation would go on to become the company's second biggest selling line in overseas markets after perfumes.
A small glitch occurred when Coty (U.S.) got embroiled in the albumin wrinkle smoother craze started by Helene Curtis in 1964 and, like Helene Curtis, came under fire from the FDA.
See also: Albumin Wrinkle Smoothers
In 1965, Coty introduced Imprévu, its first new perfume in 25 years, a major milestone. Manufactured in France, it was introduced into the United States, France, Belgium, Holland, Italy and Australia in 1965 with other countries following soon after. It triggered a 30% rise in the sale of all Coty perfumes in the United States and would go on to become the best selling Coty fragrance there by the end of the decade. Other fragrances followed and were used to generate interest in Coty and its other cosmetic products.
Coty developed a new skin-care line in 1965 called Beauty Climate. There were six products in the range: Moisture Veil with Filtrum-A, which I assume was a sunscreen; Moisturizing Cleanser with allantoin, a known keratolytic and moisturiser; Nutramoist Conditioner, also with allantoin; Refreshant Mask; Refreshant Toner; and Ultra-Rich Eye Cream. Advertising for the range concentrated on the product's moisturising and protecting qualities.
What are these enemies of complexion beauty? Grime, Polluted air. Smog. Sun. Merciless cold. The difference between the skin of our bodies and that of our faces is due in large measure to the fact that our bodies live in different climates … sheltered, protected from dirt, allowed to conserve natural moisture. So the secret of keeping all of our skin in this same youthful condition seems to change the climate in which the exposed parts of out bodies live. The remarkable new Beauty Climate skin care plan actually shelters your complexion in a moist, gentle world of its own—a 24 hour protection plan that shelters and pampers the complexion without end—helps keep it pure, fresh, moisturized—safe from sun, unworn by weather.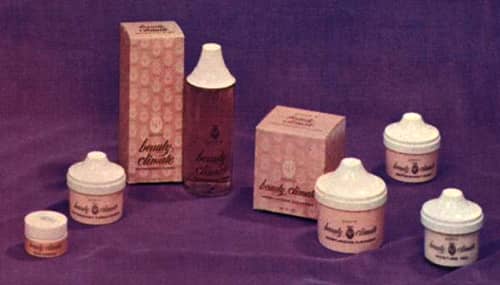 In 1966, Chas. Pfizer launched its first Coty make-up range, Coty Originals, which debuted at the American Fashion Critics' Awards, followed by rollouts in other countries over the next two years. Originals was aimed squarely at the youth market who were encouraged to use it to create different 'looks' for daytime, evening and night and later to match specific fashion trends. The collection also included a Contouring Kit with shading and highlighting cosmetics to sculpture the face, accenting good features and hiding problem areas.

The line was extended over many years and increased Coty sales volumes in the United States and elsewhere. In 1968, it was repackaged in America so that it could be sold in self-service outlets.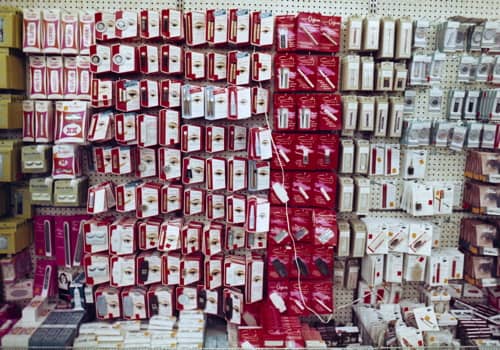 In 1969, as part of its rationalisation plan, Coty U.S. took control of the operations of Coty International which was then reorganised into a single worldwide fragrance and cosmetic operation with Robert Young as its president. This operational streamlining meant that by 1970 global Coty had become relatively standardised and a single Coty 'look' now appeared around the world.
Later changes
Chas. Pfizer – which became Pfizer in 1970 – would eventually combine the operations of Coty U.S. and Coty international in 1973. Like a number of other American pharmaceutical firms Pfizer would decide to sell off its cosmetics divisions and in 1992 Coty was sold to Benckiser Consumer Products – the U.S. arm of Joh. A. Benckiser G.m.b.H., a German consumer products company – for US$440 million. Benckiser added other cosmetic and perfume brands to Coty and by 1996 Coty, Inc. was a US$1.5-billion-a-year company and a global leader in mass-marketed fragrances. The acquisition of a number of Proctor & Gamble cosmetics brands in 2016 has made it even larger.
Timeline
1940
New Products: Sub-Tint; Mascara
1941
Maison Coty opens in the Rockefeller Centre at 610 Fifth Avenue, New York.
1942
Coty creates the American Fashion Critics' Awards.
New Products: Shapelip Lipstick in red and white plastic case.
1943
Coty U.S. drops all sales to syndicate stores and stops perfume production.
1945
Coty sales and executive offices in New York moved to 730 Fifth Avenue.
1946
New Coty salon opens at 3 New Bond Street, London.
Coty introduces new pack designs.
1947
Coty Manufacturing Co. Ltd. (U.K.) established.
1948
Rallet Corporation of America established in New York.
New Products: Pastel-Tint.
1949
New Products: Creamy Lipstick.
1950
New Products: Shakti cologne and body deodorant.
1952
Coty begins television advertising (U.S.).
New Products: Instant Beauty; and Cream Powder.
1953
Coty buys controlling interest in Lucien LeLong.
New Products: Body Beautiful Lotion; Instant Cleanser; Homogenized Cleansing Cream; and Homogenized Night Cream.
1954
Coty creates General Beauty Products, Inc. containing Lucien Lelong, Marie Earle and Lilly Daché Hair Cosmetics.
Lily Dache Beauty Salon opened at 78 East 56th Street, New York.
New Products: Skin Perfume.
1955
New Products: Cream Powder Compact; Coty "24" Lipstick; Vitamin A-D Complex Cream; and Preferred Stock men's toiletries.
1956
New Products: Vitamin A-D Lotion; French Formula Liquid Make-up; Vitamin Moisture Balancer; and Fairy Princess, a children's line.
1957
Coty GmbH established in Mainz, Germany.
Coty S.A.M. (Mexico) liquidated (completed in 1959).
New Products: Fastan and Slotan suntan lotions; and Curl Set hairspray.
1958
New Products: French Flair, a pressed powder.
1959
New Products: Liquid Eye Lights, a liquid liner, eye shadow and mascara; and Duo-matic, automatic mascara and eye crayon in one.
1960
Lucien Lelong, Marie Earle and Lilly Daché sold to Mary Chess.
Coty U.S. imports all perfumes from France.
New Products: Dermacare, a medicated treatment kit.
1961
New Products: 60-Second Facial; Light and Lovely all-in-one-make-up; and Instant Radiance, a hair colour rinse.
1962
Coty International Corporation (Delaware) and Omnium de Participations Industries de Luxe S.A. (Panama) dissolved.
1963
Coty and Coty International acquired by Chas. Pfizer & Co., Inc.
1964
New Products: Line Away, an albumin wrinkle smoother.
1965
Coty begins sales in Japan.
New Products: Veil Naturelle foundation; Cremestick lipstick; Blush Accent cream rouge; Blushette, pressed powder rouge; and the Beauty Climate line.
1966
New Products: Coty Originals line; Frosted Velvet moisturising body fragrance.
1967
New Products: Originals Body Paint; and Formula E range.
1968
Coty manufacturing ceases in Canada.
Coty Originals repackaged for self-service display.
New Products: Coty Originals Topless Lipstick.
1969
Coty Originals line reformulated.
New Products: Ultra Legs leg make-up; Sheer Puffery foundation and blusher; and Bacchus line of cosmetics for men.
1970
Chas. Pfizer & Company renamed Pfizer, Inc.
New Products: Sheer Puffery Bronzer; Equasion line of beauty treatments
1971
New manufacturing facility opened in Sanford, North Carolina.
1973
Coty and Coty International combined.
1992
Coty sold to Joh. A. Benckiser GmbH.
1993
Benckiser GmbH merges Coty with Quintessence, Inc.
1996
Benckiser combines its cosmetics and fragrance interests into a single holding company, Coty, Inc.
Coty buys Rimmel from Unilever.
1999
Coty introduces the Rimmel make-up line into the U.S.
2016
Coty buys 43 brands from Proctor & Gamble including Max Factor and Cover Girl.
Updated: 24th July 2017
Sources
Broadcasting Telecasting. (1957). Washington, DC: Broadcasting Publications, Inc.
Chas. Pfizer & Co., Inc.. Annual Reports 1963-1969.
Cosmetics: TV's $126 million sweetheart. (1959). Sponsor, June 27th, 33-25, 74.
Coty, Inc. Annual Reports 1939-1963.
Coty International Corporation. Annual Reports 1939-1963.
FBI Silvermaster file. (1946). Retrieved September 6, 2016 from https://archive.org/details/FBISilvermasterFile
Jones, G. (2010). Beauty imagined: A history of the global beauty industry. Oxford: Oxford University Press.
Musée d'Histoire Urbaine et Sociale de Suresnes [MHUSS]. (2016). Retrieved August 12, 2016 from http://webmuseo.com/ ws/musee-suresnes/app/report/index.html
Pfizer, Inc.. Annual Reports 1970.
Toledano, R. B., & Coty, E. Z. (2009). François Coty: Fragrance, power money. Gretana: Pelican Publishing Company.