Many forms of make-up can hide skin blemishes and pigmentation irregularities. In the 1920s, for example, women with marked suntan lines could disguise them with a liquid powder or powder cream. Towards the end of that decade make-up specifically designed to conceal – now called camouflage make-up – was developed by Lydia O'Leary. Called Covermark, it could used to cover larger skin blemishes such as prominent birthmarks, rosacea, varicose veins and large scars. Until its introduction the only commercial make-up that would cover these serious skin blemishes was greasepaint.
See also: Greasepaint and Covermark
Following the introduction of Covermark a number of other firms – most notably Clark-Milner's – entered this market but sales of camouflage make-up were not large enough generate much interest from any of the major cosmetic companies.
As well as its small customer base, individuals using camouflage make-up had to be educated about how to apply if it was to produce a pleasing result. This needed more expertise than was generally available from a department store beauty demonstrator or salon beautician. Lydia O'Leary was well aware of this issue and personally trained many women in the art. However, she was also a business woman and tried to widen the market for her products by suggesting that Covermark Cream could be used for more common problems such as dark circles under the eyes – one of the main uses for modern concealers. She also introduced Spot-Stik in 1936, a stick form of Covermark specifically designed to be used by the general public for hiding minor skin blemishes. This means that Covermark is also regarded as the first modern concealer.
Camouflage make-up was always going to be a niche product of little interest to the majors. Apart from individuals with major skin blemishes the only other group likely to use camouflage make-up was mortician. However, some of the larger cosmetic companies did become interested in the idea of a concealer; Helena Rubinstein, for example, introduced Conceal in 1942, a cream that came in two shades (light and dark) that was used under regular make-up. Collectively, concealers did a reasonable trade but nothing very dramatic until the 1950s.
Ayer Magic
In 1952, Harriet Hubbard Ayer released Ayer Magic, a cream concealer. This 'Shadow-Free Make-up' – described as being the result of 20 years of research by the Hollywood make-up artist Kiva Hoffman [1903-1978] – used standard facial contouring practices used by make-up artists the world over.
Ayer Magic is an new product and the key to the new Shadow-Free Make-up. Ayer Magic is light … light ln creamy form. It is applied to the shadows and hollows of the face … and the shadows and hollows seems to disappear. It gives the effect of perfect lighting on the face constantly!

(Harriet Hubbard Ayer Advertisement, 1952)
The product was applied over foundation along smile lines, under the eyes, down the corners of the mouth and across the temples, after which it was blended in with a foam sponge.
Apply your regular foundation but not your powder; moisten your own forefinger, clip a sparing amount of Magic cream and apply to the downward corners of your mouth, over the smile lines, under the eyes and at the temples. Blend Ayer Magic carefully into your foundation till it disappears, with the miniature airfoam sponge you will find in the box. Then apply your powder. Now look in the mirror, you won't believe the difference!
Advertising for Ayer Magic suggested that it would make you look 10 to 15 years younger. Covermark and other concealers had targeted skin blemishes which limited its market. By advertising its Ayer Magic concealer as a way to look more youthful, Harriet Hubbard Ayer opened the door to a much wider customer base.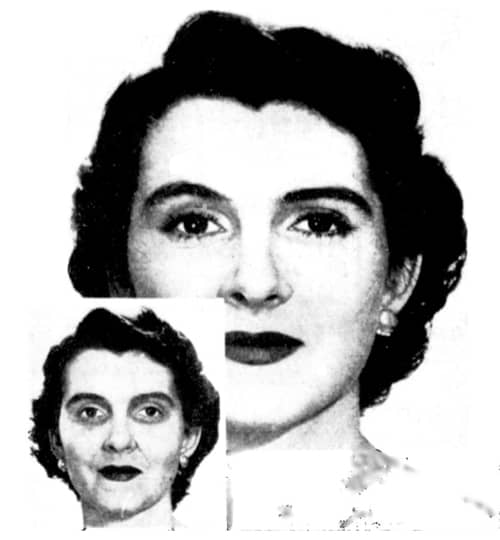 Stick concealers and television
In 1954, three new concealers were introduced into the American market: Charles Antell's Touch-Up Stik, Max Factor's Erace and Westmore's Beauty-Stick. Unlike Ayer Magic, all of these concealers were produced as sticks and they added another factor – television.
The heads of the Charles Antell company – Charles Kasher, Julius Rosen and Leonard Rosen – were big believers in television. Hazel Bishop's Lasting Lipstick (1950) had achieved astonishing sales numbers using television advertising and the Charles Antell company had already used hard sell television and print campaigns to promote Charles Antell Formula No. 9 for the hair, Charles Antell Shampoo, and Charles Antell Hexachlorophene Soap earlier in the decade.
See also: Hazel Bishop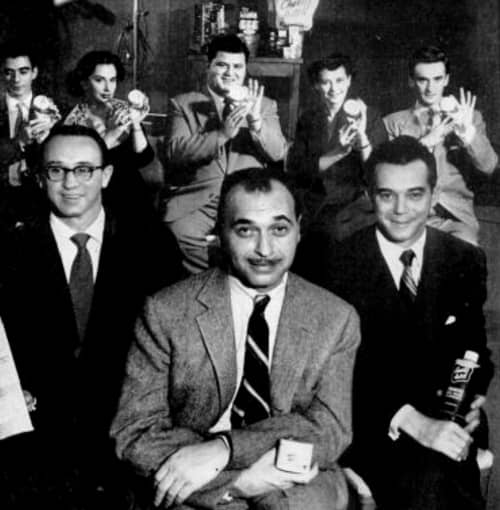 Despite receiving a 'Cease and Desist' order from the Federal Trade Commission (FTC) for many of its dubious product claims (Docket 6102, FTC, 1953) the executives of Charles Antell were not deterred and used similar tactics to promote its new Touch-Up Stik concealer. Their catchy tag line for Touch-Up Stik was 'Always Touch-up before you make-up'.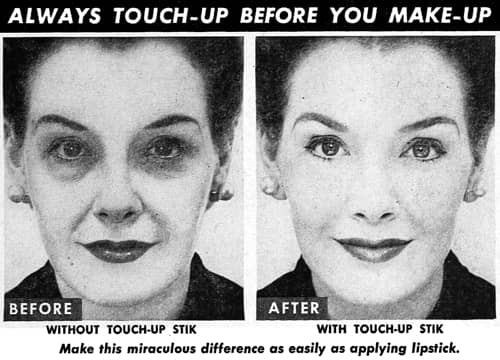 Although advertisements for Touch-Up Stik mentioned common blemishes like spider veins and pimples, like Ayer Magic, Antell concentrated more on showing how the concealer could make you look younger by covering blemishes such as the dark areas around the eyes a sales pitch made easier by these concealers being an ideal product to sell through black and white television.
[T]elevison is a particularly dramatic and convincing medium for a product of this type. The model walks in front of the camera, looking haggard and tired; then, in front of one's eyes, in the course of only a few seconds, she becomes many years younger-looking and infinitely more attractive.
Max Factor's marketing for Erace also targeted dark circles under the eyes and use a similar tag: 'The cover-up used before make-up'. With all television advertising given over to concealers in 1954 it is easy to see why sales of stick concealers rose from thousands to millions of units in the United States. Although they may not have lived up to all that they promised, and repeat business may have been lower than hoped for, concealers now became part of many women's make-up routines. The fact that stick concealers looked like lipstick and could be carried around in a purse, to be applied when needed, added to their appeal.
Formulation
Concealers in the 1950s – whether made as creams or sticks – were similar to foundations, only made more opaque. This was usually achieved by adding higher levels of titanium dioxide to the base. As the titanium dioxide is white, additional pigments – both inorganic minerals and lakes – were required to achieve a suitable shade. The high levels of powder could lead to problems with air incorporation due to the pigments adsorbing air during grinding. This issue could be managed through the addition of ingredients to help reduce surface tension and by the use of careful controls during manufacture (Hilfer, 1953, p. 619).
Base
Cream concealers could be made using a base of petrolatum, mineral oil and paraffin but stick forms required the addition of extra waxes such as beeswax, ceresin carnauba and/or candelilla. A recipe for a stick concealer is given below:
%
Castor oil
29.4
Butyl stearate
14.0
Petrolatum, short fibre
5.6
Beeswax, yellow
10.5
Ozokerite, m.p. 85-88°C.
7.0
Paraffin, m.p. 54-58°C.
3.5
Titanium dioxide
25.0
Pigment–magnesium carbonate
5.0
Perfume
q.s.

Procedure: Heat the oils, fats, and waxes until homogeneous. Add the powders and pass the mixture through a colloid, ointment, or roller mill. Heat the mixture and stir slowly until all of the air is evacuated, and then pour into molds. The mold should be chilled to get greater contraction. It may also be necessary to use a mold release agent if the product has a tendency to adhere to the mold. To this end the molds may be coated either with a silicone mold release or a polyvalent fatty acid ester.
Colour
As with powders and foundations, a range of colours is needed so that the concealer could be matched to a person's complexion. However, as they were used in conjunction with other forms of make-up the match did not have to be perfect and most concealers produced in the 1950s only came in 4-6 shades, well short of the range in Lydia O'Leary's Covermark camouflage make-up.
A later development was the introduction of neutralising concealers. These were based on the idea that it is possible to neutralise an undesirable skin shade by using a complementary colour. e.g., green will neutralise redness and a yellow will neutralise purple blotches. Marvin G. Westmore [b1934], the son of the make-up artist Monte Westmore [1902-1940], suggests that this idea goes back to the 1920s but does not recommend the practice for everyday use.
Color theory tells us that when any two colors are mixed, the result is a third color. Mixing opposite colors on the color wheel, e.g., green and red, blue and orange, or yellow and purple, results in an unattractive grayish-green-brown color. This changes the intensity of the two colors and causes them to become dull. The cosmetic industry calls this neutralizing.
The makeup neutralizers/undertoners that are offered—green to neutralize redness, lavender to neutralize sallowness—do nothing more than create a third color, they do not create a skin color. This third color must then be concealed with a color that matches the skin, which adds an extra step and additional thickness to the makeup, not to mention the possibility of dirty-looking makeup.
Medication
Pimples are a perennial issue for many young women and make-up was used by them to cover these blemishes. As cosmetic companies got more interested in the youth market in the 1950s and 1960s many created make-up lines specifically for this demographic. A number of these cosmetics included pimple reducing medication and on occasion medication was also added to concealers. Some pimple cures that were not make-up, such as Clearasil, worked from the other direction and made some attempt to hide themselves by adding colour to their formulation.
Recent developments
Concealers are now available in a myriad of forms: cream concealers come in pots and tubes, stick concealers in sizes that range from large crayons through to fine pens. In the 1960s, the ability to create very fine powders led to the development new forms of powdered make-up – eyeshadows, blushers and blending powders – which were applied with some form of brush or sponge. This led to the brush-on 'mineral make-ups' currently on the market. Some of these are now marketed as concealers and suggest that they have the covering power of camouflage make-up.
Updated: 26th May 2016
Sources
Draelos, Z. K. (1990). Cosmetics and dermatology. New York: Churchill Livingston.
Feilder, J. G. (1957). Foundation makeup. In E. Sagarin, E. (Ed.). Cosmetics: Science and technology(pp. 262-270). New York: Interscience Publishers, Inc.
Hilfer, H. (1953). Blemish-hiding creams. Drug and Cosmetic Industry, 73(5), 619, 712.
Sagarin, E. (1954). Letter on cosmetics from overseas. The Perfumery and Essential Oil Record, July, pp. 232-234.
Westmore, M. G. (2001). Camouflage and makeup preparations. Clinics in Dermatology, 19, pp. 406-412