Pond's started out in 1846 as a patent medicine company when Theron T. Pond [1880-1852], a pharmacist from Utica, New York, began selling 'Golden Treasure', a homeopathic remedy he developed from witch hazel. In 1849, Theron Pond, Alexander Hart, and Edmund Munson formed the T. T. Pond Company to make and sell Golden Treasure which was renamed Pond's Extract. After the American Civil War [1861-1865] soap and toiletries were added to the product list. Changes of ownership, Theron Pond's death, and legal disputes over who owned the manufacturing rights to the extract, created problems for the early Pond's, but by the 1880s things had settled down and the Pond's Extract Company emerged.
Pond's Extract
Pond's Extract was a mixture of witch hazel distillate, alcohol and water. It was promoted as a general cure-all for a wide variety of ailments including: burns, colds, catarrh, wounds, chilblains, hoarseness, sore throats, piles, scalds, bruises, sunburn, rheumatism, chapped hands, bites, boils, chafing, lameness, nosebleed, frost bite, inflamed eyes and female complaints.
By the twentieth century most of the patent medicine claims for Pond's Extract were dropped and the product was then promoted as a general antiseptic for bites, wounds, sunburn and after shaving. Advertising was often aimed at families, presumably because children were expected to have a larger number of scrapes.
Pond's Extract, first produced in 1846. Most of us remember how tenderly our mothers touched our childish wounds with this healing soothing lotion. Today any physician will tell you it is still the best of household remedies. Get a bottle today, you will be surprised at how frequently you use it.
Witch hazel's effectiveness as an antiseptic was disputed. In 1886, a laboratory investigation suggested that the virtues of witch hazel were due more to the alcohol in the product than anything else. This view was endorsed by the National Dispensatory in 1916 which stated that "The good that it exerts in the treatment of sprains, bruises, wounds, chilblains, sore eyes, headache, and a host of other conditions, resides more in the activity of a cleansing and evaporating lotion and in the mind of its user, than in any decided curative properties that the preparation may possess." (Lloyd & Lloyd, 1935).
In the 1880s, several new witch hazel based preparations were added to the company's product line including: an ointment, a dentifrice, plasters, a toilet cream, a soap, a lip salve, a catarrh cure, and medicated papers, but by this time other companies were also producing witch hazel products which increased competition and lowered the company's margins.
An 1891 marketing survey identified an increased demand for skin-care products (Peiss, 2007, p. 99) and this gave the company a possible way out of its declining margins. Starting with two skin creams the company began a switch to cosmetics.
Two creams
In 1904, Pond's began selling Pond's Extract Cold Cream and Pond's Extract Vanishing Cream. Both creams – developed by William Wallbridge, a chemist who worked at the Pond's factory – were characteristic of their class: the cold cream was a beeswax-borax emulsion made with mineral oil; and the vanishing cream was a stearate emulsion using glycerine as the humectant. Both creams were sold in opal jars for the home and in tubes for the handbag.
See also: Cold Creams and Vanishing Creams.
Introducing these two creams to potential customers was not without its problems as J. K. L. Wenham, Managing Director of Pond's Extract described in 1950.
To introduce our creams we used demonstration jars of cream. These were sent to all our clients for counter use. And to be hygienic we supplied a small silver spoon, to prevent dirty fingers from being pushed into the cream. But you eat with spoons and so the cream soon vanished from the jars. The only complaints we received were not about texture—but about taste. It never occurred to the public to try it on the skin. That was our first mistake, and the second was supplying a silver spoon. The chemist was frequently asking for more.
The education of the public to use creams was a slow process, with only press advertising as the instructor.
At first the creams were given very little publicity and were only mentioned in small print at the bottom of larger advertisements for Pond's Extract but by the beginning of the First World War the situation was reversed.
Sales really took off when the products were promoted together. A marketing campaign developed by the J. Walter Thompson advertising company in 1916, based on the idea that 'Every skin needs two creams', resulted in a threefold increase in sales by 1920 (Peiss, 1998, p. 121).
Every normal skin requires two creams. A cold or grease cream for cleansing, for massages, and a non-oily, greaseless cream before going out—to protect the skin from chapping, to keep it from becoming dry and tough.
No matter what creams you are using now, send for the free samples of these two creams. Rub the cold cream on one hand, the vanishing cream on the other. See how different each cream is—how each cream, in its own way, benefits your skin.
The marketing campaign promoted the use of each of the creams as part of a skin-care system – the cold cream as a cleanser, and for massaging the skin at night; the vanishing cream as a skin protectant during the day. Advertising stressed the need for both creams and gave detailed instructions on how they were to be used. For many women this was the first time they had a simple skin-care routine they could follow. To help easily identify each cream the company added prominent capitals to the packaging in 1923 with a large 'C' for cold cream and a 'V' for vanishing cream. Pond's continued to advertise the two creams together until 1934 when separate advertising was introduced.
Testimonials
As the skin-care business became more competitive in the 1920s, Pond's creams began to lose sales to higher priced lines from salon-based companies like Elizabeth Arden and Helena Rubinstein. As one market researcher noted, "women thought that higher priced creams must be better" (Peiss, 2007, p. 137).
Pond's tried to counteract the trend through an extensive advertising campaign based on testimonials. Like others, Pond's had used stage personalities for endorsements in the past, but the new campaign, which began in 1924, attempted to give Pond's cold and vanishing creams more cachet by having them endorsed by socialites and members of the European aristocracy. Although it improved sales the campaign came at a cost, with Pond's spending nearly $60,000 in advertising in the U.S. in one month of 1926, almost three times that of Elizabeth Arden (Peiss, 2007, p. 106). Although I doubt that anyone was convinced that either the cold or vanishing creams had become upscale, high-class cosmetics, the testimonials must have been having some effect as the company persisted with them. Pond's continued to them through the 'She's Engaged, She's Lovely, She uses Pond's' campaign of the 1940s and beyond, although the endorsements gradually came from younger, better looking women.
Pond's also responded to the increasing sophistication of its customers by adding Pond's Skin Freshener and Pond's Cleansing Tissues to its skin-care routine in 1927. Although described as a four-step process, it was in reality very similar to other three-step skin-care routines introduced in the 1920s.
One, lavishly apply Pond's Cold Cream for immaculate cleansing. Two, remove with Tissues. Three, pat face and neck briskly with the rejuvenating Freshener. Four, just a whisk of Vanishing Cream can make the powder cling.
Products
Pond's Cold Cream: "[A]n oil cream. It is scientifically prepared from ingredients chosen for their cleansing, lubricating qualities. It is wonderfully dewy and smooth—has just the quality for proper massaging and for removing dust and grime without irritation."
Pond's Vanishing Cream: "[C]ontains no oil and is not intended for cleansing or for massage. The base is a wonderful skin-softening ingredient which has a special affinity for the skin—an ingredient recognised by dermatologists the world over as one of the utmost value to the skin."
Pond's Cleansing Tissues: "[S]ilky soft. Modern science prescribes them for removing cold cream. They are generously large and firm, and so marvelously absorbent that in an instant they wipe away dirt and oil."
Pond's Skin Freshener: "It is a tonic and mild astringent safe to use as often as you need. It closes the pores and tones and firms your skin—brings lovely glowing youth to your cheeks."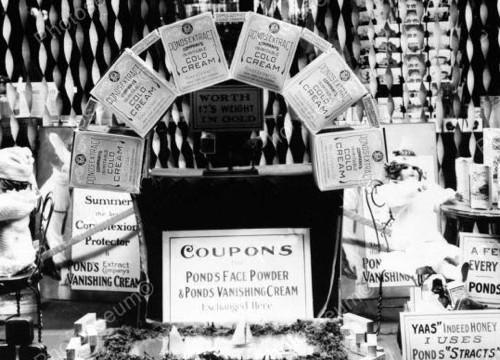 Overseas expansion
Pond's had opened a London branch by 1878 and had continued to expand overseas ever since. Many women switched to budget-priced creams during the Great Depression so the 1930s were marked by further expansion. The company opened a factory in Perivale, London in 1932 and subcontracted manufacturing of its products elsewhere to increase its global reach. By the end of the 1930s, Pond's products were being sold in 96 countries around the world with overseas sales making up 40% of its revenues (Jones, 2010, p. 128).
Adjusting to change
In 1933, in an attempt to get around some of the perceived problems with its cold cream, Pond's introduced Pond's Liquefying Cream as an alternative, less greasy cleanser. The product was given a prominent 'L' on the label and was often advertised as a quick cleanser.
See also: Liquefying Cleansing Creams
Pond's also tried to rebadged its cold cream as being more than a cleanser. In its 'Under Skin' campaign it suggested that as the oils penetrated deep into the skin Pond's Cold Cream could be used to improve blackheads, lines, coarse pores and dry skin.
If pores were windows, you could look deep into your underskin and see! Overactive glands loading up your pores, stretching them wide. Underactive glands parching your skin, drying it up. Tiny fibres losing tension—letting ugly lines form outside!
Skin becomes Smooth, Line-free … Most skin faults start the same way—under your skin. Even the very blemishes and blackheads that spoil a young girl's looks! But you can invigourate those failing glands and cells and fibres 'rouse them to a fresh start—see you skin faultless! Pond's Deep-skin Cream is made for this purpose.
The specially processed oils of Pond's Cold Cream go way down deep—releasing all the dried-up dirt, make-up, secretions, wedged in your pores. Even the first time you use Pond's, you'll see your skin clearer, fresher, smoother by far.
Pond's would continue to promote its cold cream but, seeing the way the wind was blowing, introduced Pond's Dry Skin Cream containing lanolin in 1941.
Skin vitamins
Although claims made for Pond's skin-care products were generally restrained they did succumb to the 'magic ingredient' addition on the odd occasion, as for example in 1937, when they included a 'skin-vitamin' to their creams.
A new type of cream is bringing more direct help to women's skin!
It is bringing to their aid the vitamin which essentially helps build new skin tissue, the vitamin which helps to keep the skin healthy and glowing—the "skin-vitamin."
When there is not enough of this "skin-vitamin" in the diet, the skin may suffer—become undernourished, rough and subject to infections. Skin faults would result.
For over three years Pond's tested this "skin-vitamin." in Pond's Creams.
… When women used the creams, three out of every four of them came back asking for more. In four weeks they reported pores looking finer, skin smoother, richer looking!
Every jar of Pond's Cold Cream now contains the precious "skin-vitamin." Not the "sunshine" vitamin. Not the orange juice vitamin. Not "irradiated." But the vitamin which especially helps rebuild skin tissue.
The unnamed advertised 'skin-vitamin' was vitamin A. Tests indicated that it was added, along with a very small amount of vitamin D, to the company's Liquefying Cream, Cold Cream, Vanishing Cream and Danya Lotion: a small 'SV' on the label indicated they were there. Unfortunately for Pond's, the United States passed the Food, Drugs and Cosmetics Act in 1938, and in 1941 it was ordered to cease and desist misrepresenting the benefits of vitamins in its products (JAMA, 1942). It would appear that Pond's knew this was coming as advertising that highlighted the 'skin-vitamin' was discontinued after 1939.
1-Minute Mask
Sales of vanishing creams declined in the second half of 1930s, including those produced by Pond's. It is perhaps because of this that the company introduced the 1-Minute Mask campaign – which involved applying a thick layer of vanishing cream on the face and leaving it there for at least one minute – with the hope that this would bolster sales.
NEW 1-Minute Mask of Pond's Vanishing Cream releases coarsening surface scuff. Its "keratolytic" action dissolves and loosens dried skin and dirt particles. Smooth mask thick over face and throat (except eyes).
AFTER a full minute simply wipe off Mask! See how much lovelier your skin is! So much softer feeling. So much Fresher, clearer looking!
However, as the newer cake make-up, liquid and powder-creams did not need vanishing cream as a powder base, and speciality creams promised better skin protection, the decline of vanishing creams continued.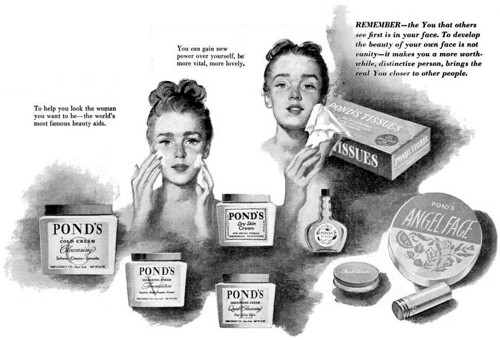 Hand preparations
In the 1930s, Pond's introduced a series of hand cream formulations starting with Pond's Hand Lotion and Pond's Danya Cream Lotion (1937) followed by Pond's Angel Skin (1953). Danya Cream Lotion featured in the 'She's Engaged, She's Lovely, She uses Pond's' campaign begun in 1942 which often contained a hand displaying an engagement ring but it failed to sell and was discontinued in 1943. Angel Skin was aimed firmly at the housewife with 'detergent hands'.
Products
Pond's Liquefying Cream: "A quicker-melting cream. Fine for quick cleansings."
Pond's Dry Skin Cream: "Exceptionally rich and deep penetrating. Pond's Dry Skin Cream goes right to work on dry skin problems that "middle-age" a woman's face."
Pond's Hand Lotion: "[C]onstant plunging in hot water, house and office work, gardening, sports, exposure to wind and sun all combine to dry the natural moisture from skin. You can renew the youth and beauty of your hands by renewing this natural moisture."
Pond's Lotion (Danya): "Don't let work rob your hands of their feminine charm. Thousands of women today have found a way to take care of a house, children—or to work a job every day—and still keep their hands soft and smooth."
Pond's Angel Skin: "Remarkably unlike other lotions—Angel Skin neutralizes the drying, chemical action of detergents and soaps … helps prevent irritation! Housewives report amazing improvements in their hands after using Angel Skin."
Powder and paint
Pond's had been selling a face and body powder since before the First World War, although neither product was promoted with any degree of fervour. Things began to change in 1932 when the company launched Pond's Powder in five shades. This was followed up in 1942 with the introduction of the Dreamflower range which included Face, Dusting and Talcum Powders.
Sometime during the 1930s the company also added an indelible lipstick and compact rouge in matching shades. The lipstick was initially produced in five shades, with new 'enticing Stagline Shades' added in 1940s including: Honey, Rascal Red, Dark Secret, Heart Beat, Natural, Beau Bait, Black Blaze, Dither, Heart Throb and Blue Fire. It is hard not to judge the names and the reference to 'Stagline' as being a little obvious. The lipstick and rouge were rebadged in the 1940s as Pond's Lips and Pond's Cheeks respectively.
Following the success of Max Factor's Pan-Cake make-up – introduced in 1938 – Pond's produced its own version in 1943, under the name Make-Up Pat. Like other cake make-up it was applied with a moist sponge then blended with the fingertips before being finished off with powder.
See also: Cake Make-up
In 1946, Pond's introduced their Angel Face compact powder in five shades. As a powder-cream it was applied with a puff rather than with the wet sponge needed for cake make-up. A mirror case model, introduced in 1950, later completed the package and and sold well. The company leveraged its success and turned it into a complete line introducing Angel Lips and Angel Hands in 1954.
NOT A CAKE MAKE-UP … NOT A GREASY FOUNDATION
A completely different kind of new make-up— Pond's Angel Face is actually a foundation and powder all in one. A masterpiece of soft-spoken, sweet tinted flattery—neater to use at the dressing table, and perfect to carry in your handbag because Angel Face can't spill!
GOES ON WITH A PUFF—AND STAYS!
Angel Face is incredibly easy to use. You just smooth it on with its own downy puff! No watery sponge. No greasy finger-tips. No loose, silly powder! Hours after a make-up with Angel Face, your skin still looks exquisitely fresh and velvety!
Products
Pond's Face Powder: "adds a smooth-as-baby-skin finish and keeps away shine for hours!" Shades: White, Flesh, Brunette. Later shades: Naturelle, Light Cream, Brunette, Rose Brunette, Dark Brunette, Light Natural, Rose Cream, Rose Dawn.
Pond's Dreamflower Powder: "to mist your face with soft enchantment … to give you a 'dream girl' complexion … and keep it that way." Shades: Dusk Rose, Dark Rachel, Natural, Rose Cream, Rachel, Brunette, Mocha, Camellia, Peach.
Pond's Make-up Pat cake make-up: "Easy way to a smooth, flawless looking complexion. Exquisite glowing shades. Stays on! " Shades: Rose Cream, Dark Rachel, Rachel, Dusk Rose, Natural, Brunette.
Pond's Angel Face compact powder: "A sensational new make-up that's easier to apply—no water, no greasy fingertips. And it stays on longer than powder! A smoothing 'cling' ingredient is pressure-fused into Angel Face. Makes it go on evenly—stay on." Shades: Blonde Angel, Ivory Angel, Pink Angel, Tawny Angel, Bronze Angel, Blushing Angel, Gypsy, Golden Angel.
Pond's Lips lipstick: "blended scientifically to keep their warm, rich tones in the broad sunlight or under the glare of electric lights … as alluring by day as by night." Shades: Honey, Rascal Red, Dark Secret, Heart Beat, Natural. Later shades: Beau Bait, Black Blaze, Dither, Heart Throb, Blue Fire.
Pond's Cheeks rouge: "blend a little … up around the cheekbones and over the eyes—very youthifying, the 'reflected glow' of rouge used this way." Shades: Same as for Lips lipsticks.
Acquisition
By the 1950s, Pond's was firmly situated in the middle to lower end of the cosmetic market. One way to survive in this market was to be large and this may have been why Pond's combined with the Chesebrough Manufacturing Company, Consolidated – the makers of Vaseline – in 1955. The two companies were no strangers, Pond's chairman, Clifford M. Baker was also a director at Chesebrough. It was a good match and the new company, Chesebrough-Pond's, would go on to become stronger than its component parts.
See also: Chesebrough Manufacturing Company and Chesebrough-Pond's
Timeline
1846
Theron T. Pond produces a witch hazel extract initially sold as Golden Treasure.
1852
Theron T. Pond dies.
1872
Pond's Extract Company formed in New York.
1876
Pond's Extract trademarks registered in Britain.
1878
Pond's Extract opens a branch in London.
1882
New products are developed including a toilet cream, dentifrice, lip salve, ointment, porous plasters, catarrh remedy and toilet soap.
1886
Pond's launches its first national advertising campaign in America using the J. Walter Thompson agency.
1888
Factory established in Clifton, Connecticut.
1904
New Products: Pond's Extract Cold Cream; and Pond's Extract Vanishing Cream.
1905
Pond's Extract Cold Cream introduced into the United Kingdom followed by Pond's Extract Vanishing Cream in 1906.
1915
Pond's Extract Cold Cream and Pond's Extract Vanishing Cream introduced into Europe.
1916
'Every skin needs two creams' advertising campaign begun.
1923
Pond's registers C (cold cream) and V (vanishing cream).
1924
Testimonial advertising campaign begins.
1927
Pond's open their first foreign factory in Canada.
New Products: Pond's Skin Freshener & Tonic; and Pond's Cleansing Tissues.
1932
Pond's opens its first overseas factory in Perivale, London.
New Products: Pond's Face Powder.
1934
New Products: Pond's Liquefying Cream.
1937
Pond's begins sponsoring radio programs (U.S.).
Pond's adds vitamins to its cosmetics.
New Products: Danya hand cream.
n.d.
Pond's introduces lipstick and rouge into its range.
1940
New Products: Pond's Lips lipsticks.
1941
New Products: Pond's Dry Skin Cream.
1942
New Products: Pond's Cheeks compact rouge; and Dreamflower Face Powder.
1943
Danya discontinued because of disappointing sales.
New Products: Make-Up Pat, a cake foundation.
1946
New Products: Angel Face Compact Powder (mirror case compact added in 1950); Dreamflower Talc; and Dreamflower Dusting Powder.
1950
Pond's stops distributing its products through Lamont, Corliss & Company and sets up its own sales force.
1951
Pond's sponsors its first television show.
1953
New Products: Angel Skin Hand Lotion.
1954
New Products: Angel Lips.
1955
Pond's and the Chesebrough Manufacturing Company combine to form Chesebrough-Pond's.
Updated: 7th February 2017
Sources
Jones, G. (2010). Beauty imagined: A history of the global beauty industry. Oxford: Oxford University Press.
Journal of the American medical association. (1942). Chicago: Author.
Lloyd, J. U., & Lloyd, J. T. (1935). History of Hamamelis (witch hazel) extract and distillate. Journal of the American Pharmaceutical Association. 24(3).
Peiss, K. (2007). Hope in a jar: The making of America's beauty culture. New York: Henry Holt and Company.
Sutton, D. H. (2009). Globalizing ideal beauty. How female copywriters of the J. Walter Thompson advertising agency redefined beauty for the twentieth century. New York: Palgrave Macmillan.