In 1858, Robert Chesebrough went into the coal-oil business using coal-oil he purchased from the Aladdin Oil Works in Allegheny, Pennsylvania. From the coal-oil Chesebrough refined lighting oil – also known as paraffin oil or kerosene – and he sold this under the Luxor Oil brand throughout the New York area.
In 1859, 'Colonel' Edwin Drake [1819-1880] successfully drilled for oil in Titusville, Pennsylvania. after hearing news of the strike Chesebrough visited Titusville to see for himself what prospects were available. It was there, according to legend, that he came across 'rod wax' the substance from which he eventually extracted Vaseline Petroleum Jelly.
The commercial extraction of Vaseline from rod wax took a decade and was not accomplished until 1869. In the meantime Chesebrough also expanded his Luxor Oil business – now using petroleum rather than coal as its source – got married, and patented a number of purification processes that would be important to the developing petroleum industry.
The process by which "Vaseline" is made is the only known process of deodorizing petroleum without impairing its properties for medicinal, pharmaceutical, and toilet purposes.
… [I]n the manufacture of "Vaseline" no acids are used, the petroleum being simply concentrated by dry heat to a jelly, and repeatedly filtered through animal charcoal, substantially as white sugar is made, and is perfectly harmless.
See also: Petrolatum/Petroleum Jelly.
Vaseline
There are different ideas about the origin of the name 'Vaseline' but I think it is safe to say that its derivation is a combination of 'Wasser' (the German word for water) and 'elaion' (the Greek word for oil) – it was a 'water-oil'. Like many other chemists of the time, Chesebrough would have believed that petroleum oil was formed by a chemical action between carbon and hydrogen in water. This idea lost ground to the Geological Theory in the twentieth century, but by then the word had stuck.
Sales
Chesebrough began selling Vaseline Petroleum Jelly in 1870 as a curative and soothing agent, as well as a base for ointments and salves. Wholesale and retail druggists were largely disinterested in it and sales were low until he began sending out employees with carts to hand out free samples to housewives and doctors – it is estimated that over half-a-million such samples were distributed by 1873 (Williamson, Andreano, Daum & Klose, 1959, p. 251). Robert Chesebrough also spent time doing demonstrations of Vaseline to prospective customers.
Chesebrough was the first company to distribute free samples on such a massive scale and others learnt from its success. The free samples were made possible in part by the low cost of Vaseline, but also by the ease in which it could be made, packaged and distributed; Vaseline's long storage life must also have helped. The free distribution was later replaced by the sample pack; sold at a nominal charge and sent postage free to customers who wrote in for it.
The first major commercial customer of Vaseline appears to have been the pharmacist Edmond Fougera [1821-1889] who sold it through his drug store in Brooklyn from 1874, the same year that Chesebrough established the Chesebrough Manufacturing Company.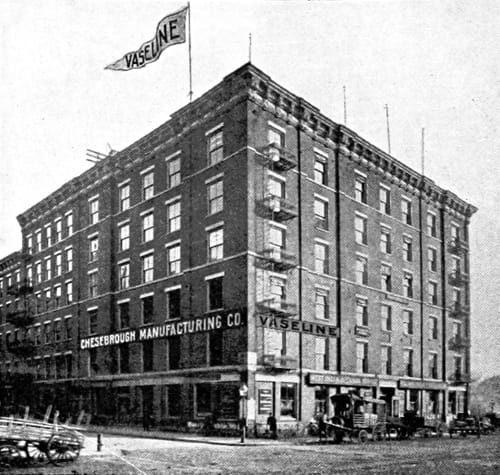 To help sales, Chesebrough also submitted Vaseline to a range of scientific and medical societies and displayed it at various national and international expositions. Awards for the product included Grand Medal at the U.S. Centennial Exposition in 1876, Silver Medal at the Paris Exposition in 1878, and Highest Award at the London Medical International Congress in 1881.
In 1876 Vaseline got a major boost when it was endorsed by the London medical journal 'The Lancet'. This led to an increased interest from physicians in the United States, Britain and Europe (AP&EOR, 1927), and marks the beginning of Vaseline's establishment as a global household staple. Following its general acceptance by the medical profession, Chesebrough embarked on a general advertising campaign aimed at the public at large. By 1884, factories to produce Vaseline had been established in France, England, Germany, Italy and other countries (Fougera, 1884) and in 1894 an arrangement was reached with Colgate & Company to distribute Vaseline nationwide in the United States.
Diversification
Chesebrough patented the process for making Vaseline in 1872. It is clear from reading this patent that he saw Vaseline as having a variety of purposes beyond skin care. Part of the reason for this was that the process for manufacturing Vaseline resulted in white, blond, and red types, each with varying purity – white being the purest – which necessitated each type being used for different purposes, e.g. white for medical uses and skin care, red for veterinary uses and leather goods.
Vaseline is especially useful in carrying, stuffing, and oiling all kinds of leather. It is also a good lubricator, and may be used to great advantage on all kinds of machinery. The finest grade of vaseline is also adapted to use as a pomade for the hair, and will be found excellent for that purpose, one of its chief recommendations being that it does not oxidize. It is also an excellent substitute for glycerine-cream for chapped hands, &c., which it resembles closely in touch and somewhat in appearance.
Chesebrough produced products in all of the categories mentioned in the patent. By 1886 – along with Luxor Oil, now made from petroleum – he was selling a range of Vaseline products for a variety of purposes. Medicinal products included Vaseline, White Vaseline, Vaseline Oil, Camphorated Vaseline (for Rheumatism), Carbolated Vaseline (containing carbolic acid), Vaseline Cerate and Vaseline Confections (for throat and pulmonary complaints). For toilet use there was White Vaseline, Pomade Vaseline (for hair), Vaseline Oil (perfumed for hair), Vaseline Hair Tonic, Vaseline Cold Cream, Vaseline Cosmetique and a variety of soaps including Superfine, Family and Tar. In addition he sold 'Filtrene' (a sewing machine oil), Veterinary Vaseline, Vaseline Boot Paste, Vaseline Anti-Corrosive Paste, Vaseline Harness Paste and Vaseline Axle Paste, all of which could be used around the house or farm.
Leaving aside the pomade and hair tonic there are two products in this list that are of greater interest to the story of cosmetics – 'Vaseline Cold Cream' and 'Vaseline Cosmetique'.
Vaseline Cold Cream
Vaseline Cold Cream was the first commercial skin care product to be made using a refined petroleum ingredient. Its main advantages over traditional cold cream formulations would have been its lower cost and longer shelf life. It was widely copied and led to the incorporation of petrolatum into a wide variety of face creams and other cosmetics.
See also: Cold Creams
Vaseline Cosmetique
Vaseline Cosmetique is a bit of a mystery. It is tempting to think that it was a petrolatum form of water cosmetique, which would mean that it would have been used to temporarily cover grey hair. This would make sense considering that Chesebrough was already making a pomade and a hair tonic. If so, it would be a precursor for other petrolatum-based cosmetics used by women to darken their eyebrows and eyelashes. The Densoline Cleveland Petroleum Co. sold a similarly named product named 'Densoline Cosmetique' in large and small sticks wrapped in silver paper. This is consistent with it being a temporary hair stain which – unlike water cosmetique – would not run at the first sign of perspiration.
See also: Water Cosmetique
Competition
A number of companies were soon selling products similar to those produced by Chesebrough – like 'Cosmoline' and 'Densoline'. The Chesebrough Company used its patents to protect its production processes and had trademark legislation passed by Congress in 1870, 1881 and 1905 to protect its trade name Vaseline. Chesebrough also introduced a Blue Seal label top for Vaseline in 1888 to visually distinguish its products from competitors.
Incorporation
The Chesebrough Manufacturing Company was incorporated in 1880 and almost immediately became majority owned by the Standard Oil Trust. For the trust, ownership of Chesebrough had two main advantages. As well as owning a series of important refining patents Chesebrough was a lucrative outlet for a petroleum by-product. For Chesebrough, an alliance with Standard Oil gave them a reliable source of supply and possibly a degree of protection from competing products that appeared on the market. The company would remain part of Standard Oil until the trust was broken up in 1911, after which Chesebrough once more became an independent entity.
Separated from Standard Oil, Chesebrough lost its guaranteed supply of the raw materials and when these were discontinued in 1920 the company acquired a controlling interest in Duhring Development Company, Pennsylvania and in Clifton Oil & Gas, West Virginia and continued to do so until 1948.
In the 1950s Chesebrough also became interested in the used of mineral oil and in 1954 established a new research laboratory at Amboy and began building a white oil plant there as well.
New products
One of the characteristics of petroleum jelly is that other chemicals can be easily incorporated into it. Chesebrough had already produced products using camphor and carbolic acid but later extended the range so that, by 1911, it included the following:
Capsicum Vaseline: "Better than a mustard plaster; easier to apply and does not blister the skin. Rub on at night for sore throat or cold in the chest".
Carbolated Vaseline: "This perfect antiseptic dressing is the safest way of utilizing the cleansing and healing values of Carbolic Acid, with the soothing comfort of Vaseline".
Mentholated Vaseline: "Relieves headache, neuralgia or any nerve pain. The menthol soothes the nerves while Vaseline conducts it quickly to the seat of trouble".
White Vaseline: "Colds and sore throats are easily helped by White Vaseline taken internally. Has no taste. Children take it more readily than other medicines".
Vaseline Camphor Ice: "Superior to anything in use for chapped hands and lips and to allay all irritation".
Apart from Vaseline Petroleum Jelly, the company's main consumer products of the twentieth century were for the hair, including: Vaseline Hair Tonic (1916) and Vaseline Cream Hair Tonic (1942) and Vaseline Soapless Shampoo (1942). They also develop an Eyebrow-Eyelash Cream and a Cuticle and Nail Cream but I have been unable to determine whether or not these products were commercially successful.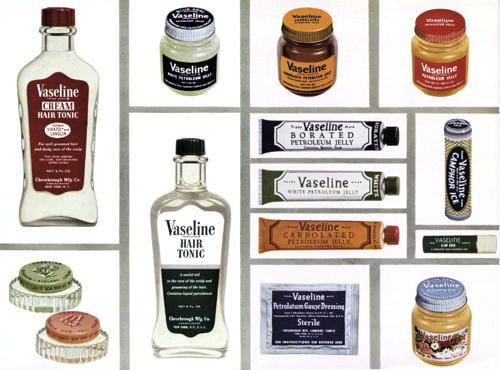 Chesebrough's 1950 product list included the following:
Vaseline Hair Tonic: "a clear, colorless product that checks Dry Scalp, gives hair a well-groomed look".
Vaseline Cream Hair Tonic: "contains Viratol (with lanolin), an exclusive compound which imparts a 'just-combed' look; keeps your hair neat without stiffness".
Vaseline Petroleum Jelly (White and Yellow): "first aid for minor burns; sunburn; rough, dry or irritated skin; nasal and throat irritations due to colds or hay fever; baby care".
Vaseline Carbolated Petroleum Jelly: "a valuable dressing for minor cuts and abrasions; skin irritations, especially where itching is caused by crustations, chapping or cracking".
Vaseline Borated Petroleum Jelly: "A soothing emollient especially recommended for simple irritation of the eyelids; a valuable aid in the nursery".
Vaseline Camphor Ice: "for rough, chapped skin; sun and wind burn".
Vaseline Lip Ice: "for chapped, sore or cracked lips; cold and fever sores".
Vaseline Eyebrow-Eyelash Cream: "for highlighting and grooming brows and lashes; gives soft luminous effect to the eyelids without coloring".
Vaseline Cuticle and Nail Cream: "softens, helps control cuticle and prevent roughness and hangnails".
Vaseline Sterile Petroleum Gauze Dressing: "an absorbent gauze impregnated with 'Vaseline' White Petroleum Jelly".
Vaseline Pomade: "a pleasantly scented hair dressing in jelly form".
Some uses for Vaseline, such as a Vaseline Sterile Petroleum Gauze Dressing (1944) – developed through a Fellowship at the Mellon Institute for Industrial Research in Pittsburg, Pennsylvania – were medical in nature and it is only after the company merged with Pond's and 'Vaseline Intensive Care' arrived, that the Vaseline story becomes cosmetically interesting again.
See also: Pond's Extract Company and Chesebrough-Pond's.
Timeline
1858
Robert Chesebrough starts in the coal-oil business.
1859
Robert Chesebrough visits the Pennsylvanian oil fields.
1869
Robert Chesebrough discovers how to make Petroleum Jelly.
1870
First Vaseline manufacturing plant opens in Red Hook, Brooklyn.
Vaseline Petroleum Jelly launched.
1872
Process for making petroleum jelly patented.
1873
Colgate & Co. agrees to distribute Vaseline.
1874
Chesebrough Manufacturing Company incorporated.
1875
Chesebrough opens a London branch.
1876
Endorsement of Vaseline by the British medical journal 'The Lancet'.
Vaseline Cold Cream introduced.
1877
Vaseline trademarked in Britain.
1878
Vaseline trademarked in US.
1880
Chesebrough foreign companies amalgamate with the United States to form Chesebrough Manufacturing Company, Consolidated.
1881
Standard Oil Company acquires majority interest in Chesebrough.
Chesebrough office building erected at 24 State Street, Battery Park, New York.
Company production confined to manufacturing Vaseline products.
1888
Blue Seal label first used. Trademark filed in 1892.
1897
New Chesebrough building erected at 13-19 State Street, Battery Park.
1904
Manufacturing moved from Brooklyn to larger plant in Perth Amboy, New Jersey.
1908
Vaseline jar screw thread tops replaced corked tops.
1909
Chesebrough retires and is succeeded by Oswald M. Camman, his nephew and previous vice president.
1910
Canadian plant opened in Montreal.
1911
Standard Oil broken up and the Chesebrough becomes an independent entity.
1916
Vaseline Hair Tonic introduced.
1923
Finishing and packaging plant opened in London.
1933
Robert Chesebrough dies.
1940
British company incorporated as a separate entity.
1942
Vaseline Cream Hair Tonic introduced.
1944
Chesebrough begins production of Vaseline Sterile Gauze Dressing.
1947
Factory established in India.
1949
Factory established in Johannesburg, South Africa.
1953
Factory established in Melbourne, Australia.
1954
New Research Laboratory opened at the Perth Amboy plant.
1955
Chesebrough merges with Pond's to form Chesebrough-Pond's.
Updated: 17th November 2015
Sources
The American perfumer & essential oil review. (1927). New York: Robbins Perfumer Co.
Fougera, E. (1884). American Druggist. 13, April, 62.
Hall, H. (Ed.). (1895). America's successful men of affairs. An encyclopedia of contemporaneous biography (Vol. I). New York: New York Tribune.
Tower, W. S. (1909). The story of oil. New York: Appleton and Company.
Williamson, H. F., & Daum, A. R. (1959). The American petroleum industry: The age of illumination 1859-1899. Westport, Conn.: Greenwood Press.
Williamson, H. F., Andreano, R. L., Daum, A. R., & Klose, G. C. (1963). The American petroleum industry: The age of energy 1899-1959. Westport, Conn.: Greenwood Press.