The Armand Company was founded by Carl Weeks in 1916. By 1927, it was the leading seller of face powder in the United States with revenues of US$2.5 million and an annual income exceeding that of either Elizabeth Arden or Helena Rubinstein at the time.
Carl Weeks
Carl Weeks was the son of Charles Weeks [1838-1912] and Laura Chamberlain [1843-1925]. He was the sixth in a family of eight children. In 1878, when Carl was only two years of age the family moved to Jewell County, Kansas where they operated a sheep ranch. A little later they relocated to Plainville, Rooks County where they ran the The Old Sod Hotel and a general store (Harlan, 1931, p. 109).
In 1888, the family moved to Des Moines and Carl got a job in a drug store there while he studied at night. He later took a course in pharmacy at the Highland Park College of Pharmacy in Des Moines, which he completed when he was only 16, graduating when he came of age in 1893 (Harlan, 1931, p. 110).
He appears to have been supported in these endeavours by his mother's brothers – Lowell and Davis Chamberlain – who owned the Chamberlain Medicine Company situated at 206 Court Avenue, Des Moines. Established 1872, the company made products such as Chamberlain's Cough Remedy, Chamberlain's Liniment, Chamberlain's Pain Balm, and Chamberlain's Golden Touch Lotion (a dry skin lotion).
After working as a clerk for short periods in Des Moines drug stores, Carl moved to Oskaloosa, Iowa in 1893 to take up a position with the Green & Bentley Drug Company. He remained with them for seven years learning the business and while there developed a few formulae that were used by his brother Deyet [1867-1908] who, with the help of the Chamberlains, had started the D. Weeks Company in 1897, making patent medicines, herbals, toiletries and cosmetics.
In 1900, aged 24, Carl purchased a drug store at 116 East Jackson Street, Centerville, Iowa from J. H. Udell. Unfortunately things did not go well; Carl came down with tonsillitis and then underwent surgery when incorrectly diagnosed with having tuberculosis of the glands. After spending some time in Utah to recover from the operation, he came back to Centerfield and sold his pharmacy business to Alexander J. Weller in 1902. He then returned to Des Moines to work with his brothers Deyet and Leo [1884-1961] at the D. Weeks Company.
It was there that he met Edith Van Slyke. In the period leading up to their marriage in 1907 he visited her in Paris – where she was studying art – and while there investigated French cosmetics, then considered the best in the world. In 1905, he came up with the idea of putting cold cream into face powder (Harlan, 1931, p. 110) and established the Florian Company, presumably to market it. Given that Florian later sold men's toiletries it is possible that the original cold cream powder was designed for men as a coverage for beard stubble. Whatever its market, it did not catch on and appears to have been discontinued by 1910 (Reese, 1997).
In 1908, Deyet Weeks died. Carl and Leo took over the D. Weeks Company and founded D. C. Leo and Company. In 1915, after some persuasion by his brother Leo, Carl tried his cold cream powder again, this time with success. In 1916, the two brothers then started the Armand Company to manufacture and market women's cosmetics with Carl Weeks as its president-treasurer and Leo Weeks as its vice-president and secretary. It was incorporated in 1918 with a capital stock of US$10,000.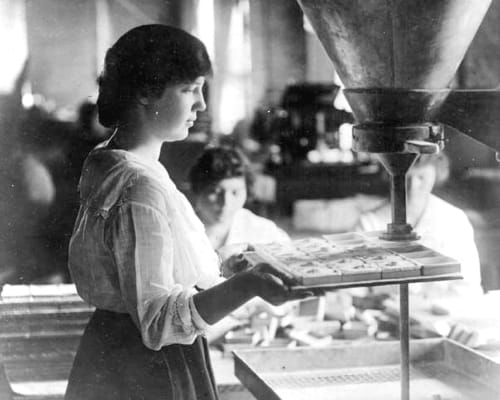 The Armand Company
The French sounding 'Armand' name was complemented by the use of Louis XVI imagery in early packaging and advertising. The complexion powders were sold in boxes with a red and white check, blue stripe design with a prominent black silhouette of a pompadour woman's head on the lid and featured heavily used in Armand advertising.
Weeks engaged N. W. Ayer to create a national advertising campaign for Armand products. Sales expanded rapidly and by 1920 the company was selling Armand Complexion Powder through pharmacists and chemists as far away as Australia. Armand subsidiaries were established outside of the United States starting with Armand Ltd. in St. Thomas, Ontario, Canada in 1920; then Florian and Armand Ltd. in Queensway, Ponders End, Middlesex, England; Florian et Armand on 20 Rue de Paix, Paris; and Armand de Mexico in Mexico City. Branch offices were also developed in Buenos Aires, Argentina and Sydney, Australia.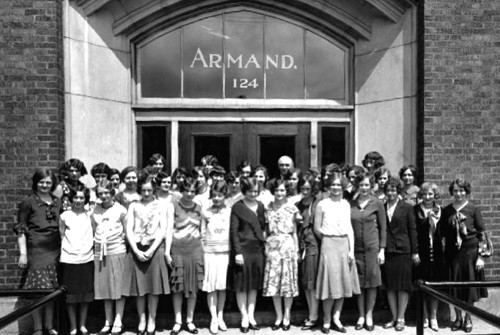 Although advertising brought Armand powders to people's attention, the company's remarkable growth had a lot to do with its relationships with drug stores. Having worked in a drugstore himself, Weeks was well aware of the pressures that small-time operators were under. It is also likely that he had learnt a lot from his bother Deyet's experiences with direct mail business about the benefits of establishing strong relationships with customers.
As well as providing druggists with display and sales advice, Weeks set fixed prices for his goods, did not offer discounts for large orders and vigorously discouraged price-cutting by stopping supplies to anyone that did. He also did not sell to general stores in towns where drugstores stocked his line nor did he compete with them by selling thorough mail order. These measures helped smaller operators maintain their margins and undoubtedly convinced many druggists in small provincial towns across the United States to sell Armand cosmetics. Some of these business principles were laid down in the Armand Merchandising Policy, first advertised in 1919:
The Armand Merchandising Policy

1. The Armand business is founded and built upon two fundamental principles, to wit: first, highest attainable quality of product, and second, absolute and unquestioned fairness and justice in all relations with customers, both trade and consumer.
2. In the interests of fairness and justice to all concerned, The Armand Company suggests fair retail prices for Armand products and declines to sell to dealers who do not charge them. Likewise, the Company declines to sell to dealers, who effect any other unfair trade practice in merchandising Armand products. Sales once made are, however, absolute and unconditional.
Weeks also supported the organisations to which druggists belonged. As well as being a Freemason and Shriner, he joined Rotary in 1914 and advertised extensively in 'The Rotarian'.
In addition, Carl had access to family business associations that had been built up over many years which included connections with the medical profession. The Armand company advertised in medical trade journals and exhibited its products at medical conventions. Weeks also made declarations that his products did not contain white lead, orris root or other harmful substances and later produced cosmetics promoted as being free of allergy causing ingredients, one of the first American cosmetic companies to do so.
This powder is entirely free from Orris Root and Tremolite. No ingredient is used that is known to cause an allergic condition.
Accepted for advertising in publications of the American Medical Association.
Make-up
Armand Cold Cream Powder became the signature product for Armand in the 1920s but it was not prominently featured in early promotions. On the contrary, Armand face powders were originally sold as Complexion Powders. They were available in a range of fragrances – Rose (Roses of Paradise), Amabelle, Bouquet of Paradise, Violets of Paradise and Azotea – in five shades: Tint Natural, Brunette, White, Pink and Cream (or Crême). Tint Natural was supposed to blend with all flesh tones except Brunette. Most of these Armand Complexion Powders were sold in containers that looked like hat boxes decorated with a red-and-white check, blue-stripe pattern. They were sold in a range of prices depending on the fragrance used, with Roses of Paradise and Amabelle selling for US$1.00, while Violets of Paradise sold for US$5.00 and Azotea for US$10.00. To help differentiate them, the more expensive powders had their boxes covered with printed silk rather than paper. A cheaper powder, Bouquet of Paradise, which retailed for 50¢, was sold in a square box.
In 1919, Armand now offered its complexion powders in different weights and repackaged the Amabelle powder in a new oval-shaped box to make it easier to identify.
Amabelle: A light powder sold (oval box container).
Bouquet of Paradise: A medium powder (square box container).
Aida: A cold creamy, out-door powder (hat box container).
From 1920, Armand replaced the 'Complexion Powder' heading previously used in most of its advertising with the title 'Cold Cream Powder' and this became the primary focus of its marketing for the rest of the decade. It also introduced a number of new cold cream cosmetics into the Armand line including: Cold Cream Rouge in two shades (Light for blondes and Medium for brunettes), and Cold Cream Talcum Powder. These were soon followed by Compacte Cold Cream Powder, Vanishing Cream, Cold Cream and Cold Cream Soap.
Armand Cold Cream Powder was advertised as the 'first and only dry face powder that contained cold cream'. The addition of cold cream meant that the powder was heavy or 'dense' but had improved skin adherence. It contained imported Italian talcum, was scented with French absolute perfume oils, and was promoted as being free of white lead, chalk, rice starch, or zinc stearate. It seems to have had some similarities with 'fettpuder' known in theatrical circles for its adhesive qualities. Like other powders, it was applied with a puff but Armand recommended the following technique for best results:
In order that it may cover the skin with a smooth, even film, you must first rub Cold Cream Powder into the puff. To do this, put the powder on the puff, fold over the puff, and rub it against yourself, before blending the powder onto the skin. Because it is so fine and dense and covers the skin so well you can do this with Armand Cold Cream Powder. It is the very minute amount of cold cream in Armand Cold Cream Powder that makes it different from other powders, giving it a density with produces extra smoothness of finish and makes it certain to stay on.
Although the company concentrated its advertising efforts on two of its powders – Cold Cream Powder (hat box) and Bouquet Complexion Powder (square box) – new powders were added during the 1920s including Peridore and Lady 'K', both of which were light in weight. Additional shades were also introduced including Armand Flame (Gypsy Flame), Brunette Natural, Gitana, Zanzibar, Light Sunburn and Starlight which made some allowance for the darker skin tones created by the suntanning craze that gained momentum during the 1920s.
Other make-up lines added to the Armand make-up range were limited to rouge, lipstick and a foundation cream. As far as I know, Armand did not manufacture any form of eye make-up. Both the lipsticks and rouge were made in fixed and changeable forms. The later, like those from Tangee, used dyes that developed colour after they were applied. Rouge shades included: Light, Medium, Dark, Armand Flame, No 18 (Theatrical), Cheree, Dahlia Rose Red, Dahlia Rose Pink and Zanzibar; lipstick shades included: Light, Medium, Dark, Armand Flame and Zanzibar.
Make-up lines available from Armand by 1928 included:
Armand Cold Cream Powder: "The only face powder, so fine and dense, that it may be rubbed into the puff satisfactorily before applying. … Brings out the skin's real beauty and stays on for hours."
Armand Bouquet Powder: "[A] delicately fine face powder, which lasts better than any other powder with which it may be compared."
Lady 'K' Powder: "[I]s light and marvelously soft and velvety. Goes on quickly and need not be rubbed into the puff. It does not require as much care in application as Armand Cold Cream powder but must be renewed more frequently."
Armand Lip and Cheek Rouge: "[I]s for either blondes or brunettes. The advantage of cream rouge over dry rouge is that when used, re-rouging during the day is not necessary."
Armand Zanzibar Rouge: "[W]ill produce any shade you wish, according to the amount used. When rubbed in with the fingertips, it becomes permanent and waterproof. Especially suited to all brunettes."
Armand Afterglow Rouge: "[A] favourite with blondes, should be delicately applied over the powder."
Armand Zanzibar Lip Stick: "[I]s permanent, indelible, waterproof and kiss-proof."
Armand Afterglow Lip Stick: "When first applied it is colorless, but the color appears a moment later, as the name suggests. It is especially suited to blondes."
Armand Foundation Creme: "The powder base that tones the skin … forms a soft, beautifully protecting film … It holds the powder for a longer time."
Skin-care
Armand's skin-care range started with Armand Cold Cream, Armand Vanishing Cream and Armand Cold Cream Soap. In 1925, Weeks tried to emulate his success with a cold cream powder by patenting a cleansing cream that combined an astringent with a cleansing base (US1545931) and early example of what might now be called a multi-functional cosmetic. The astringent used was 'Eau de Cologne' so the new line was called Eau de Cologne Cleansing Cream. It was supposed to be suitable for all types of skin. The other major skin-care line introduced during the 1920s was Armand Skin and Tissue Cream.
Cold Cream Soap: "Will prove a revelation to you in fragrance and soft cleansing power."
Armand Cold Cream: "A wonderful massage cream which is softening and youth giving." In jars and tubes.
Armand Vanishing Cream: "Light, dainty, fragrant, a perfect foundation for makeup." In jars and tubes.
Armand Eau de Cologne Cleansing Cream: "In the jar, a fragrant cream … On the skin, a liquefying, penetrating oil … to be left on a few minutes and then removed with facial tissue. Cleanses, softens and refreshes."
Armand Skin and Tissue Cream: "A mild astringent and night cream for massage … Refines and softens the skin … An excellent under the eye and pore cream."
As salon culture gained strength through the 1920s, the company also developed some rudimentary skin-care routines which included morning and evening routines and treatments for common skin problems like blackheads, wrinkles and dry skin.
Morning Treatment
Cleanse: Splash cold water on the eyes and then apply Armand Eau du Cologne Cleansing Cream to open pores and remove excess oil. Remove with a soft cloth or facial tissue.
Close pores: Use Armand Eau de Cologne Astringent to close pores and help prevent wrinkling and sagging.
Prepare skin for powder: Apply Armand Foundation Creme to soften and refine skin and help powder to cling. Remove with a soft cloth or facial tissue.
Apply powder: Apply Armand Cold Cream Powder in the tint that matches the skin.
Apply Rouge: If using a dry rouge apply after powder; if a cream rouge apply after Foundation Creme and then follow with powder.
Night Treatment
Cleansing: Apply Armand Eau du Cologne Cleansing Cream and then remove with a soft cloth or facial tissue.
Firming: Use Armand Eau de Cologne Astringent to close pores and remove impurities.
Massaging: Pat Armand Skin and Tissue Cream or Armand Cold Cream into the skin on alternate night. Use depends on skin type.
Special Treatments
Blackheads: Use Armand Skin and Tissue Cream to soften the blackhead and Armand Eau du Cologne Cleansing Cream to remove. The Night Treatment helps eliminate blackheads and enlarged pores.
Dry Skin: Cleanse with Armand Eau du Cologne Cleansing Cream and use Armand Skin and Tissue Cream or Armand Cold Cream in the Night Treatment. Use Armand Eau de Cologne Astringent to refine pores and Armand Foundation Creme as a powder base.
Wrinkles: Use Armand Skin and Tissue Cream to soften rough skin and reduce wrinkles.
The skin-care routines recommended by Armand made little allowance for skin types as Carl Weeks thought that these were not fixed, and that products should work whatever the situation.
The skin on our faces is of three different types, commonly termed oily, dry and normal. None of the three is constant, or permanent. A person with an oily skin, may at another time, have a normal or dry skin. Likewise, one with a dry skin may, through change of diet and habits of living, come to have a normal or an oily skin.
On the question of massage, Armand suggested a light touch as a heavy hand could generate wrinkles and develop facial hollows.
Use a light circling motion, touch in the skin firmly but ever so gently. Never pull it or draw it. (That stretches the skin and makes wrinkles.) Never rub or press hard. (That breaks down the fat cells and causes hollows and flabbiness.)
Also see the Armand company booklet: How do I look? (1927)
Setbacks
Although the 1920s saw good sales for Armand, the company was operating in a market that was becoming increasingly competitive and more sophisticated. This increased pressure may have been the reason why Weeks introduced a fictitious female consultant – named 'Jeanne Armand' – into some of the company's literature in the 1920s. Perhaps he was told that women would be more likely to listen to another woman or that a female persona would give the company more credibility in the face of competition from the likes of Helena Rubinstein, Elizabeth Arden and Dorothy Gray. If so, it is unlikely that Weeks was convinced, as references to her seem to be limited to product brochures and they disappeared in the 1930s.
A turning point for the company came in 1929 when three developments introduced in that year all ended in failure: Symphonie, a new face powder; Find Yourself, an advertising campaign; and Florian, a men's cosmetic line.
Symphonie Powder
This new powder shade, introduced in 1929, supposedly suited all skin colour types including blonde, grey, medium, auburn and deep brunette, was based on the idea that applying a transparent powder to the skin would allow the skin's natural colour to come through, an idea Weeks also applied to Armand rouge and lipstick.
Test this new tint! Know the "Symphonie" skin-tone!

It's so new…so important with current fashion…so different from anything known before in cosmetic arts!
"Symphonie" is the subtle new powder-blend that's keyed to the underlying flesh-tones…soft translucent tints which are essentially the same in both blond and brunette. For years, women have been "coloring" this natural complexion-tone with pale and unnatural face powder, but "Symphonie" complements the flesh tints in their basic color and brings creamy new beauty to every skin!
Does the wood finisher mix a separate finish to match the color of each wood? He does not. The beauty is in the wood, and he will take one—just one—transparent finish and use it on all his woods.
… One perfect finish is right for all woods—can the same principle be applied to a thousand faces?
Let us ask every woman to use one transparent finish, instead of try to concoct a finish to match each face. This single finish must show every woman's inherent beauty—it must be characteristic of the woman it adorns. It must be, therefore, the one perfect, transparent finish—SYMPHONIE POWDER.
Although the idea of transparent powders would later gain traction with other cosmetic companies it was out of step with the times and despite an extensive advertising campaign sales were well below expectations.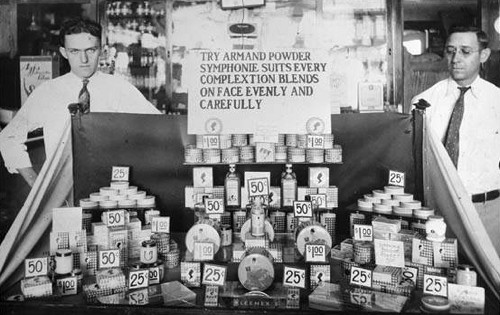 'Find Yourself' Campaign
In 1929 Armand distributed a new booklet written by a psychologist and a noted beauty expert titled 'Find Yourself'. Using a questionnaire it attempted to get women to analyse their appearance and personality so that they could coordinate their Armand make-up with their type. The campaign suffered from a combination of bad timing and poor conception and failed to improve sales.
See also: Make-up, Personality and Types and the Armand company booklet: Find Yourself
Florian
1929 was also the year Armand launched the Florian line for men in the United States with F. F. Ingram as its general manager. The range consisted of a shaving cream, face lotion, powder, cream, styptic pencil and hair preparation. Although Weeks advised druggists to locate the range near the cigar counter and to include masculine objects like boxing gloves and footballs in the displays his 'mascu-line' also failed to gain traction.
Further failures followed. Attempts to associate Armand cosmetics with fashion spreads in the 1930s were also unsuccessful as more attention was given to the clothing than the cosmetics.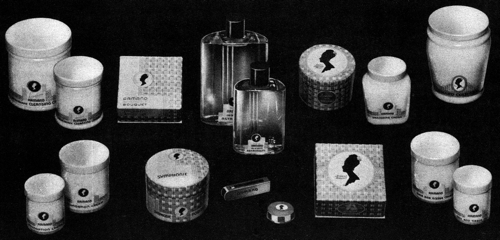 Also see the Armand company booklet: Really Lovely But She Did Not Know (1932)
In 1933, Armand received another blow when an unfavourable decision by the United States Federal Trade Commission (FTC) changed its very important relationship with drugstores.
The Federal Trade Commission
As mentioned earlier, Armand had established a good working relationship with small town pharmacies and drug stores. Its practice of eliminating price cutting and including free extras with sales meant that Armand products maintained good margins which encouraged stores to stock and push the line. This was disrupted when the FTC charged Armand with restrictive trade practices and issued it with a cease and desist order in 1933 under the Federal Trade Commission Act of 1914. As this was one of the main pillars underpinning Armand's relationship with small town drug stores, it hurt sales through these outlets.
Unfortunately, Armand was not well placed in department stores where retailers like Elizabeth Arden, Helena Rubinstein, Dorothy Gray and Max Factor employed 'hidden demonstrators' to steer customers away from rivals. Armand resisted the practice of using demonstrators through the 1920s, when things were going well, but succumbed in the 1930s and installed its own (Piess, 1998, p. 133).
Decline
In 1935, Charles Weeks, Carl's oldest son, resigned from Armand, as did Henry Miller, who had been the company's chief chemist for the past decade. Carl placed his son, Evert 'Hud' D. Weeks, in charge. The D. Weeks and D. C. Leo Company companies were merged to form Weeks & Leo Company, Inc. which continues to operate today as a private label drug and toiletry manufacturer.
Carl Weeks made one last attempt to produce a good selling multi-functional cosmetic and introduced Blended Cream in 1935. It was perfumed with Wind Blown Roses, the same scent used in the new Wind Blown Roses Powder.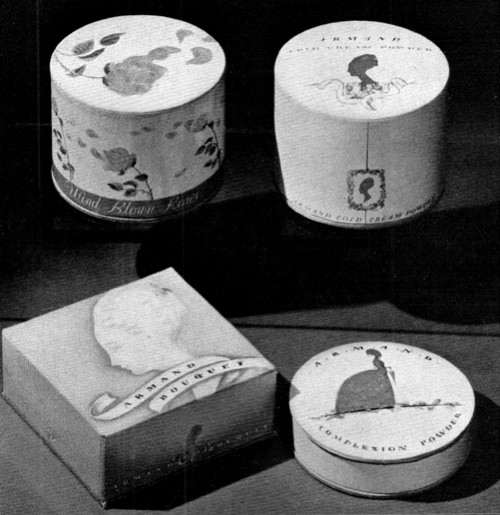 Blended Cream was an all-purpose cream that could be used to replace three products used in the Armand 'Six Steps to Beauty' skin-treatment regime: cleansing the skin (Cleansing Cream); closing the pores (Astringent); smoothing the skin (Foundation Cream); applying color (Rouge and Lipstick); finishing (Powder); and night care (Skin and Tissue or Cold Cream). Replacing the cleanser, astringent and foundation with Blended Cream reduced the number of products needed. It could also be used as a cold cream when massaging.

Blended Cream was therefore a revival of the idea used in Eau de Cologne Cleansing Cream. In a world where skin creams were becoming increasingly specialised it seems difficult to understand why Weeks continued down this path. My only suggestion is that he was hoping that it would catch on with budget-sensitive consumers, including younger women. The idea did not catch on and by 1938 Blended Cream was being advertised primarily as an all-purpose cream for dry skin.
Also see the Armand company booklet: Cosmetics: Their Purpose and Proper Use (1935)
By 1940 the company was still in decline but the Second World War and its associated shortages meant Armand was shielded from competition to some extent while war contracts gave it an additional source of income. Some new products were introduced including Armand Play-Proof, a pancake type of make-up applied with damp cotton or sponge (1942) and Armand Stocking Stick leg makeup (1942), used like other products of its type as a stocking substitute. Both products had to compete with numerous better advertised alternatives.
End of the line
The post-war period held little promise for Armand. Americans in the 1950s were a good deal more prosperous than they had been in the 1930s and had rising expectations. The fashion cycles for cosmetics got shorter and cosmetic companies that operated in the higher end of the market needed bigger advertising budgets. Those at the other end of the market competed in a crowded cosmetic market with numerous products jostling for shelf space in chain stores. Margins there were low and large sales were needed to support advertising budgets.
In 1946, the company introduced its new 'Pearls in Wine' line which included liquid powder, rouge and lipstick but even though 50% of the product development budget was spent on promotion it failed to catch on with consumers. In 1950, in the face of continued falling sales, Carl Weeks merged Armand into Weeks & Leo Co., Inc. – which unlike Armand, was showing growth through its private-label business – and retired. There were some attempts to revive the Armand brand after this but by the 1960s it had faded from existence.
Timeline
1916
The Armand Company established.
1918
The Armand Company incorporates.
1919
Armand Merchandising Policy developed.
1920
Armand Company purchases D. Weeks Company and D. C. Leo Company.
Canadian branch opened in St. Thomas, Ontario.
1922
Florian and Armand Ltd. established on Queensway, Ponders End, Middlesex, England.
n.d.
Florian et Armand established at 20 Rue de la Paix, Paris.
1925
New Products: Eau de Cologne Cleansing Cream.
n.d.
Armand de Mexico established in Mexico City.
1929
'Find Yourself' campaign launched.
New Products: Symphonie Face Powder; and Florian cosmetics for men.
1931
Armand packaging updated.
1933
New Products: Dusting Powder.
1935
D. Weeks Company and D. C. Leo Company merge to form Weeks & Leo Company, Inc.
New Products: Armand Blended Cream; and Wind Blown Roses Powder.
1936
New jars for cleansing cream, cold cream, hand cream and vanishing cream developed.
1942
New Products: Armand Play-Proof a pancake type make-up; and Armand Stocking Stick leg makeup.
1946
New Products: Pearls in Wine line.
1950
Armand Company merged into Weeks & Leo Company, Inc.
Updated: 4th September 2017
Sources
Reese, B. M. (1997). Rotary … The Iowa Influence. District governors, district conferences and Rotary highlights. A compilation of historical facts concerning the administration of Rotary International within District 6000 and its precursors. Retrieved November 1, 2014 from http://www.clubrunner.ca/Data/6000//HTML/168871//Rotary...theIOWAInfluencebyBillMReese.pdf
The Armand Company. (1927). How do I Look? [Booklet]. USA: Author.
The Armand Company. (1929). Find yourself [Booklet]. USA: Author.
The Armand Company. (1932). Really lovely but she did hot know [Booklet]. USA: Author.
The Armand Company. (1935). Cosmetics. Their purpose and proper use [Booklet]. USA: Author.
Carl Weeks. In The biographical dictionary of Iowa. University of Iowa Press Digital Editions. Retrieved November 1, 2014 from http://uipress.lib.uiowa.edu/bdi/DetailsPage.aspx?id=401
Frederick, J. G. (1924). How Armand has worked out his price policy. In Advertising and selling fortnightly: Markets, merchandising & media. New York: M. C. Robbins.
Harlan, E. R. (1931). A narrative history of the people of Iowa with special treatment of their chief enterprises in education, religion, valor, industry, business, etc. (Vol V). Chicago: The American Historical Society.
Peiss, K. (2007). Hope in a jar: The making of America's beauty culture. New York: Henry Holt and Company.
Weeks & Leo: The private label company. (2011). Retrieved July 15, 2011 from http://www.weeksandleo.com/