Elizabeth Arden loved to travel and when commercial air services were developed in the 1930s she "took to the air as if born with wings" (Lewis & Woodworth, 1973, p. 259). Her enthusiasm for air travel is recorded in an endorsement she gave in a 'It Pays to Fly' advertisement produced by the American air transport industry.
MISS ELIZABETH ARDEN, world's foremost beauty authority and business woman: "I adore flying. In the course of a year, I fly at least 25,000 miles on business and pleasure. It's a refuge from never ceasing telephones and as far as sleeping is concerned – it's a cradle in the skies. The time saved enables me to do ever so much more work, and have more fun."
Given her love of flying, it is not surprising that Arden created an airline amenity kit. It was not the first product of its type as United Airlines made one for to its passengers at least as early as 1937.
United Airlines
United Airlines Skylounge Mainliners came with sleepers and male and female passengers were provided with a courtesy toilet kit. The women's kit came with Dorothy Gray cleanser, skin cream and face powder, Tangee lipstick and Pebeco toothpaste, all products made by Lehn & Fink. The men's kit came with Pinaud products and Pebeco toothpaste again provided by Lehn & Fink (The Drug and Cosmetic Industry, 1937, p. 217)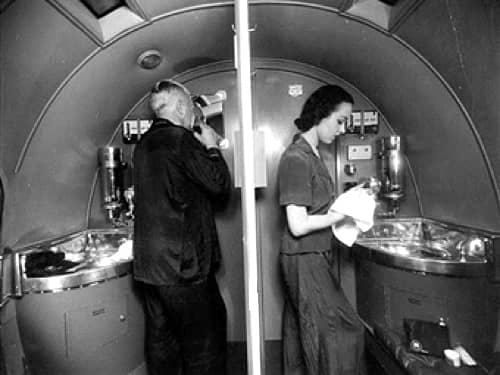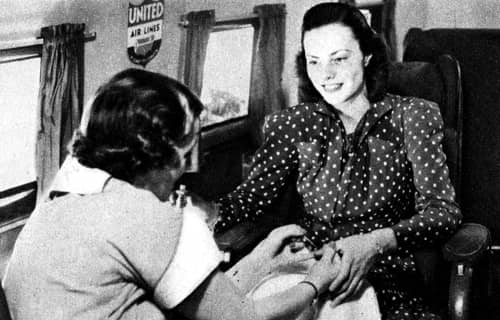 See also: Lehn & Fink
Speedbird kits
The Speedbird kits were introduced in 1949 as part of an agreement between Elizabeth Arden and the British Overseas Airways Corporation (BOAC). Like other cosmetic manufacturers, Arden had been selling travel kits and beauty cases for decades. In the past, cosmetics were often sold in glass, so travel kits and cases had to be very robust to avoid breaking the bottles and jars during travel by roads, rail or sea. Unlike the United Airlines kit, which appears to have been stocked with off-the-shelf items, many of the products in the Speedbird kit seem to have been specifically packaged for it. Arden's use of smaller plastic containers meant that her kits could be lighter and more suited to air travel where weight restrictions applied. They were probably also cheaper.
The Speedbird name came from BOAC who used it to referred to their aircraft. The kits came in two forms, a Beauty Kit for general air travel and a Sun Kit for passengers going to warmer, sunnier climates.
Speedbird Beauty Kit: Milky Liquid Cleanser, Velva Cream, Skin Lotion, Illusion Powder, Blue Grass Flower Mist, Superfine Toothpaste, Toothbrush, Tissues and Pads.
Speedbird Sun Kit: Fluffy Cleansing Cream, Skin Lotion, Pat-A-Crème, Illusion Powder, Blue Grass Flower Mist, 8-Hour Cream, Suntan Oil, Sun-Pruf Cream, and Tissues and Pads.
Speedbird Beauty Kits were supplied free of charge to women travelling on the BOAC Monarch service which operated daily between London and New York.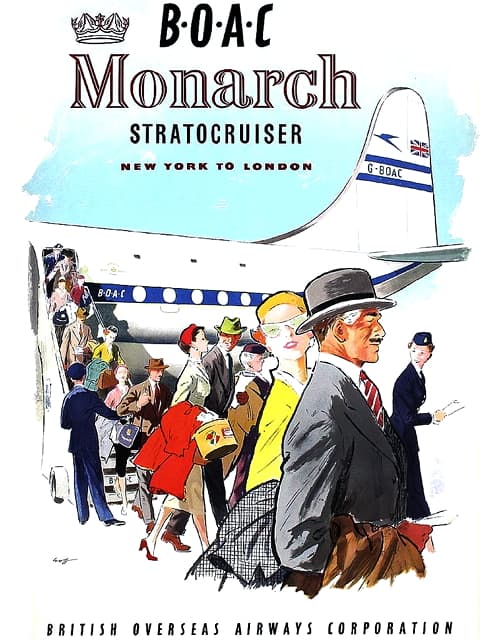 It's the last word in luxury air travel!
Relax in the double-decked spaciousness of a pressurized Stratocruiser Speedbird … meet congenial companions in the lower-deck lounge with its well-stocked bar. Three stewards and a stewardess constantly study to please you.
Enjoy cocktails, a seven-course dinner with wine or champagne, then liqueurs … all served with the compliments of B.O.A.C. Finally, you may retire to the privacy of a comfortable full-size berth (only £8.19.0 extra). Breakfast in bed, if you wish.
Complimentary "Speedbird Overnight Bag" for every passenger … every lady receives a Speedbird Beauty Kit especially created by Elizabeth Arden. Yet, you pay no surcharge to travel by this luxurious new overnight service to New York—not a penny extra!
Speedbird Kits may have been used on the ill-fated De Havilland DH-106 Comets that BOAC began operating in 1952. However, photographic evidence suggests that BOAC stocked a small range of Arden products in the powder room of these aircraft so the amenity kits may have been dispensed with.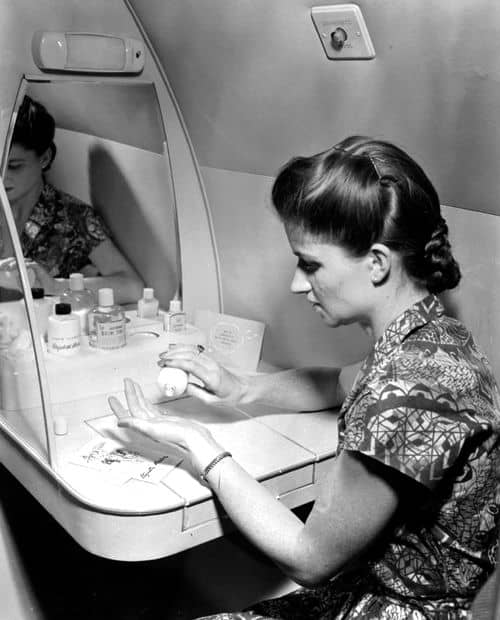 Speedbird Kits were not restricted to BOAC and women could purchase either the Beauty Kit or the Sun Kit from department stores for US$2.50. Arden advertised both lines well into 1951 but they seem to have disappeared after that.
Updated: 8th February 2017
Sources
The drug and cosmetic industry. (1937). 40. New York: Harcourt Brace Jovanovich.
Lewis, A. A., & Woodworth, C. (1973). Miss Elizabeth Arden an unretouched portrait. London: W. H. Allen.
Rust, D. L. (2009). Flying Across America: The airline passenger experience. Norman, OK: University of Oklahoma Press.