In 1939, Metro-Goldwyn-Mayer released a film adaptation of Clare Boothe's Broadway hit play 'The Women'. Directed by George Cukor from a script written by Anita Loos and Jane Murfin, it contained an all-female cast which included Norma Shearer, Joan Crawford, Rosalind Russell, Mary Boland, Paulette Goddard and Joan Fontaine. The movie is of particular interest to me as it contains extended sequences inside a beauty salon.
Treatments
The movie opens outside Sydney's beauty salon on Park Avenue, New York – the name pays homage to Sydney Guilaroff, the chief hairstylist at MGM at the time. According to Woodhead the set design took its inspiration from Elizabeth Arden's New York salon on Fifth Avenue (Woodhead, 2003, p. 250). Apparently, Arden saw the salon set when her ex-employee Hedda Hopper – who appeared in the film as the society columnist Dolly Dupuyster – took Elizabeth to the studio to see it. Arden was rather unhappy about it but it is hard to see why. Perhaps Elizabeth was upset about the cavalier way her business was being represented? A detailed examination of the salon scenes suggests that the movie also took inspiration from Helena Rubinstein but there was not a peep from her.
The movie opens by following Mrs. Van Adams from just outside Sydney's salon into reception where she is booked in. We then pass to an upstairs waiting room where a Mrs. Spencer and Mrs. Carter enter and begin looking at a display of miniatures – a possible reference to Helena Rubinstein's collection of miniature rooms put on display in her New York salon in 1937 – which Mrs. Carter describes as a "sure sign of a petty mind". They are then met by the salon director, possibly modeled on Ann Delafield, who worked Elizabeth Arden for a time.
See also: Ann Delafield
They are then ushered into an examination room where Mrs. Spencer has her face viewed under a dermascope.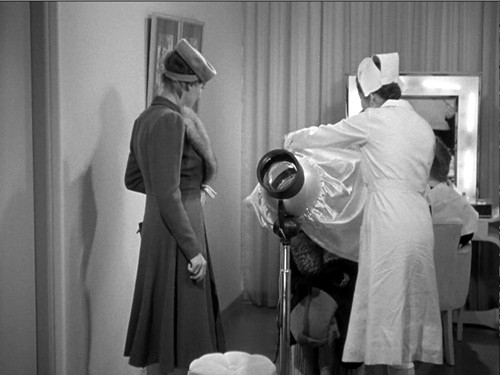 Mrs. Carter pushes the attendant to one side, looks down the dermascope herself and exclaims "I hate to tell you, dear, but your skin makes the Rockies look like chiffon velvet."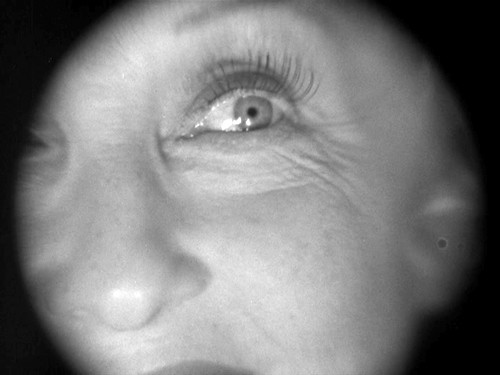 See also: Complexion Analysers
We then pass through a series of rooms where firstly, we see a client attached to a machine for measuring basal metabolic rate.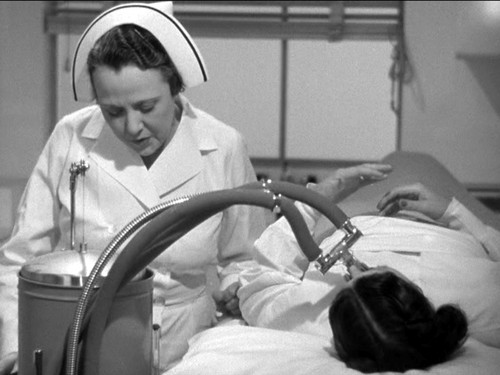 Secondly, a tiled room with clients taking foam bath and mud bath treatments.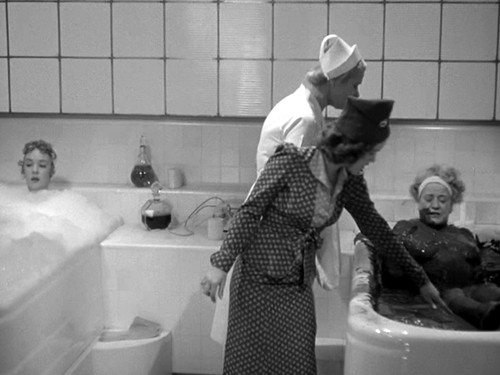 Thirdly, a booth where a client is receiving a body massage.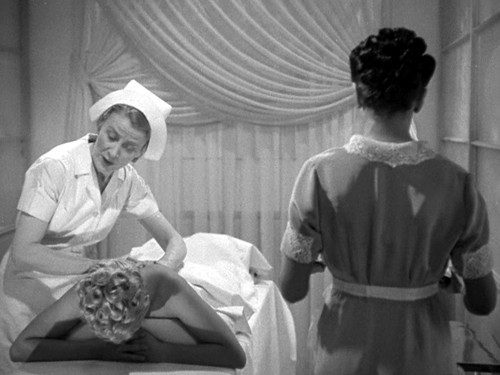 Then, a larger room where a number of younger clients are relaxing under sun lamps.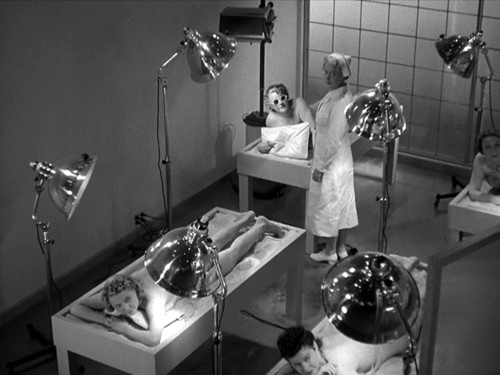 At the start of this sequence an older woman – who is the subject of a lot of comments from the sunbathers as she is going to marry a jockey – disappears up a spiral staircase wearing only a towel. She is heading for a steam bath or infra-red treatment, edited out of the final cut of the film but depicted in a 1939 article in LIFE magazine.
From there the scene moves to a gymnasium where clients are exercising on gymnasium bars led by an instructor. There is a large mirror on one wall and a gramophone in the corner. These, along with a mattress, were used in various calisthenic exercises.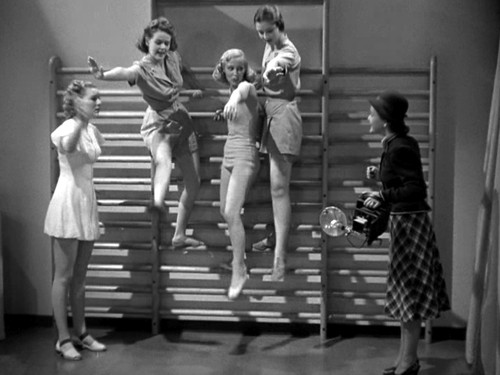 See also: Paraffin Wax Treatments
We then pass into another room where women are exercising on bicycles and a rowing machine.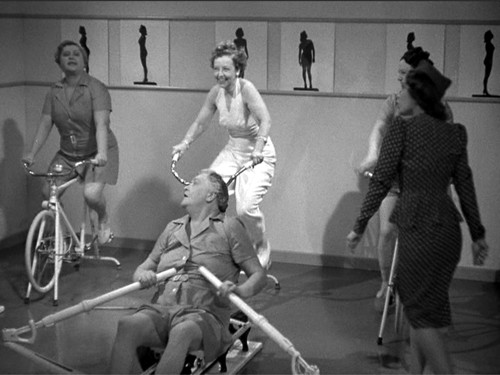 Then we move through a booth where a diathermy treatment is being conducted.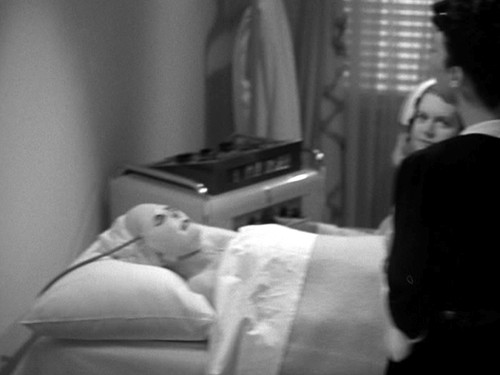 See also: Arden Vienna Youth Mask
Next, a facial booth where a client is having a face mask applied as part of a facial treatment.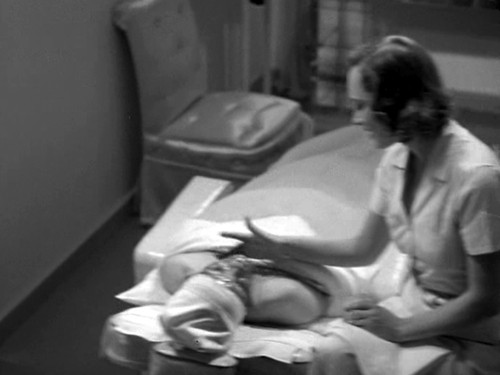 Before passing into a room where an attendant is using hot wax to remove superfluous hair from the forearm of a client.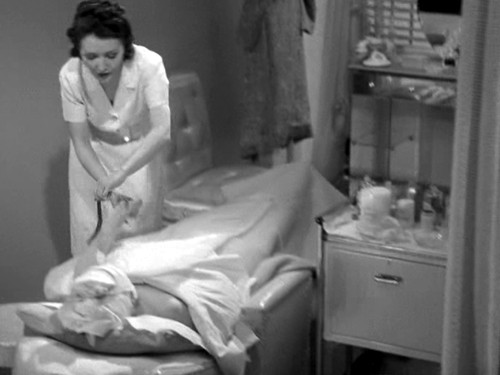 Soon after this we move to the hairdressing salon where Mrs. Sylvia Howard Fowler (Rosalind Russell) is receiving a manicure from Olga (Dennie Moore).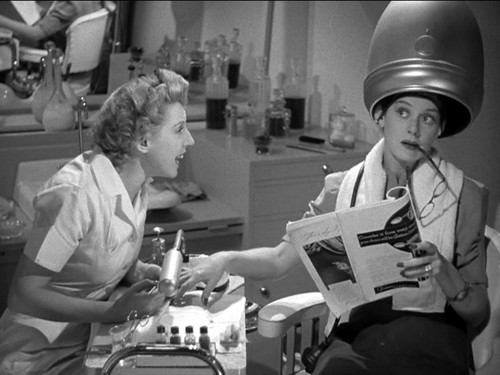 Sylvia is getting a manicure while her hair dries and will soon learn from the manicurist that the husband of Mary Haines (Norma Shearer) is having an affair with perfume counter salesgirl Crystal Allen (Joan Crawford), the event that will propel the plot of the rest of the movie.
Updated 13th June 2017
Sources
Movie of the week: The women. (1939). LIFE, September 4, 28-29.
Stromberg, H. (Producer), & Cukor, G. (Director). (1939). The women [Motion picture]. United States: Metro-Goldwyn-Mayer.
Woodhead, L. (2003). War paint: Miss Elizabeth Arden and Madame Helena Rubinstein. Their lives, their times, their rivalry. London: Virago.