In 1946, the British Board of Trade released over 300 factories to private industry that had previously been used during the war effort. One of these – a factory in West Howe, Bournemouth, built to manufacture self-contained radar sets for aircraft – was taken over by Max Factor and Co., Inc. in September 1946 and repurposed to manufacture cosmetics. It took six months to clear the existing machinery and transform the building, so it was not until June 1947 that the plant was in full production. Company representatives from Max Factor visited the site in September, 1947, and all but one of the photographs displayed on this page were taken then.
West Howe was not the first Max Factor factory in Britain. Beginning in 1936, small plants had been established in London at Park Royal and Acton. These, like many other cosmetic manufacturing operations, had been 'concentrated' after 1941 for the duration of the Second World War at shared manufacturing facilities in Croydon.
See also: Max Factor and Max Factor (post-1945)
Site
The West Howe factory was situated on Frances Avenue between the Bournemouth Gas and Water Co. and the Northbourne Golf Course. As well as two large single-storey buildings – designated Factory No. 1 and Factory No. 2 – there were a number of smaller buildings that housed the laboratory, canteen, surgery, rest rooms, maintenance, boiler plant, stores, packing departments and other ancillary functions associated with the Max Factor business.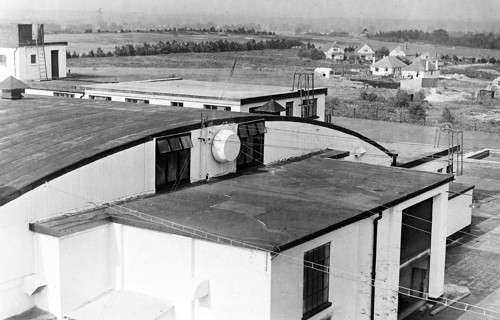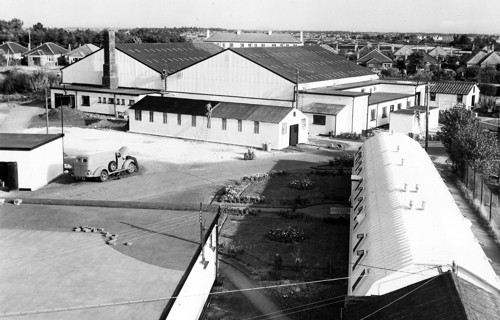 Laboratory
The duties of the laboratory staff included sample testing all deliveries of raw materials, quality checking batches of finished cosmetics, and the compounding of perfumes. All aspects of the laboratory were directed by Frank Atkins, an experienced perfumery chemist.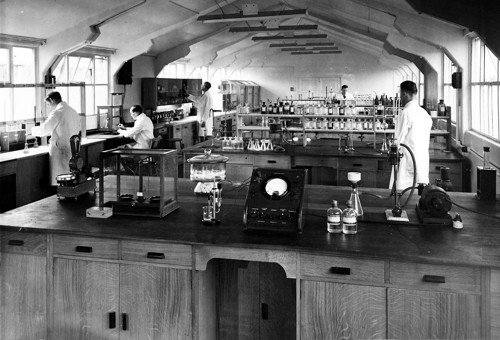 Factory No. 1
Looking like an aircraft hanger, this building manufactured 'wet' cosmetics including cleansing creams, skin creams, face lotions, brilliantines, foundations, cream rouges, lipsticks, eyeshadows and mascara. Tasks were separated largely on gender lines with heavy manufacturing handled by men and light manufacturing and assembly carried out by women.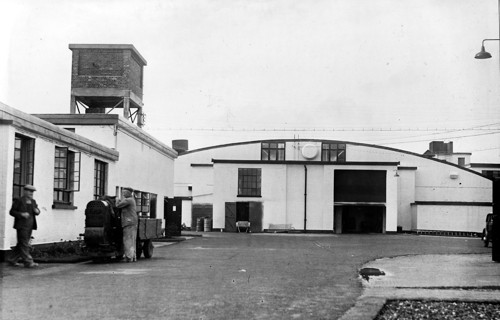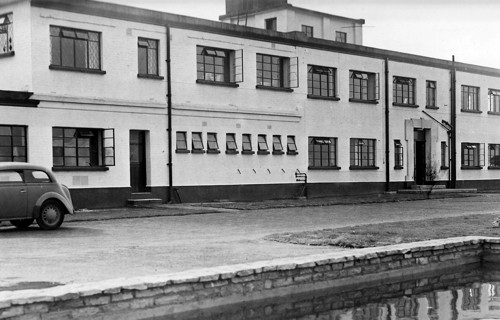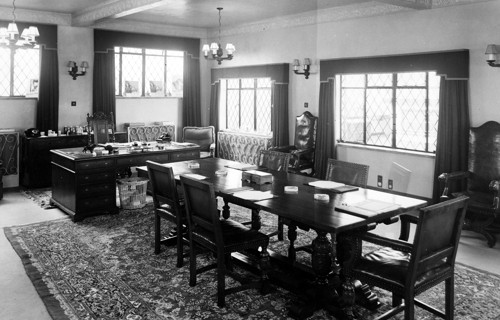 A raw material store was located across the end of the building closest to the laboratory. Next to the material store was the compounding room where the ingredients required for a cream or lotion were measured out according to a given formula before being passed through to the mixing room.
Mixing room
The materials to be made into a cream were heated and mixed in steam-heated melting pans after which they were run through a triple-roll mill to ensure that all of the ingredients were completely dispersed. The finished cream was then moved the assembly room where it was poured into jars, labelled and cartoned.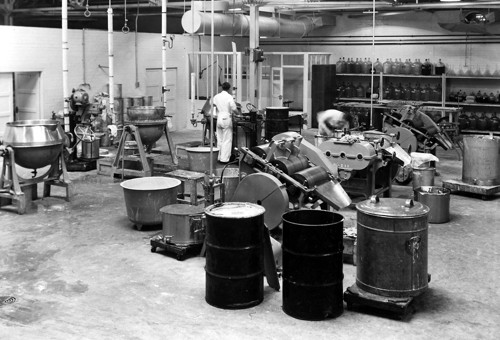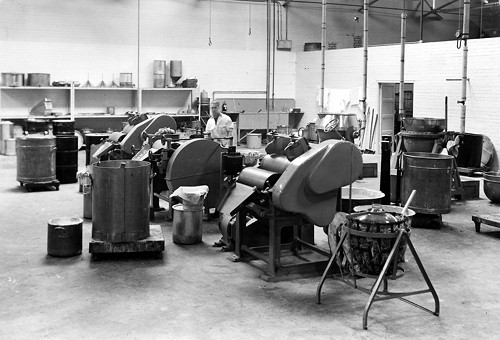 Assembly room
A variety of cosmetics were packaged in this area. It contained five assembly tables – which I will refer to by number – each with a conveyor belt running down the centre of the table. Most assembly processes were done completely by hand but others were partly mechanised.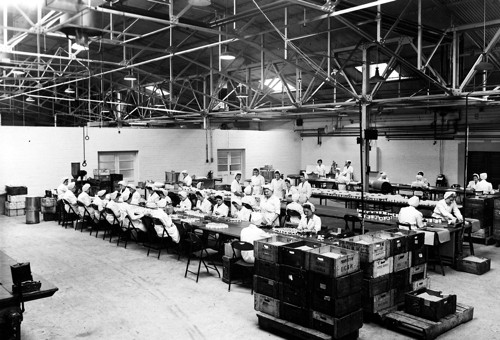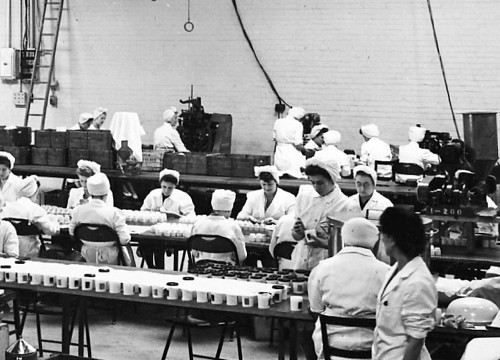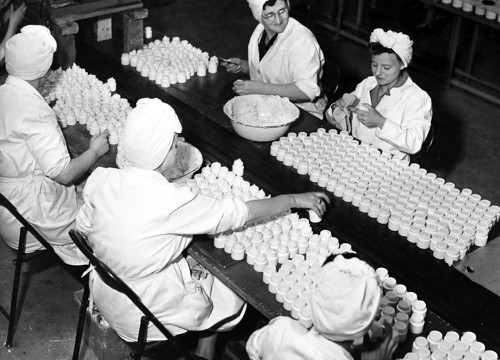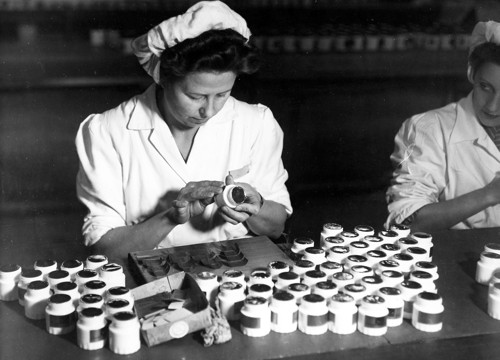 Lipstick rooms
Compounding, mixing and assembling lipsticks was carried out in a separate area off to the side of the general assembly area of Factory No. 1. On one side of a dividing wall the lipstick mass was compounded, melted and mixed, after which it was run through a triple-roll mill before being poured into one of three steam-heated tanks where it was kept fluid. These tanks were connected by insulated pipes through the wall to spigots used to fill the lipstick moulds. When filled with lipstick the metal moulds were hot and heavy so they were seated on rollers so that they could be pushed to where they were cooled with solid carbon dioxide under fans.
Once cooled, the top section of the metal mould was removed so that the bases of the lipsticks were exposed. A Perspex frame, filled with the bottom half of the metal lipstick cases, was then fitted over the exposed lipstick bases and the cases pushed down over the exposed lipsticks to fit them into the metal bases. The Perspex frame containing the lipsticks was then lifted, freeing the lipsticks from the mould, before being passed to one of the assembly lines.
On the assembly line, individual lipsticks were removed from the Perspex frame and placed on a conveyor belt. There they were inspected and had caps added, before being cartoned in boxes of 12 for shipment. Although the process was very labour intensive, this room could produce up to 12,000 lipsticks per day.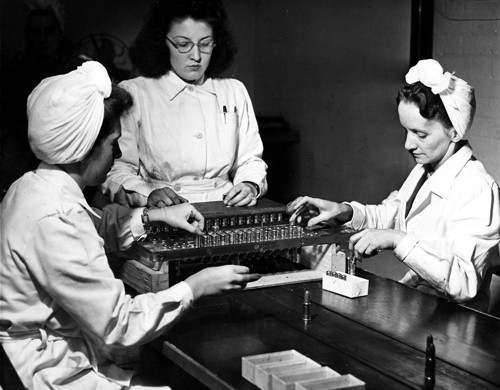 The lipsticks produced at the Bournemouth factory were 13 mm. in diameter where previously – before and during the war – Max Factor had only made 9 and 11 mm. versions. The moulds came from the United States where 13 mm. lipsticks been made for some time. The metal cases for the lipsticks – which differed from those in America at the time – were made on the Bournemouth site by a manufacturer with a contract with Max Factor. Max Factor would later switch to Edward Webster Ltd. of Ringwood-road, West Howe.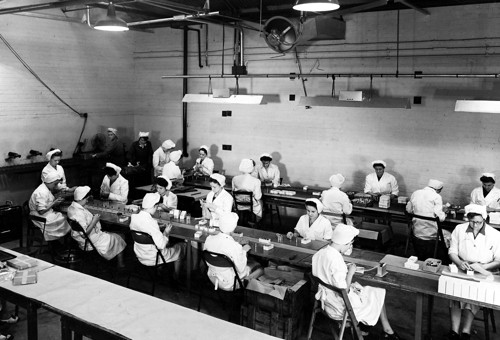 See also: Lipsticks
Factory No. 2
This factory manufactured a range of 'dry' cosmetics including face powders, compact rouge and Pan-cake make-up. As with Factory No. 1, tasks were separated on gender lines with most of the heavy work done by men.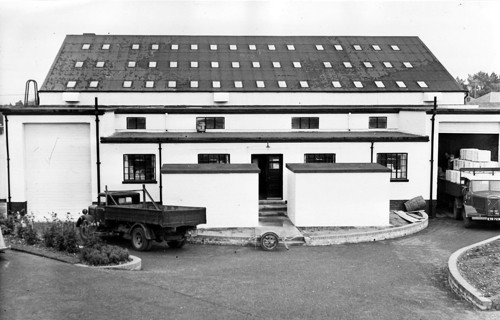 Mixing room
Colours used in the make-up products at West Howe were measured out in a special room at one end of this factory according to set recipes. The colours were mixed wet by hand on trays, then dried in an oven, after which they were ground in a ball mill, sifted, passed through a micropulveriser and then remixed with a perfume if required.
The mixing room in Factory No. 2 – next to the colour chamber – contained a large amount of heavy machinery including two large mixing and sifting machines, three smaller mixers, and three micropulverisers.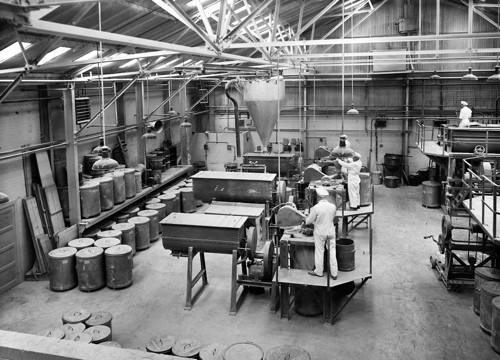 See also: Loose face powders
To prevent powder from drifting through the factory the rouge press, Pan-cake press and a powder filler were each housed in separate rooms situated between the mixing and assembly rooms.
Rouge press room
In 1948, rouge at the West Howe factory was only made in nine shades. Max Factor had thirteen shades of rouge at the time so it is possible that post-war restrictions limited production to those that matched the Max Factor lipsticks; i.e., Clear Red, Blue Red and Rose Red each in three tones. An automatic rouge press made six cakes of rouge at each a press with each tablet of compressed rouge being impressed into a small metal pan or godet.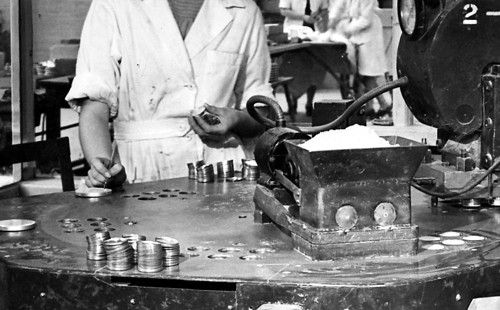 See also: Compressed face powders
As the completed rouge cakes were slightly damp they were placed on trays to dry out before being passed to the assembly room to be fitted into plastic containers and cartoned for shipment.
Pan-cake press room
Pan-cake was made in 12 shades in two sizes at the West Howe factory. There were two Pan-cake presses in this room, each of which required a worker to inspect and load the metal godets and a second person to operate the press. Once made, the competed cakes were passed to the assembly room by conveyor belt for packaging, labelling and cartoning.
Powder filler room
Face powder was made in 18 shades in three sizes. Albro powder filling machines were used – one single-headed the other double-headed – to fill boxes with powder. The completed boxes then passed by conveyor belt into the assembly room for packaging, labelling and cartoning.
Assembly room
The Factory No. 2 assembly room contained five assembly tables – each with a conveyor belt running down the middle – which I will again refer to by number.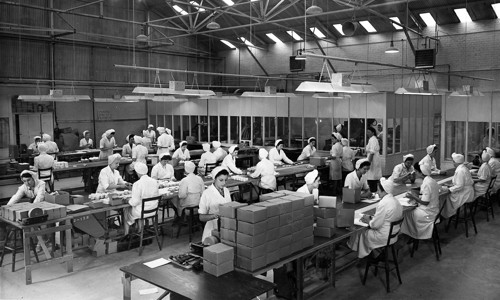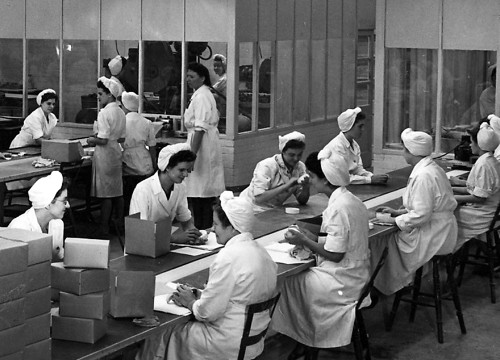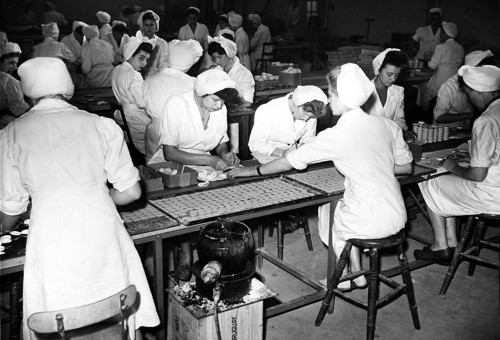 Export
Up to 12,000 boxes of face powder, 90,000 rouge compacts and 140,000 compacts of Pan-cake could be produced in Factory No. 2 each day. Many of these, along with the output from Factory No. 1, were destined to be exported from Britain to Europe and those parts of the British Commonwealth – such as Singapore – that did not have manufacturing facilities.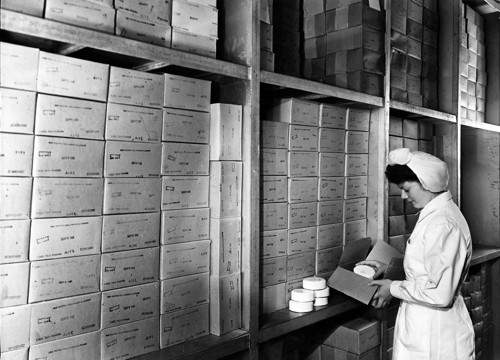 Industrial development was important to the economic recovery of post-war Britain. As well as providing employment for over 500 workers, the factory also contributed to badly needed foreign currency reserves through its exports – despite shortages of raw materials and the import restrictions and tariffs imposed by countries all over the world. Manufacturing in Britain in the late 1940s was highly regulated – Britain was still on rationing – and Leonard Matchan, European General Manager of Max Factor & Co. – who was also the Chairman of the Toilet Preparations and Perfumery Manufacturers' Federation – lobbied the British Board of Trade about the importance of the cosmetics and toilet business. This helped free-up some of the restrictions the government placed on their manufacture.
Later developments at the site
Max Factor upgraded the Bournemouth site in 1959 with new factory and office buildings. Although some processes were mechanised, production remained largely labour intensive.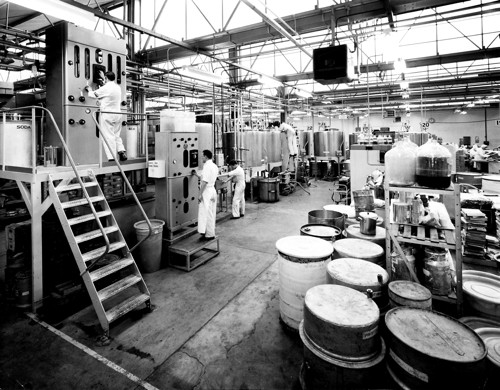 A second redevelopment of the site was completed in 1974 after Max Factor merged with Norton Simon.
Updated: 11th October 2017
Sources
deNavarre, M. G. (1941). The chemistry and manufacture of cosmetics. Boston: D. Van Nostrand Company.
Hollywood make-up produced at Bournemouth. (1948) Manufacturing Chemist and Manufacturing Perfumer. XIX(2), 49-58.