William Lightfoot Schultz was born into a Quaker family in Springfield, Ohio in 1876. After his family moved to Philadelphia – his mother's original home – he went to the Friend's Select School in Wilmington, Delaware, graduating from there aged sixteen. He then started work as a stock boy for Karcher & Rehm – a Philadelphian interior decorating firm – while attending night school studying art and architecture under the direction of Maxfield Parrish [1870-1966] and Nicola D'Ascenzo [1871-1954].
In 1904, Schultz formed a partnership with D'Ascenzo to make and sell mosaics and leaded glass for homes and churches where he acted as the salesman for the business. Although it was successful he sold up in 1910 and moved to New York. There he established the Lightfoot Schultz Company which made soaps and other toiletries. The company did well; it moved into larger manufacturing facilities in Hoboken, New Jersey in 1917 and acquired Theo. Ricksecker Co., Inc., New York, a perfume company, in 1918. The business continued to flourish during the 1920s but a mistimed expansion into fine chemicals got Lightfoot Schultz deep in debt when credit sources became scarce after the stock market crash of 1929. Schultz was forced into selling the controlling interest in the company to American Safety Razor in 1930.
Schultz stayed on as president of Lightfoot Schultz until 1933, then resigned to start Shulton; a brave decision given the economic climate of the time. As he had only US$10,000 in capital, the new venture was set up largely on credit, something only made possible by the good business connections Schultz had built up over the previous twenty years, his abilities as a salesman, and his dogged determination to succeed.
First, Shultz talked the owners of the Bowery Savings Bank building, Manhattan – which was then half empty – into leasing him a suite of rooms with the rent deferred for at least six months. His former secretary Theresa Tinker joined him there as did Enid Edson [1899-1989], a free-lance artist. Then, in the midst of the Great Depression, he managed to get department store orders for private label soaps which he had manufactured by the John T. Stanley Company. Shulton packaged the soaps into containers made by the Karl Voss Corporation – using designs developed by Enid Edson – and then shipped the soap to the stores. Both suppliers provided their goods on credit. Considering everything, things went well. Although Schultz was the only salesman in the company, sales in 1933 totalled US$165,000 (The story of Shulton, 1954).
Early American Old Spice
In 1937, the fortunes of Shulton took a dramatic upswing when the company introduced its Early American Old Spice line. The idea for range appears to have originated not with Shulton but with Harry Schwimer, an assistant buyer of toiletries at Bullock's department store in Los Angeles. The house furnishings department at Bullock's had done well with reproductions of colonial furniture – a trend started by the Rockefeller restoration of Colonial Williamsburg – and Schwimer suggested to his superior, D. J. Whelan, that there might be a market for a colonial design in the toiletries department as well. Bullock's decided to get Shulton to make the private label line and Schwimer went to New York in the Spring of 1937 to consult with them. After visiting the Metropolitan Museum of Art to look at old colonial objects in the museum's American wing he went on Shulton to discuss what he had discovered (Old spice line growing, 1940, p. 41).
Although the development of the private label line for Bullock's was abandoned by them as being too expensive, Schultz decided to go ahead with it as a national line, possibly because he was encouraged to do so by Leyland G. Wesley of the advertising agency The Wesley Associates (Sweet smell of success, 1957, p. 31). Following Harry Schwimer's lead, Enid Edson produced designs for bottles and boxes inspired by American colonial handicrafts, the famous Caswell carpet from the Metropolitan Museum of Art, and by hand-blown and hand-decorated 18th century bottles designed by the likes of William Henry Stiegel [1729-1785]. Shulton was already selling a men's soap packaged in an old-fashioned looking box under the name 'Old Spice', which gave them the name for the line, and Schultz commissioned a new 'spicy' fragrance to go with it.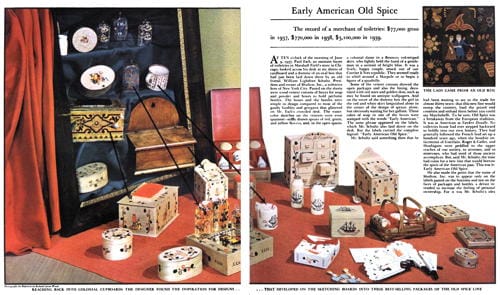 In June 1937, Schultz began working his way around the United States armed only with the packaging designs and perfume samples for Early American Old Spice. He got US$50,000 worth of orders from 28 department stores including: Field's (Chicago), H. & S. Pogue (Cincinnati), L. S. Ayer (Indianapolis), White House (San Francisco), Emporium (San Francisco), Bullock's (Los Angeles), Wanamaker's (Philadelphia) and Lord & Taylor (New York). Once he had orders, Schultz got his usual suppliers to fill them on credit and then Shulton assembled the products and shipped them. Schultz also got Wesley Associates to place advertisements for the line in Vogue, also on credit.
The original Early American Old Spice range consisted of soap, toilet water, perfume, bath salts, dusting powder and a vanity box (a combination package). Although the line only went on sale for a few months at the end of 1937, sales grossed US$77,000 in that year with most stores selling out long before the holiday trade was over. Given that Shulton's private label business for the whole of 1937 was US$249,000 it was clear that the line was a success and Schultz pressed on.
In 1938, Shulton added men's toiletries – shaving mug, after-shave lotion, cologne, talcum, and soap – to the Old Spice line using a different scent. The shaving mug – manufactured by the Hull Pottery Company – was marked with an image of a frigate named the Grand Turk, the first of a line of similar items. Total sales for Old Spice in 1938 (men's and women's) was US$770,000 out of total company sales of US$982,000. In 1939, this rose to US$3,100,00, by which time Class A drug stores were also offering Early American Old Spice and it was being carried by around 4000 direct retailers. The Old Spice for men would go on to become Shulton's largest selling line with numerous additions and complete new ranges such as Man Power (1962), Old Spice Lime (1965) and Old Spice Burley (1967).
By 1939, demand for Shulton products had outstripped the capabilities of the Manhattan site so, in the middle of 1939, Schultz leased larger facilities in the 'Lipton Tea/Standard Brands' building at 1500 Hudson Street Hoboken, New Jersey. He then moved equipment over from Manhattan and hired extra workers.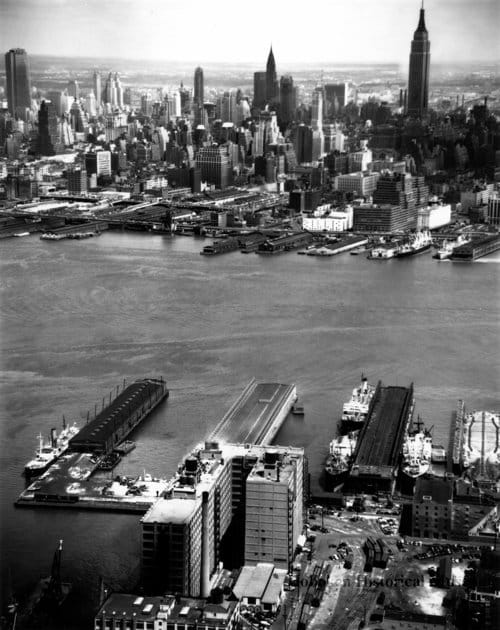 Shulton still maintained offices and showrooms in Manhattan but these were moved to the Rockefeller Centre at 630 Fifth Avenue when it was completed in 1939.
Desert Flower
In 1941, Shulton introduced its first full make-up line based around a new perfume called Desert Flower. The range included lipstick, rouge (dry and paste) and face powder, as well as a toilet water, dusting powder, talcum, soap and perfume.
The lipstick and rouge came in five matching shades: Serapi, a blue red; Fireheart, a red red; Devil's Brush, a bright red; Granada Rose, a rosy red; and Toyon, a deep luscious red; as did the face powder: Moonblush, a light natural shade; Dune Beige, a peachy rachel; Mesa, a natural shade to blend in with the natural skin tones of the average woman; Desert Haze, slightly darker than Mesa; and Toyon, a deep shade for the olive skinned woman.
Rather than being packaged in materials that mimicked natural materials like clay and wood, as was the case with Old Spice, the Desert Flower line used plastics, some of which sported carved representations of flowers.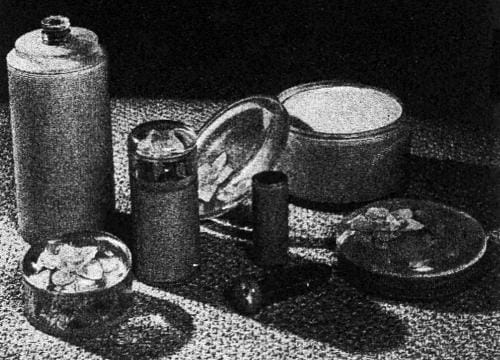 Repackaged during the war and then again in 1952 and 1967, the Desert Flower range continued to be supported through the following decades with additional products periodically added to it including: Desert Flower Hand & Body Lotion (1952) with lanolin; Desert Flower Beauty Clean (1957), a deep pore cleanser; Desert Flower Beauty Ice (1958), a combination astringent and moisturiser; Desert Flower Beauty Bath (1960); Desert Flower with aloe vera (1967) in Moisture Base, Cleanser, Night Cream, Skin Toner, and Hand & Body Lotion; Desert Flower So-Dry (1967) antiperspirants; Desert Flower Body Shampoo (1967), a soapless cleanser; Desert Flower eye cosmetics (1967); and Desert Flower Hand & Body Lotion for Extra-Dry skin (1969).
Desert Flower Hand & Body Lotion: "[C]ontains the 'heart' of lanolin—nature's magic ingredient that softens tones and restores moisture to your skin. Never sticky or greasy or sticky … melts instantly into dry thirsty skin".
Desert Flower Beauty Ice: "A new concept in skin care to give you a lovelier complexion! Beauty Ice, a cool blue-green 'solid moisture' developed through Shulton research in 'chain molecules.' Never before have these beauty-giving molecules linked moisturizing ingredients with astringent ingredients! For every skin type, especially for dry and aging skins".
Leigh perfumes
At some stage – probably 1943 – Shulton acquired Leigh, Inc., an American perfume company started by Charles Leigh in 1890. Leigh sold cosmetics, toiletries and perfumes and, in 1919, had opened a high-grade perfume business in the Astor Trust building on Fifth Avenue and 42nd Street. It is possible that Leigh had developed the fragrances used in Shulton's Early American Old Spice, Early American Friendship's Garden and Desert Flower lines and Shultz bought the company to bring fragrance development in-house.
Post-war
Although some packaging was manufactured at the Hoboken site it was primarily an assembly plant for goods made by a range of suppliers. Before 1946 Shulton did not make its own products and the company had even received a cease and desist order from the U.S. Federal Trade Commission (FTC) in 1942 when it tried to represent itself as a manufacturer.
Shulton, Inc., in connection with the sale and distribution of its merchandise in commerce as defined by said act, agreed it will forth with cease and desist from representing directly or inferentially that it is or has been, for 31 years or any other period of time, a manufacturer of soaps or toiletries, or that the products which it distributes are made in its own factory, or that it owns, operates or directly and absolutely controls the plant in which the same are compounded; or that by its president or otherwise, it supervises the creation or production thereof—as connoted or implied by expressions such as "31 years of soap-making," "brings to the creation (of its products) the wealth of 30 years experience," and "Factory 1500 Hudson Street Hoboken New Jersey." (Apr. 1, 1942.)
This situation changed in 1946 when Shulton began building manufacturing facilities in Clifton, New Jersey. Completed in 1947 on a 33-acre landscaped site, the new factory enabled Shulton to make most of its own products and packaging, the one major exception being soap.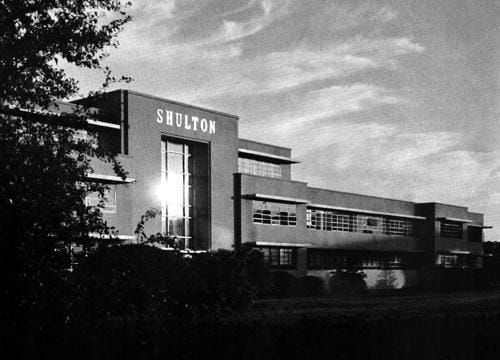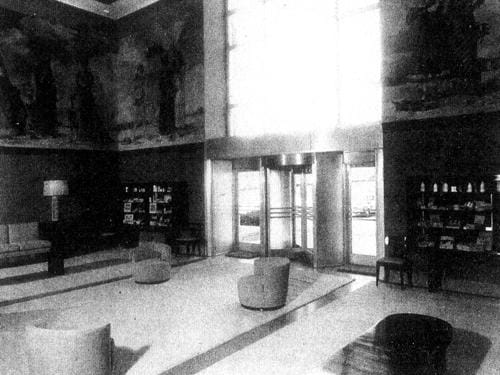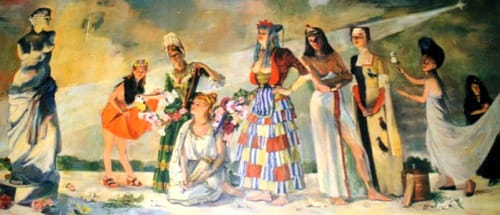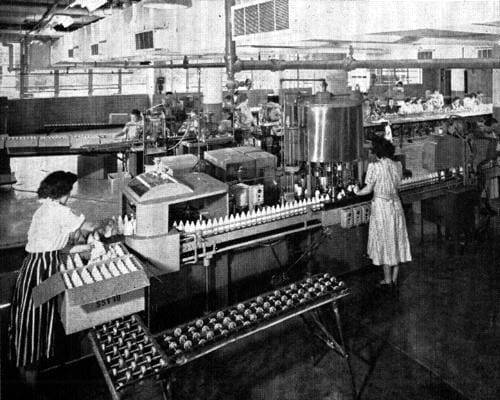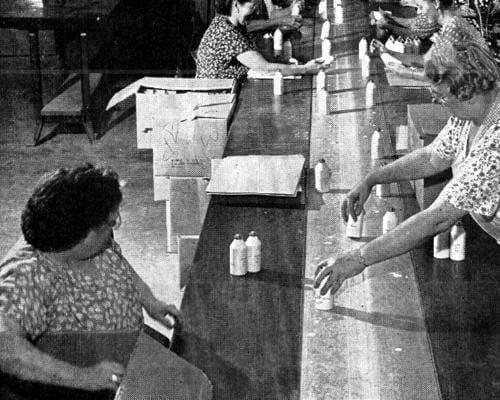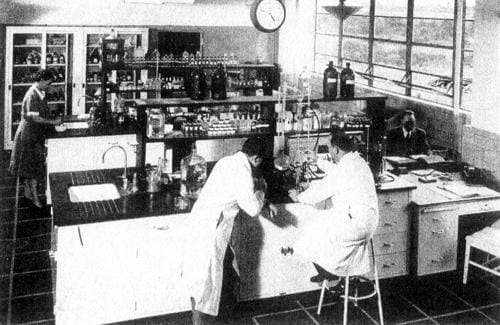 The company also began to open subsidiaries starting with Mexico (1946) and Canada (1948), followed by Cuba, Holland, Great Britain (1956) and Venezuela (1957).
Diversification and expansion
When William Shultz died in 1950 his son George Schultz took over the family business. 1950 was also the year that the company opened a Fine Chemicals Division – a move that had gotten William Schultz into so much trouble back in 1930. Originally designed to secure basic materials for Shulton fragrances, cosmetics and toiletries, the new venture was made more substantial by the 1955 purchase of A. Maschmeijer Jr., Ltd. of Newark, New Jersey. Maschmeijer made a range of synthetic chemicals including aromatics, many of which were developed for the food industry.
In 1956, a Pharmaceutical Division was established with its first products being Thylox Medicated Soap, Thylox Medicated Cream (both for acne) and Thylox Medicated Shampoo (dandruff). The Thylox Medicated Cream contained thylox sulphur, an antibacterial withdrawn by United States Food and Drug Administration (FDA) in 1967 when it was found to be a photo-sensitiser; hexachlorophene (G-11), another antibacterial withdrawn by the FDA in 1972 when it was found to be a neurotoxin; and alcohol, all in an ointment base. The hexachlorophene ban was particularly galling for Shulton as it had acquired the U.S. rights to sell hexachlorophene manufactured by the North Eastern Pharmaceutical & Chemical Co. (Nepacco) in 1969.
See also: Hexachlorophene
Although the division was primarily interested in medical products some pharmaceutical skin-care products also came under its control or were developed by it including: Bronztan (1955) a silicone-based suntan lotion; and Ice-O-Derm Medicated Astringent (1959) originally made with the antibacterial parachlorophenyl-alpha-glycerol ether but probably replaced with hexachlorophene in 1968 when the product was reformulated.
Bronztan: "Exclusive silicone ingredient Duro-Sil gives the longest sun protection yet known".
Ice-O-Derm Medicated Astringent: "To help keep your beauty cool, a cool medicated gel that refreshes teen age skin, works to banish blemishes".
The development of Ice-O-Derm and Bronztan was taken over Colfax Laboratories when it was set up by Shulton in 1961 and this continued until Colfax was merged into the Cosmetics & Toiletries Division in 1967. Other products produced in the Bronztan line included: Bronztan Cream (1958), Sun Stop (1961), Bronztan Clear Lotion (1966) and Bronztan Moisturizing Lotion (1966). Those in the Ice-O-Derm range included: Ice-O-Derm Cleansing Lotion, Ice-O-Derm Cleansing Bar (1965), Ice-O-Derm Medicated Pads (1966), Ice-O-Derm Clearing Gel and Ice-O-Derm Clearing Lotion.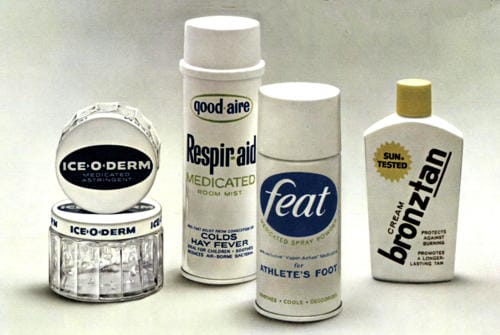 An International Division was also organised in 1956 to look after the various Shulton subsidiaries and authorised distributors throughout the world. The number of subsidiaries continued to grow so that when American Cyanamid acquired the business in 1971 Shulton had subsidiaries in Holland, Great Britain, France, Germany, Italy, Canada, Australia, New Zealand, South Africa, Singapore, Mexico, Venezuela, Argentina, Brazil, Nicaragua, Guatemala, India and the Philippines.
Shulton also became a public company in 1956 after which other purchases followed. These additions included: the Aer-A-Sol Division of the Bridgeport Brass Company (1957) for their aerosol insecticides; Tecnique, Inc. (1957), producers of hair dyes including Tecnique Color-Tone; the Aerosol Corporation of America (1961), makers of household cleansers; Jacqueline Cochran (1965), which included Nina Ricci fragrances, Endocreme and Marcel Frank atomizers, as well as Jacqueline Cochran and Flowing Velvet cosmetics; and J. Warren Kane Inc. (1966), distributors of the Carven lines of French perfumes in North and South America, Africa, the Far East, Great Britain and Scandinavia – the company was renamed as Carven Distributors Inc. after the purchase.
Some of these acquisitions, and the products they made, such as Bridgeport insecticides, Good-Aire (an air freshener) and Melodie (a fabric brightener) were organised into the Home Products Division of Shulton in 1961. This division also marketed some toiletries sold in supermarkets and was responsible for pharmaceuticals developed by Colfax Laboratories.
Hair-Care
The 1957 purchase of Tecnique, Inc. allowed Shulton to market products in the highly competitive home permanent and hair dye markets that was booming in the 1950s. Shulton added to the Technique range with Tecnique Shampoo (1962); Tecnique Cream Rinse (1962); Tecnique Curl Spray (1962); Tecnique Silver-Tone (1962) for grey hair; Pretty Perm (1962), a colour conditioning home permanent; Set 'n Forget (1964); and That's My Color! (1966), a shampoo-in hair colouring.
Prestige brands
Most Shulton products released before 1960 sold in the lower end of the cosmetics and toiletry markets where margins were low. Shulton made a move into the higher priced segment of the men's toiletry market when it introduced the York Town range of men's toiletries in 1960 made up of a shave lotion, cologne and talcum, with an aerosol deodorant and body talc added in 1962.
The 1965 acquisition of Jacqueline Cochran, Inc. gave Shulton access to Nina Ricci fragrances and Jacqueline Cochran cosmetics including her Flowing Velvet line. Shulton added to these more prestigious products by developing the Taji perfume line for women and Teak grooming aids for men.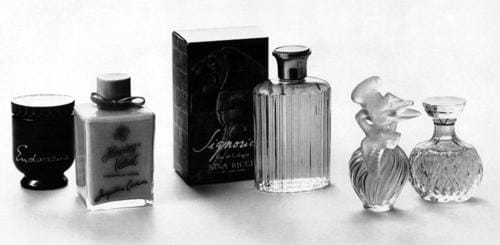 The acquisition of a majority stake in J. Warren Kane Inc., added Carven lines of French perfumes and then, in 1967, Shulton acquired distribution rights for Pierre Cardin Parfums. All of these more upmarket lines were handled by the Franchise Cosmetics Division established by Shulton in 1965 to channel distribution to department and specialty stores.
Although Shulton added to Jacqueline Cochran's Flowing Velvet line, sales were less than hoped for and it was reduced to just two better selling items in 1969 – Flowing Velvet Hydrophilic Lotion and Flowing Velvet Super-Rich Night Cream.
Despite these prestige additions, deodorants and other toiletries, particularly for men, continued to be Shulton's most important source of revenue. However, women's cosmetics were not forgotten; the Desert Flower range continued to be extended and, in 1965, a new CornSilk make-up range was introduced.
CornSilk
Made from finely ground corncob, the powders in the CornSilk line were translucent, so were ideally suited to the 'natural look' in vogue in the United States during the 1960s and 1970s. They were also good oil absorbers which gave them an added appealed to the youth market.
There were variations in the advertising story that Shulton used to describe the development of corncob powder for make-up but most were variations on the one given below:
[A] man named Earl Wright who specializes in dust control equipment for corn and soya bean … was struck by not only the mountainous volume of fine dust in a corncob grinding mill in Pulaski, Ill., but also by its beneficence to the people who worked in its clouds. They had no respiratory problems and displayed fine complexions.
When he sought to get a patent on a process for using the dust, on the theory that it might have a cosmetic use, he found that dermatologists already were using the fine dust salvaged from corncobs to treat skin disorders.
It was known to have an unusual quality—it holds oil in suspension away from the surface of the skin. Along with incidental dust and grime that might have collected. Thus it leaves the pores to function freely in their natural process of waste expulsion and it also controls oiliness.
The Earl Wright mentioned in the story was the owner of the E. Wright Company of Decatur, Illinois that Shulton bought in 1964. Wright had produced a face powder called Galaxy Micron made from the inner core of the corncob using powder he bought from a Mount Pulaski feedmill. It appears that his discovery was an accident and that after a modest start packaging the powder in his basement he expanded, first to Sullivan and then to Decatur, before selling out to Shulton.
As well as loose and pressed face powders, the CornSilk range also included a foundation as well as both powder and cream blushers.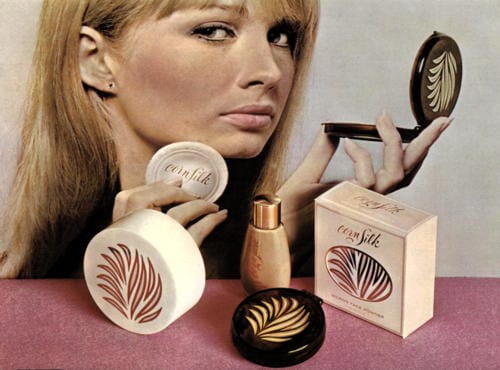 No-Color Micron Pressed Power: "The magic of corncob dust for a natural, unmade-up look and the most effective, absorption of excess oil of any face powder. No-Color Micron Pressed Powder is transparent so it never hides the skin's natural beauty." Shades: Ivory, Beige, Peach, Tawny.
Micron Face Powder: "The same natural ingredients of the pressed powder in a loose powder form … comes with its own fluffy puff."
Tinted Foundation: "Sheer, silken smooth foundation that blends flawlessly with the skin." Shades: Natural, Medium Beige, Brunette, Fair, Blush and Summer Beige.
Oil Free Tinted Foundation: "[G]ives a fresh, natural look without adding oil to the skin … that imparts the clear unmade-up look so important to today's woman." Shades: Fair, Natural and Medium Beige.
Blush: "[N]ever fades, streaks, or changes color … with its own soft brush." Shades: Shy Pink, Sunburnt Amber, and Kissing Peach.
Blushing Creme: "[C]omes in a mini-compact with mirror." Shades: Shy Pink, Kissing Peach and Sunburnt Amber.
American Cyanamid
In the 1969-1970 financial year Shulton experienced its first decline in sales. Although the company had diversified and added prestige products the Cosmetics and Toiletries Division still represented 50% of the company's sales and it was facing narrowing margins and lower volumes, forcing Shulton to raise its prices by 10% in 1971. Things must have been on the decline for some time and in December 1970 the board approved a proposal to merge with American Cyanamid, the formal agreement being signed in February, 1971, with American Cyanamid keeping the Shulton name for their consumer care division. George Shultz stayed on as a director of American Cyanamid until 1988.
This is where my interest in Shulton ends, except to note that American Cyanamid sold the CornSilk line to the Chattem Drug and Chemical Company in 1977 and the Old Spice brand to Procter and Gamble in 1990.
Timeline
1934
Shulton Company formed in New York.
1937
New Products: Early American Old Spice for women.
1938
New Products: Old Spice for men.
1939
New showrooms and offices opened in the Rockefeller Centre.
New assembly facilities opened in Hoboken, New Jersey.
1940
New Products: Early American Friendship's Garden line for women.
1941
George Schultz becomes manager of the Hoboken facilities.
New Products: Early American Old Spice Face Powder; and Desert Flower make-up line.
1946
Shulton factory opens in Clifton, New Jersey.
Shulton subsidiary established in Mexico.
1948
Shulton subsidiary established in Canada.
New Products: Old Spice Cream Deodorant for men.
1950
William Schultz dies; George Shultz takes over the running of the company.
Fine Chemicals Division founded.
1952
Desert Flower line repackaged.
New Products: Desert Flower Hand & Body Lotion.
1954
Early American Old Spice line repackaged.
New Products: Old Spice Electric Shave.
1955
Shulton buys A. Maschmeijer Jr., Ltd.
Bronztan, a liquid suntan lotion, introduced.
New Products: Early American Old Spice Stick Deodorant for women.
1956
Pharmaceutical Division set up.
International Division established.
Manufacturing facilities developed in Toronto, Canada.
Additional manufacturing facilities built in Clifton, New Jersey.
Shulton becomes a public company.
The Wesley Associates, Inc. advertising agency acquired.
New Products: Thylox Medicated Soap and Thylox Medicated Cream.
1957
Shulton subsidiary established in Great Britain.
Shulton acquires the Aer-A-Sol Division of the Bridgeport Brass Company.
New Products: Desert Dri ; and Desert Flower Beauty Clean.
1958
Headquarters in New York moves to larger quarters in the Rockefeller Center.
Shulton subsidiary established in Venezuela.
New Products: Desert Flower Beauty Ice; Old Spice Mentholated Smooth Shave; and Bronztan cream.
1959
Shulton acquires Tecnique, Inc.
Friendship Garden line repackaged and renamed.
New Products: Ice-O-Derm Medicated Astringent; and Desert Flower 3-Way Curl Spray.
1960
Early American Old Spice repackaged.
New Products: York Town, a deluxe line of men's toiletries; Desert Flower Beauty Bath; and Friendship Garden Liquid Bubble Bath.
1961
Shulton buys the Aerosol Corporation of America.
Home Products Division established.
Colfax Laboratories established.
New Products: Sun Stop tanning lotion for sensitive skin; and After Glow moisturiser for tanned skin.
1962
New Products: Old Spice Outdoor Lotion; and Old Spice Man Power aerosol deodorant.
1964
Shulton acquires the E. Wright Company of Decatur, Illinois.
Shulton subsidiary established in Guatemala.
1965
Shulton acquires Jacqueline Cochran.
Franchise Cosmetics Division established.
New Products: CornSilk face powder; Old Spice Lime; Taji perfume line for women; and Teak grooming aids for men.
1966
Shulton buys J. Warren Kane Inc. Name changed to Carven Distributors Inc. after purchase.
New Products: Jacqueline Cochran Flowing Velvet Cake Eyecolor and Eyeliner; Ice-O-Derm Medicated Pads; and Desert Flower Aloe Vera products.
1967
Colfax Laboratories merged into the Cosmetics & Toiletries Division.
Non-Shulton parts of Wesley Advertising sold.
Aerosol Corporation of America assets sold and the company dissolved.
Carven perfumes merged into Jacqueline Cochran.
Shulton acquires world-wide distribution rights of Pierre Cardin perfumes and toiletries.
Desert Flower line repackaged.
New Products: Desert Flower So-Dry antiperspirant.
1969
George Schultz steps down as president.
New Products: CornSilk Complexion Blends; Desert Flower Body Shampoo soapless cleanser; Desert Flower eye cosmetics; Desert Flower Hand & Body Lotion for Extra-Dry skin; and Vive Le Bain bath products.
1970
New Products: Burley Bronzer instant tan.
1971
Shulton sold to American Cyanamid.
New Products: CornSilk Blushing Cream.
1977
CornSilk line sold to Chattem Drug and Chemical Company.
1990
Old Spice brand sold to Procter and Gamble.
1991
Clifton plant closed.
Updated: 13th March 2017
Sources
Federal Trade Commission. (1942). Federal Trade Commission decisions, 34. Washington, DC: United States Government Printing Office.
The national cyclopedia of American biography (Vol. 37). (1961). New York: James T. White & Company.
Old spice line growing. (1940). The American Perfumer & Essential Oil Review, April, 40-42, 106.
The story of Shulton. (1957). Soap and Chemical Specialties, May, 52-56, 255.
Sweet smell of success. (1957). Broadcasting Telecasting July 8, 3032.
William L. Schultz—artisan. (1948). Drug and Cosmetic Industry, 63(6), 741, 824-826.