In 1947, 'The American Weekly' ran a story on Rose Laird which contained an account of her early life and how she got started in the beauty business.
Rose Laird was the daughter of Glover Glaser, a chemist. Born in Philadelphia, she enrolled at the skin clinic of Jefferson Hospital as a student nurse, upon her graduation from high school. She aspired to be a dermatologist, specializing in diseases of the skin at a time when women doctors were rare.
Her career was deflected by marriage to F. Raymond Laird, an inventor. He patented a "dime savings bank." Money couldn't be shaken out of them. They opened of their own accord when the exact capacity of each was reached.
The banks found a vast and eager public and the inventor reaped a fortune. But he over-extended himself in stock market speculation; the panic of 1903 came; and he lost his money, lost his business and lost his health.
Mrs. Laird had some money of her own—$26. And an idea. She meant to capitalize on what she had learned about the care and treatment of the scalp and skin. She had some jars of creams and bottles of lotions which she concocted herself from formulas devised by her father.
She bought a ticket to New York, registered at a cheap hotel and looked for a one-room office, such as a doctor might use, in a desirable location.
She found one in West 31st Street, just off Fifth Avenue, one flight up. It had hot and cold running water and a wash bowl. She found a second-hand barber's chair and purchased it with a down payment.
The article contains a mixture of fact and fiction. Rose Laird does appear to have been born in Philadelphia, Pennsylvania but her family name was Graeser not Glaser. She may have trained as a student nurse but unfortunately I have no records of her upbringing or education so have been unable to verify this.
In 1902, when she was about 35 years of age, Rose married Francis Raymond Laird [c.1863-1906] in Philadelphia. The couple moved to New York and in the 1905 New York census they were listed together in a boarding house on West 73rd Street with Francis Laird, aged 44, described as a cosmetics proprietor. Rose appears to have started her practice at 20 West 31st Street in 1903 which suggests that Francis Laird was also involved in the business before he died in 1906 and Rose did not start out on her own as the article intimates.
Prior to the establishment of the Rose H. Laird Company in New York in 1912, Rose listed her business in New York directories as dermatologist (1906), massage (1911) and hairdresser (1912) which would indicate that she offered a wide range of beauty services. During this time she may have had some assistance from Louis Harris Kingstone [c.1882-1932]. Kingstone arrived in New York from London around 1907 and worked in the Boericke & Runyon Homeopathic Pharmacy at 518 Sixth Avenue for a number of years. As well as becoming the president of the Rose H. Laird Company he would also marry Rose in 1916.
The R. H. Laird Company operated successfully through much of the twentieth century. In the United States it maintained salons in New York and other American cities and sold its products through mid-range department stores such as Macy's and McCreery's, before expanding into Canada, South America, Britain and South Africa.
Although now largely forgotten, Rose Laird was a well-known beauty expert in the United States and a tireless promoter of her business. She made numerous appearances in department stores and salons, and gave lectures and talks to a wide range of women's groups both young both in person and later through her radio broadcasts. She was a prodigious traveler by land, sea and air, both in the United States and overseas, and was credited as the first woman in the toilet preparation industry to make a transatlantic crossing on the new Pan American air service begun in 1939.
Beauty principles
Laird based her beauty treatments on the idea that wrinkles, lines and loss of facial contours were the result of muscle weakness, a belief that had wide circulation in the first half of the twentieth century and still has adherents today. She believed that preventative treatments could be used to avoid youthful lines being lost and restorative treatments would help rectify the damage.
If the contour of the face has already lost its lines and flabbiness has set in, no time should be lost to repair the mischief. We are so apt to go along the lines of least resistance. Nature intended the muscles of the body to be exercised. Our young people of today, consider sports to be part of their daily routine. That accounts for the splendid physique of modern budding womanhood, as compared with the frail, delicate ladies of the preceding generation.
Initially, Laird suggested that facial muscles could not be firmed through exercise as was the case with body muscles.
For obvious reasons, no physical exercise can be devised that would keep these [facial] muscles firm and so prevent them for sagging. Now the muscles of the face and neck will sag and do sag, due to this lack of exercise, and age becomes immediately apparent.
Laird's solution to the problem was similar to a number of her contemporaries; substitute massage for exercise. Massage was believed to have a revitalising effect on muscles and was regarded as second only to exercise in strengthening muscle tissues both through its direct effect on the muscles and nerves and through increased blood flow which brought in beneficial nutrients and removed harmful wastes.
See also: Massage, Wrinkles and Double Chins
The massage routine developed by Laird incorporated nine movements which she described as the 'Nine Essential Facial Exercises'. These were to be done for ten-minutes every night before retiring, followed in the morning with a cleansing cream, an astringent and an ice rub.
Also see the 1928 company booklet: Winning beauty from the passing years
During the 1930s, Laird modified her massage routine to include a pinching routine and knuckle massage.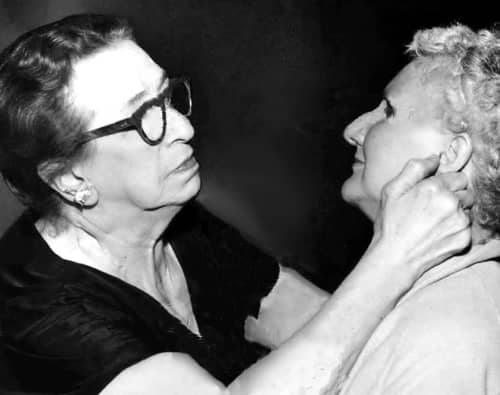 She also changed her mind about exercising facial muscles and added a series of one-minute 'Facial Gymnastic' routines to strengthen the muscles of the face: 'The Huff and Puff'. 'The Bee Chaser' and 'The Prima Donna'. All of these facial exercises had been around for decades so Rose Laird was rather late in adopting them.
See also: Facial Gymnastics
As far as I can tell Laird did not sell or advocate strapping but did recommended patting when applying astringents and skin lotions. However, this was done using a rolled up four-inch square of cotton wool rather than a ready-made patter.
See also: Patters and Straps, Bandages and Tapes
Additional facial treatments were available to those who attended the Rose Laird salon at 785 Fifth Avenue. In a notorious 1936 court case involving unpaid bills for beauty treatments incurred by Mrs. Janet Allen Walker, the portly wife of the mayor of New York, 69 electrical face treatments costing a total of US$690 are mentioned in newspaper articles of the time. Exactly what these treatments were is not stated but electrolysis is highly likely.
Skin-care
The effect of massage on the muscles and skin tissues could be supplemented with Rose Laird cosmetics. Skin cleansers could help clear the pores making it easier for them to remove impurities; astringents and tonics could tone relaxed muscles and tighten sagging facial contours; while skin foods and muscle oil could help build up underlying tissue and banish wrinkles.
See also: Skin Tonics, Astringents and Toners, Skin Foods and Muscle Oils
Liquid Pore Cleanser: "will not only cleanse the skin but will purify the pores and at the same time act as a skin tonic".
Cleansing oil: "a blending of Oriental oils combined with lemon … will eliminate all secretions from the pores and at the same time strengthen the muscles of the face and neck juice".
Nutrient Skin Cream: "an ideal skin food … Apply with the tips of fingers, using both hands at the same time and exercise as per 'Nature's Nine' Facial Exercises … After a few minutes of the exercise allow … to remain on all night, or as long as convenient".
Bleach and Freckle Cream: "has a decided bleaching effect, and peels off the dead cuticle that clogs the pores of the skin".
Toilette Astringent: "to tone the relaxed muscles … preferably with ice … will freshen and tighten the skin, tone the muscles and give the complexion that healthful appearance that one associates with the well groomed woman".
Special Face Lotion (Carbolized): "will leave a coating of powder, which can be dusted off as required … be very sure to apply before going outdoors, to prevent windburn and sunburn". Shades: White, Flesh, Rachel, Brunette and Peach.
Special Cream for Enlarged Pores: "will loosen and gradually eliminate the secretions, bringing the pores back to a normal condition".
Ether Skin lotion: "absorbs the superfluous oils".
Special Ointment (Carbolized) for the Skin: "Rub well into the skin, particularly where the pimples and blackheads are most in evidence and allow to remain on during the sleeping hours. also use where the skin is chapped or sore".
Reducing Chin Cream: "very successful for reducing and eliminating double chins and adjusting loose and flabby tissue. Its action is to dissolve the superfluous fat and bring about a firm even contour".
Blemish Banisho: "its action is gradual, and should be followed by Skin Bleach and Freckle Cream".
Muscle Oil: "recommended for persistent wrinkles, fine lines on the forehead and crow's feet".
Some of the skin-care cosmetics listed above are 'carbolized' which suggests that they contained a phenolic antiseptic to control skin blemishes like pimples. Another favour ingredient was calendula flower. Long used in traditional medicine as an anti-inflammatory and skin soother. Rose Laird incorporated it into a number of her skin-care lines including Marigold Soap, Marigold Hand Lotion, Marigold Astringent Cream, Marigold Skin Tonic, Marigold Skin Lotion, and Marigold Skin Cream.
By 1935, Rose Laird had extended her range of cleansers, astringents, skin foods and offered a number of products in each group. Cleansers included: Rose Laird Cleansing Oil, Rose Laird Cream Vi-O-Lay, Rose Laird Am-Ber-Ain, Rose Laird Marigold Skin Lotion, and Rose Laird Liquid Pore Cleanser; Astringents included: Rose Laird Marigold skin lotion, Rose Laird Astringent (Double Strength); and Skin Foods included Rose Laird Nutri-Ol Skin Cream, Rose Laird Marigold Skin Cream and Rose Laird Plastic Cream (containing glandular derivatives).
Although the Rose Laird range of skin-care cosmetics made allowances for different skin types, by the end of the 1930s treatments for Normal, Dry, Oily, Part Oily/Part Dry and Sensitive Skin were being spelt out in more detail using some new products including Poudre-Set (1935), Solo Cleanser (1937) and Dry Skin Cream (1938). Rose Laird skin-care cosmetics for normal, oily and dry skins are listed below:
NORMAL SKIN
Solo: The proven cleanser
Am-ber-ain: "Wipes away" impurities dislodged by Solo.
Nutri-Ol: To impart to your skin a softness reminiscent of dawn.
Poudre Set: A semi-liquid cream to banish skin shininess, free from pore-clogging, skin-drying ingredients. applied after rouge it supplies a velvety matt finish. Three shades Lotus, Light Rusglo and Rusglo.
DRY SKIN
Solo: The perfect dry skin cleanser
Dry Skin Cream: To loosen dry skin particles and pave the way for.
Nutri-Ol: Almond based for use on alternate nights, to soften and lubricate.
Marigold Skin Lotion: Softly effective as a tonic and helps coax dry skin to normalcy.
Special Face Lotion: Provides a protecting powder film to withstand the onslaughts of the elements.
OILY SKIN
Cream Vi-O-Lay: A practical emulsion so necessary as a cleanser to help the pores function normally.
Liquid Pore Cleanser: An invaluable preparation which cleanses the over-oily skin of impurities and helps keep complexion-texture satiny.
Cream for Oily Skin and Carbolised Skin Lotion: Alternate these nightly. The former helps normalize enlarged pores and is intended to promote regularity in oil gland activity. the later is a synchronised, special formula product useful for over-oily skin.
Special Face Lotion: An effective pore protection against grit and grime for this type of skin. Artfully conceals embarrassing skin blemishes and serves as an effective, year-round powder base. Can be used advantageously in any climate.
Clients could buy all the materials necessary for each of these treatment regimes as kits, each kit being supplied with enough cosmetics to last for one month.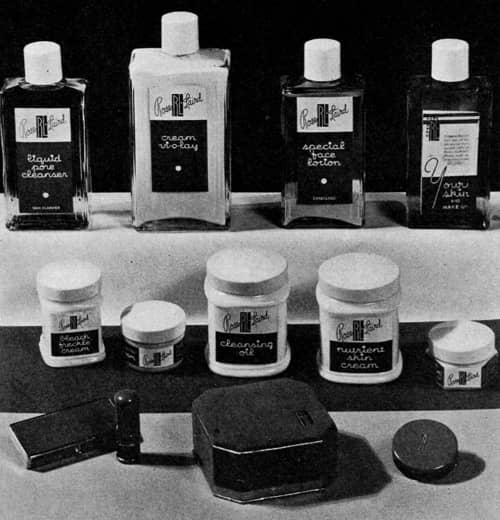 Other treatments
As well as treatments for Dry, Normal, and Oily Skins, clients could also purchase kits for Contour Remoulding, Very Sensitive Skin, Freckles and Discoloured Skin, Enlarged Pores and Course-Grained Skin, and Acne. There were also specific treatments for Reducing Double Chins and Jowls, Sunburn and Windburn and Care of the Hands and Nails.
Also see the 1935 company booklet: To your natural beauty give protection … to any blemish give correction
Make-up
Exactly when Rose Laird began to sell make-up is unknown to me but suggestions are that it was in the late 1920s. Her early make-up lines included: Face Powder, either loose or compact (Naturelle, Rachel, Brunette, Peach, Illusion, Ochre and White shades) kept on with Greaseless Skin Cream, a type of vanishing cream; Rouge in Liquid (Medium and Light shades), Cream or Compact forms (Light, Medium, Dark and Raspberry shades); Lipstick (Light, Medium, Dark and Illusion shades); and Invisible Face Lotion, a liquid powder, worn in the evening to cover the arms, neck and shoulders (White, Flesh, Rachel Peach, Illusion and Brunette shades). For eyebrows and eyelashes there was Eyebrow and Lash Cream, to promote lustre and growth and Fixatol to discipline unruly, ill shaped eyebrows.
Shade ranges for all Rose Laird make-up lines were increased during the 1930s and by 1935 mascara (Blue, Green, Black, Brown and Purple shades), eyeshadow (Blue-Gray, Jade Green, Olive Green, Henna-Brown and Purple shades) and nail polish had also been added.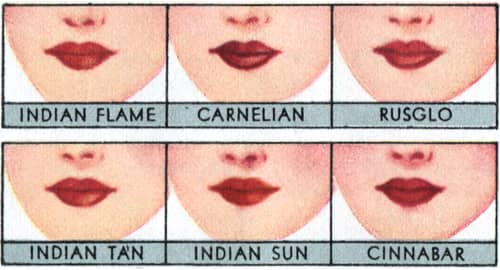 As mentioned previously Poudre-Set was developed in 1935. This oil-based cosmetics was applied over other make-up to even out and set it.
Poudre Set: "A revolutionary cosmetic, actually sets your make-up. This perfumed semi-liquid cream, applied after your foundation cream and rouge, imparts a lovely velvety mat powder finish, and preserves your protective coloration all day long". Shades: Lotus (evening), Light Rusglo and Tan.
Other innovations in the 1930s included the formulation of a number of foundations including Special Face Lotion (medicated) and Skintone Foundation. As they helped cover skin blemishes these cosmetics would have appealed to both younger and older clients.
Special Face Lotion (medicated): "Not only protects the normal complexion—but artfully conceals embarrassing skin eruptions. A powder base for every type of skin". Shades: Rachel, Ocre Rose, Brunette, Dark Brunette, Beachtan and Rusglo.
Skintone Foundation: "The perfect waterproof foundation for all skin types. Apply thinly and evenly to face and neck, then pat in a little cold water—when dry finish in the usual manner. It protects the normal skin, covers all blemishes, birthmarks and white nerve spots and keeps a lasting matt appearance". Shades: Lotus, Petal Pink, Rusglo and Beachtan.
Laird also embraced the practice of contouring widely used by movie make-up artists to make the best of the facial features of film stars.
Rose Laird is teaching her clients a fascinating new principle of make-up, the art of bringing out the most desirable features through the use of shadows.
"Based on the sound theory of camouflage, there is no reason why any intelligent woman, given the correct pallette [sic.] of colors and shadow effects, cannot learn to minimize her less attractive features and highlight her best ones." she declares.
Also see the company booklet: This Way to Loveliness
Youth market
In 1938, Rose Laird introduced her Young Skin range of creams, lotions and make-up packaged and promoted to adolescents; a forward thinking development in a market that would become increasingly important after the Second World War.
Beginning with Bonwit Teller in New York, Young Skin booths were set up in department stores staffed by Young Skin counsellors who dispensed products, information and advice. Skin-care products developed for the range were mildly medicated and included: Young Skin Cleansing Cream for normal or dry skin; Young Skin Liquid Cleanser with a mild astringent to help remove any traces of the cleansing cream; Young Skin Liquid Facial Soap with a complexion brush; Young Skin Base Cream powder foundation; Young Skin Greaseless Lubricant for sensitive skins; and Young Skin Overnight Ointment to remove redness, and help clear the skin of blemishes. The products appear to have contained resorcinol to control bacteria, zinc oxide to hide blemishes, salicylic acid as an exfoliant and assorted glycols to act as moisturisers. Adolescent males were not forgotten and the Young Skin line also included a medicated brushless shaving cream and a medicated after shave lotion.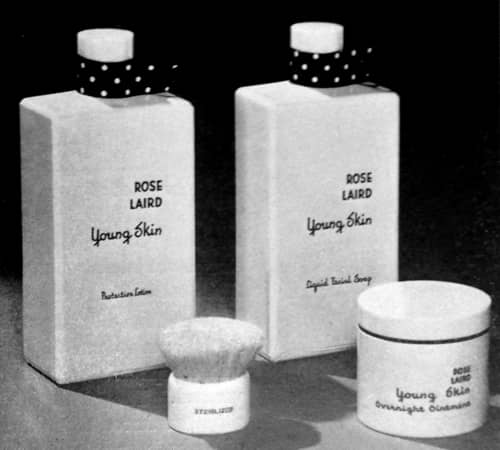 The Young Skin line also included a range of make-up including: Lipstick in four shades; Young Skin Protective Face Lotion, a powder cream to help cover blemishes and act as a powder substitute; and Young Skin Face Powder. The face lotion and powder both came in Pastel, Light, Medium, Brunette and Dark shades.
Later additions to the Young Skin line included Young Skin Deodorant (1939); Young Skin Liquid Lather (1942), a cleanser worked up into a foam with a complexion brush; and Young Skin Protective Make-up Film (1943), a medicated lotion in Petal Pink (light), Cinnabar (medium), and Rusglo (dark) shades to conceal flaws on problem skins. In 1947, Rose Laird combined a number of her Young Skin skin-care and make-up lines into Young Skin Chests, or Dorm Chests which contained Young Skin Liquid Lather, Young Skin Liquid Cleanser, Young Skin Greaseless Lubricant, Young Skin Face Powder, Young Skin Protective Face Lotion and a lipstick.

In 1941, Rose Laird also introduced a range of fruit lipsticks in raspberry, strawberry, pineapple, orange, lemon and lime flavours – presumably to appeal to the youth market – the first American company that I know of to do so.
Post-war
In 1951, Rose Laird was honoured by Bostonians when she was included in the first 'Assembly of American Women of Achievement' as a pioneer in cosmetics for young and old alike.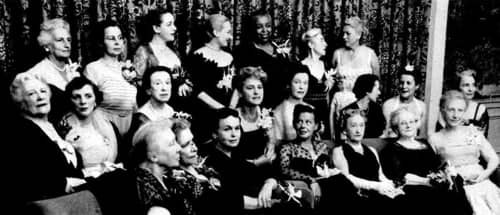 The 1950s saw some dramatic changes in the American cosmetic market associated with rising expectations from the American consumer and the increasing use of expensive television advertising. Unfortunately, Rose Laird's marketing philosophy was not well-suited to cope with these changes.
When first starting out, personal interactions between Rose Laird and her clients were important in developing her successful business. When she began selling her products in department stores she did so in only one major store in each city. This enabled her to work closely with each store, a relationship which was strengthened by Rose Laird appearing at least once a year to give a lecture and/or demonstration of her products.
As the business expanded the company began to employ travelling demonstrators to cope with the increased demand. Rose Laird still made store appearances but also began to make radio broadcasts, beginning in 1933 as a guest speaker with a program sponsored by Macy's department store on WOR, New York. However, her broadcasts were restricted to local radio stations. The American arm of the company only rarely engaged in national advertising and print advertising with most done on a cooperative basis with the stores or salons where products were sold or used.
This marketing strategy, largely based on the personality of Rose Laird worked reasonably well before the Second World War but suffered in the post-war environment. As both Elizabeth Arden and Helena Rubinstein also discovered, Rose Laird's ability to act as a model for beauty declined she got older. This reduced her appeal to a younger market, making it more difficult to attract new clients and led to a declining and ageing customer base. Larger cosmetic companies got around this problem by engaging younger 'faces' to represent the firm although the marketing costs for this were high. These costs rose substantially during the 1950s as television advertising increased in importance.
Rose Laird did not have a strong tradition of national advertising and was not a global brand – being largely restricted to North America and the United Kingdom – so did not have the resources to engage a model to represent the firm or conduct expensive television and print advertising campaigns.
To add to its problems, one of the company's major strengths, its products marketed for younger problem skins, came up against increased and better-funded competition. After Noxzema introduced Cover Girl in 1961, the majors became very interested in marketing cosmetics to teenagers and young women, developed lines specifically for them, and promoted them through national television and print advertising campaigns.
See also: Cover Girl
Increasing competitive pressures seem to have pushed Rose Laird more and more into specialist cosmetics aimed primarily at young, mature and specific skin-care problems such as psoriasis. Her new post-war products came with names that made them sound like medicinals and were promoted as not being 'ordinary cosmetics' but rather were 'formulated to care for complexion difficulties'. New lines included: Atrogene (1945); Thelium Massage Cream (1950) for manipulating relaxed muscles to help restore elasticity and firmness to the skin; Solution P-5 and Ointment P-5 (1960) for psoriasis; Scalp & Skin Lotion F-35 (1960) for acne and blemishes; and Thelane 4 (1964) a moisturiser.
Sale
In 1966, Rose Laird died with her chief chemist, Irving Wexler listed as her major legatee. In 1969, the American arm of Rose Laird was sold to Carmen Cosmetics, a company established in 1951 by Carmen Murphy in Detroit, Michigan to market cosmetics to African Americans. Wexler stayed on as company president and presumably helped adjust the Rose Laird cosmetics to make them more suitable for African American skins. Rose Laird cosmetics seem to disappear from the American market after this date, but apparently continued to be sold through direct mail until at least 1989.
The United Kingdom arm of the company appears to have operated independently until it was sold to International Laboratories Ltd. in 1974. The new owners repackaged and relaunched the line and added some products, most notably the Callista line (1974) for combination skins. Rose Laird Ltd. then went through a series of owners including: the Brillo Manufacturing Company of Great Britain Ltd. (1977), a subsidiary of Purex Industries Inc. who then placed it under the control of Cuticura Laboratories another company they owned; Innoxa (England) Ltd. (1981); and Silhouette International Ltd. (1986). Silhouette repackaged the line in peach, grey and silver for the professional beauty salon market bringing to an end sales of Rose Laird as a general consumer product.
Timeline
1903
Rose Laird begins practicing at 20 West 31st Street.
1912
The R. H. Laird Company established in New York.
n.d.
New York salon moves to 17 East 48th Street.
n.d.
New York salon moves to 785 Fifth Avenue.
1928
Rose Laird Ltd. established in England.
n.d.
Rose Laird Salon opens at 31-33 Banner Street, London.
1933
Rose Laird begins radio broadcasts.
Rose Laird line repackaged.
1935
New Products: Poudre-Set.
1936
New Products: Solo Cleanser; and Solo Masque.
1937
New Products: Shaperone Hand Cream; and Greaseless Deodorant.
1938
New Products: Young Skin range; Dry Skin Cream; and Lip Liner
1939
New Products: Young Skin Deodorant; and Tanologne sunscreen.
1940
New Products: Liquid Lather, a soapless cleanser.
1943
New Products: Protective Make-up Film.
1945
New Products: Atrogene Cream; and Leg Tone leg make-up.
1950
New Products: Thelium Massaqe Cream.
1960
New Products: Solution P-5 and Ointment P-5 for psoriasis; and Scalp & Skin Lotion F-35 for acne and blemishes
1964
New Products: Thelane 4, a moisturiser.
1969
Rose Laird (USA) sold to Carmen Cosmetics.
1974
Rose Laird Ltd. (UK) sold to International Laboratories Ltd.
1977
Rose Laird Ltd. (UK) sold to Purex Industries Inc.
1978
Rose Laird line repackaged.
1981
Rose Laird Ltd. (UK) sold to Innoxa (England) Ltd.
1986
Rose Laird Ltd. (UK) sold to Silhouette International Ltd.
1990
Rose Laird line repackaged.
Updated: 2nd November 2017
Sources
Did Mrs. Jimmy Walker's face need $690 to beautify it? (1936). Albany NY Times Union, p. 3.
Girls with big ideas—beauty unlimited. (1947, August 31). The American Weekly, p. 10.
Laird, R. (1935). Personalising cosmetics. The Drug and Cosmetic Industry. 37(1), 58-59.
Rose Laird. (1928). Winning beauty from the passing years [Booklet]. New York: Author.
Rose Laird. (1935). To your natural beauty give protection … to any blemish give correction [Booklet]. New York: Author.
Rose Laird. (n.d.). This way to loveliness [Booklet]. England: Author.