Ann Delafield was born May M. MacGregor in Great Britain. In the early 1920s she came to America as a player in a touring theatre company – using Ann Delafield as her stage name – appearing in shows such as 'The Skin Game' (1922), 'The Rose of Stamboul' (1922), 'Peter Pan' (1924) and 'Bachelors' Brides' (1925). After applying for American citizenship in 1925 she continued acting for a time and was a cast member in 'The Two Orphans' (1926) and 'Potiphar's Wife' (1928).
By the end of the decade Delafield seems to have exchanged her stage career for one in personal development but continued to be known to her friends and the general public by her stage rather than her legal name. To bolster this new career she would later claim to have a Bachelor of Science, a Masters Degree majoring in physiotherapy, to be a qualified dietician and physiotherapist, and to have worked in the Battle Creek Sanitarium as a physiotherapist and physical education instructor.
Elizabeth Arden
Ann Delafield's first employer in the beauty industry was Elizabeth Arden. In 1930, Arden opened a new salon at 691 Fifth Avenue, New York and Delafield came to work for her in the new gymnasium which took up an entire floor of the salon complex. Arden engaged a wide variety of people to work for her, including yoga and dance instructors, so employing an actress with an interest in fitness was not out of the ordinary. Exactly when Delafield started with Arden is unclear but as she appears on a 1931 list of employees, it seems likely that she began working for Arden when the Fifth Avenue salon opened in 1930.
Richard Hudnut
Working for Elizabeth Arden was never easy and around 1935 Ann Delafield left to take up a position with William R. Warner as director of its new Richard Hudnut Debutant School. She remained with William R. Warner until the early 1950s becoming the director of the Richard Hudnut Success School and the Du Barry Success Course when these were established in 1939 and 1940 respectively.
See also: Du Barry Success Course
In 1945, Elmer H. Bobst [1884-1978] became the president of William R. Warner and one of the changes he made was to close down the Richard Hudnut Success School and the Du Barry Success Course. Threats to do this were being signalled in the late 1940s but it was not until the early 1950s that the process was completed.
The Richard Hudnut Success School and the Du Barry Success Course were established to help promote Richard Hudnut Du Barry cosmetics and later Richard Hudnut hair products. They appear to have been very successful at this early on but by 1945 advertising for the Success Course concentrated on its ability to help women lose weight.
Realising that her time with William R. Warner was coming to an end, Delafield began searching for new opportunities. She was still directing the Du Barry Success Course in 1951 but in that year she trademarked her name and by 1952 she had switched to the Rexall Drug Company to start her own weight-loss program and a line of cosmetics. Her commitment to Rexall was such that by 1953 she had moved her home address from New York to Pacific Palisades, Los Angeles, the city where Rexall had its headquarters.
Rexall Drug
In 1943, Justin Whitlock Dart [1907-1984] became the president of United Drug. When the Second World War came to an end, Dart moved the company headquarters from Boston to Los Angeles and changed the company's name to United-Rexall Drug Company and then, in 1947, to Rexall Drug Company.
In 1952, Rexall acquired Vitamin Corporation of America, the makers of Rybutol vitamins. As the Ann Delafield Reducing Plan and the Ann Delafield Beauty Line both emphasised vitamins, it is possible that Rexall's decision to make and sell Ann Delafield beauty and weight-loss products was to capitalise on its newly purchased vitamin manufacturer.
Ann Delafield Reducing Plan: The Ann Delafield Reducing Plan for women consisted of: a book of low-calorie menus, exercise routines and beauty tips; a 30-day supply of Ann Delafield Appetite Reducer Wafers made with skim-milk powder and soya flour; and a 30-day supply of Ann Delafield Vitamin Capsules. The Appetite Reducer Wafers were described as 'A food—not a drug!' so may have been free of the amphetamines found in some appetite suppressants of the period. They contained proteins, minerals, vitamin B and an alkaline substance. The addition of the last ingredient suggests that Delafield may have been trying to effect the acid-alkaline balance of the blood.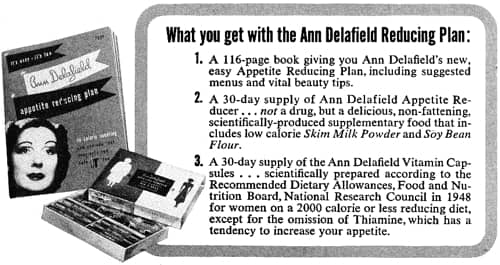 Advertising for the reducing plan used before and after photographs similar to those featured in the Du Barry Success Course but the Delafield Reducing Plan targeted men as well as women. The men's kit contained a smaller booklet; a 10-day supply of Ann Delafield Appetite Reducer Wafers; and a 10-day supply of Ann Delafield Vitamin Capsules.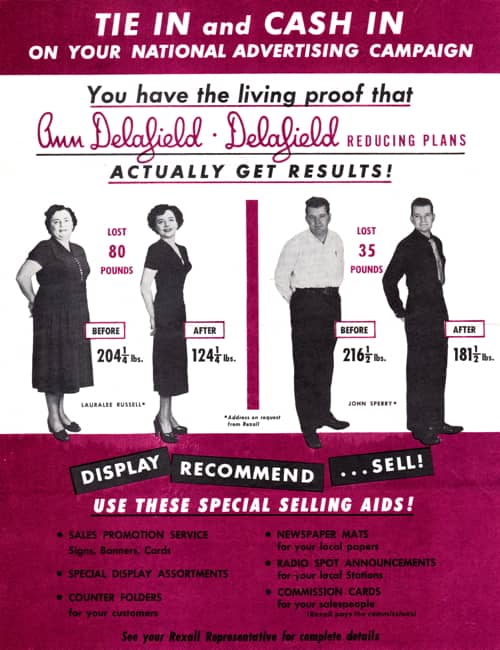 Ann Delafield's acting experience proved useful when she appeared in a short film for Rexall promoting the Ann Delafield Reducing Plan.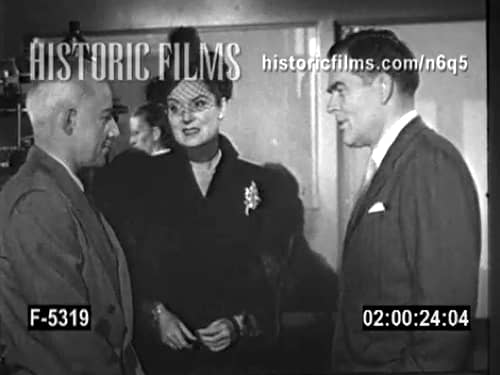 Ann Delafield 'Golden Beauty' Beauty Line: Despite the fact that Rexall already sold Cara Nome and Adrienne brand cosmetics the company agreed to develop, market and sell an Ann Delafield beauty range.
The line was launched on 7th January, 1953 at a luncheon in the Terrace Room of the Plaza Hotel in New York. Amongst the 400 or so guests were people on a list generated by Eleanor Lambert's [1903-2003] publicity office and a contingent of beauty columnists from across the country.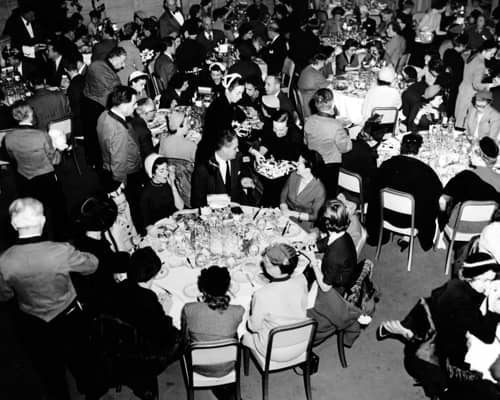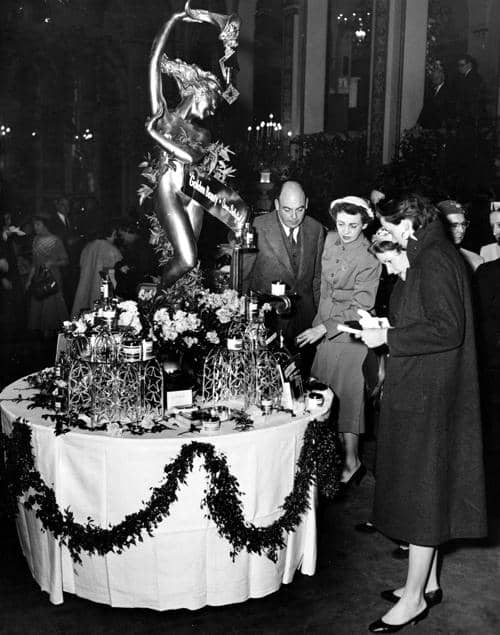 The new range was referred to as a 'beauty line' rather than a 'cosmetics line' as it also included vitamin capsules with Delafield promoting the idea that beauty 'begins within'.
Because Ann Delafield believes in vitamins . . . because she knows that beauty begins within, her new cosmetic line is the only vitamin-centered beauty line.
The cosmetics included in the range were limited. Delafield suggested that most cosmetics were unnecessary and the line only contained one skin cream, a skin tonic and some basic make-up.
"Day creams, night creams—who could need them all?" says Ann Delafield. "There's everything your skin needs to keep its natural beauty in my All-Purpose Deep Cream . . . richly penetrating, thoroughly cleansing, naturally beautifying."
Collectively the Ann Delafield cosmetics were referred to as the 'golden eight' a reference to the gold colouring of the containers.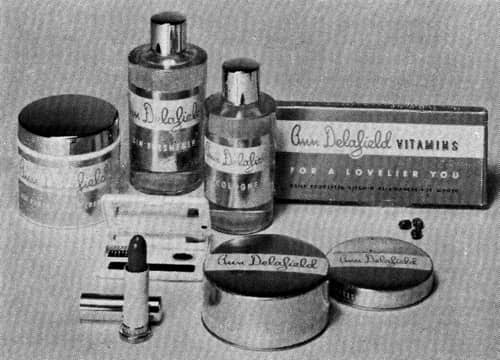 The most interesting product in the range was the Glamour Eyes Compact. This came in a choice of cases – metal and plastic – each containing: Quik-On, a cake mascara with brush; a cream eyeshadow; and an eyebrow/eyeliner pencil.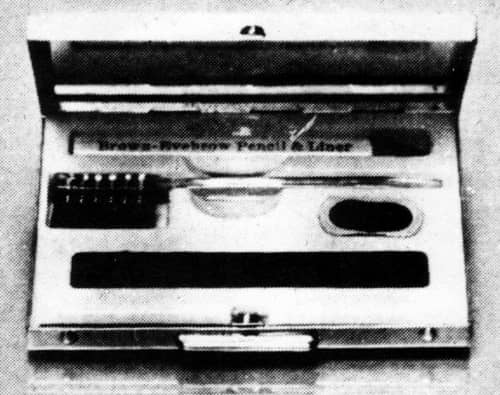 Advertisements for Ann Delafield products sold through Rexall drug stores seem to disappear after 1956, which suggests that the line was abandoned by Rexall. Ann Delafield's activities after this date are largely unknown to me. The last records I have for this remarkable woman are her sale of a 'Sweet 'n Low' trademark for carbonated soft drinks and assorted foodstuffs to the Pratt-Low Preserving Company in 1956 and the renewal of her Ann Delafield trademark in 1960.
Timeline
n.d.
Ann Delafield engaged by Elizabeth Arden.
n.d.
Ann Delafield employed in the Richard Hudnut Debutant School.
1939
Richard Hudnut Success School opens.
1940
Du Barry Success Course begins.
1952
Ann Delafield Reducing Plan introduced into Rexall stores.
1953
New Products: Ann Delafield Beauty Line.
1956
Ann Delafield sells 'Sweet 'n Low' trademarks to the Pratt-Low Preserving Company.
Updated: 4th January 2017
Sources
Delafield, A. For men only: How long is your life line? [Booklet]. USA.
LIFE. Chicago, Ill.: Time, Inc.